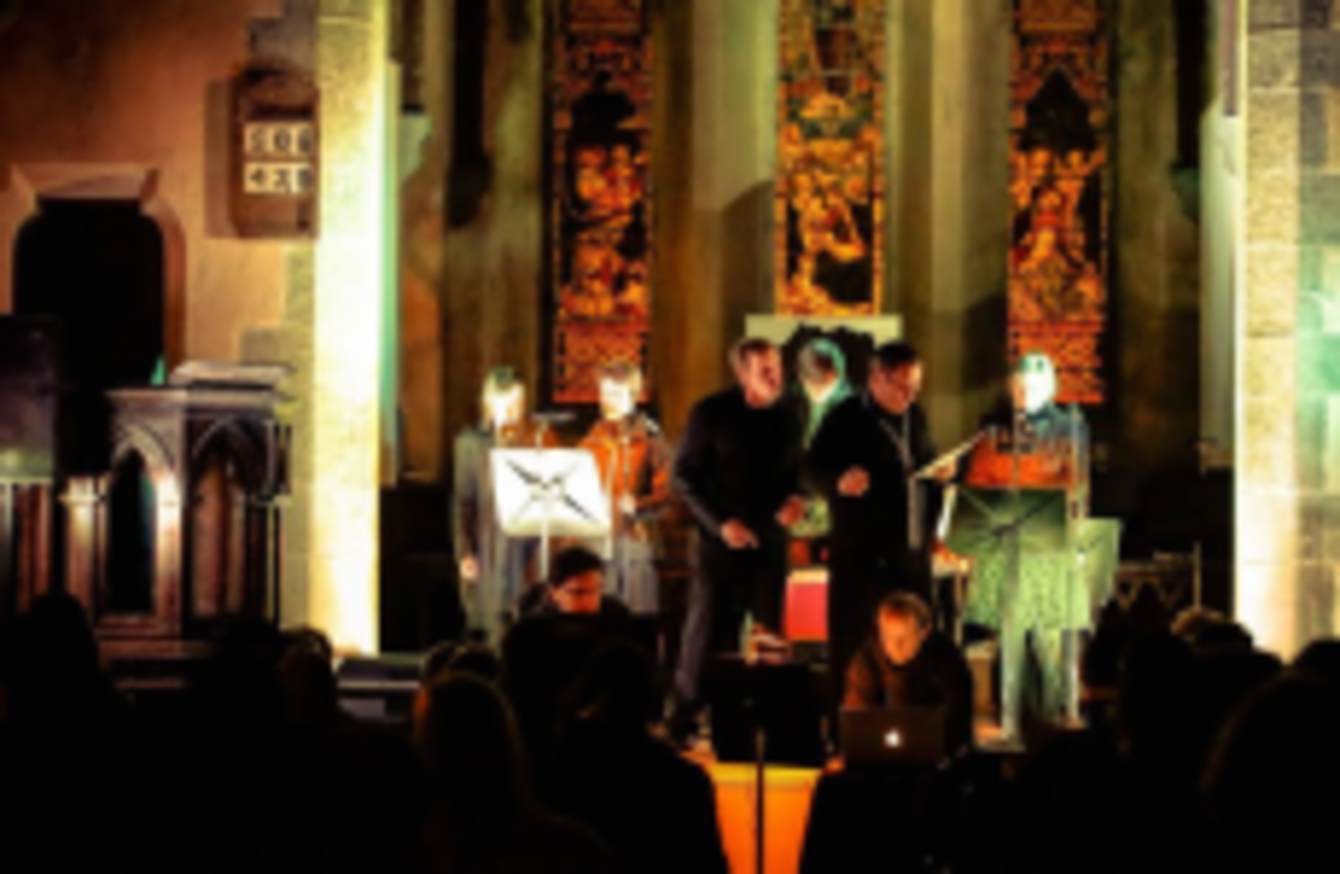 An event from last year's HearSay Festival
An event from last year's HearSay Festival
ON A COLD day late in the autumn past, a group huddled in the old church in the village of Kilfinane for a wake.
Rather than mourning a dearly departed loved-one however, the assembled radio producers, podcasters, sound artists – and a few bemused locals – bid farewell one-by-one to their unloved audio tapes before the room burst into spontaneous cheering and applause.
It was the end of the inaugural HearSay Festival, described as being like 'Woodstock for radio', during which audiophiles from around the world descended on the Limerick town, population around 800.
"When we were looking at doing this, it wasn't like we were saying there's something like this already in this county … or even in this country," festival director Diarmuid McIntyre told TheJournal.ie.
We were literally looking at it and telling people there wasn't anything else like it in Europe."
McIntyre, whose award-winning radio and sound art production company Grey Heron Media is based in Kilfinane, admitted the first event took a huge amount of trust from residents and supporters alike to appreciate "how magical it could be" when it was difficult to even describe what it was all about.
However that didn't stop people throwing open their doors with events held everywhere from locals' homes to the town pub. One open house, in which the parish priest handed out hot whiskies to attendees in his living room, has already become the stuff of legend.
This November the festival will be held in the mountain village for the second time, drawing double the number of attendees as 250 visitors from as far as New Zealand, Argentina and Iran come together.
This year it's more like people are asking 'is that happening again, you have to put it on again because it was so good'," McIntyre said.
Highfalutin people
Aileen Kelleher, who runs the O'Céilleachair pub in Kilfinane with her husband, is one of those locals who admits she didn't fully understand the festival until she was absorbed in it.
"Like most people, we were kind of thinking 'what is it about' and 'why would you bring something like this to Kilfinane'," she said.
Nevertheless, Kelleher threw open the doors of her venue for some of the festival events, offered guided tours of the town and even ferried guests home from the pub.
I'm really looking forward to it (this year). Beforehand, people were saying these were going to highfalutin people, but everyone just chatted about everything, it wasn't all about sound."
This year's festival participants will include a string of leading story and radio documentary makers from broadcasters like the BBC and Australia's ABC.
In 30-plus sessions, participants will take part in a programme that ranges from listening to lauded radio works to a craft beer and audio pairing that explores the effect of sound on people's taste buds. 
All events are free with numbers capped only based on the village's ability to cope with the influx, although anyone from the local region can join in.
Every hotel and hostel bed in the town – and neighbouring villages – is expected to be booked for the weekend with residents also hosting homestays for the three days.
#Open journalism No news is bad news Support The Journal

Your contributions will help us continue to deliver the stories that are important to you

Support us now
"In a small, rural village, taking on a really niche festival has brought some economic life into the place – there were probably more specialty coffees sold in three days than there were in the rest of the year," McIntyre said, laughing.
The growing number of attendees and the festival's ability to pull international visitors does beg the question for its organisers though: why not charge for tickets and turn it into a little money spinner?
"It's a good question … I think we kept it free because at the start it gave us a freedom," McIntyre said.
"We knew it was going to be a challenge for people to come to a mountain village in southwest Ireland.
We don't get paid, there's no money for the organisers and it takes 11 months for us to do it on top of our day jobs. But there's also a real freedom in it, it meant it didn't become exclusive – other than the fact that we had limited numbers."
This month, as part of TheJournal.ie's ongoing startup and small and medium enterprise (SME) focus, we are looking at innovation in rural Ireland.
To read previous stories from our collection click here.