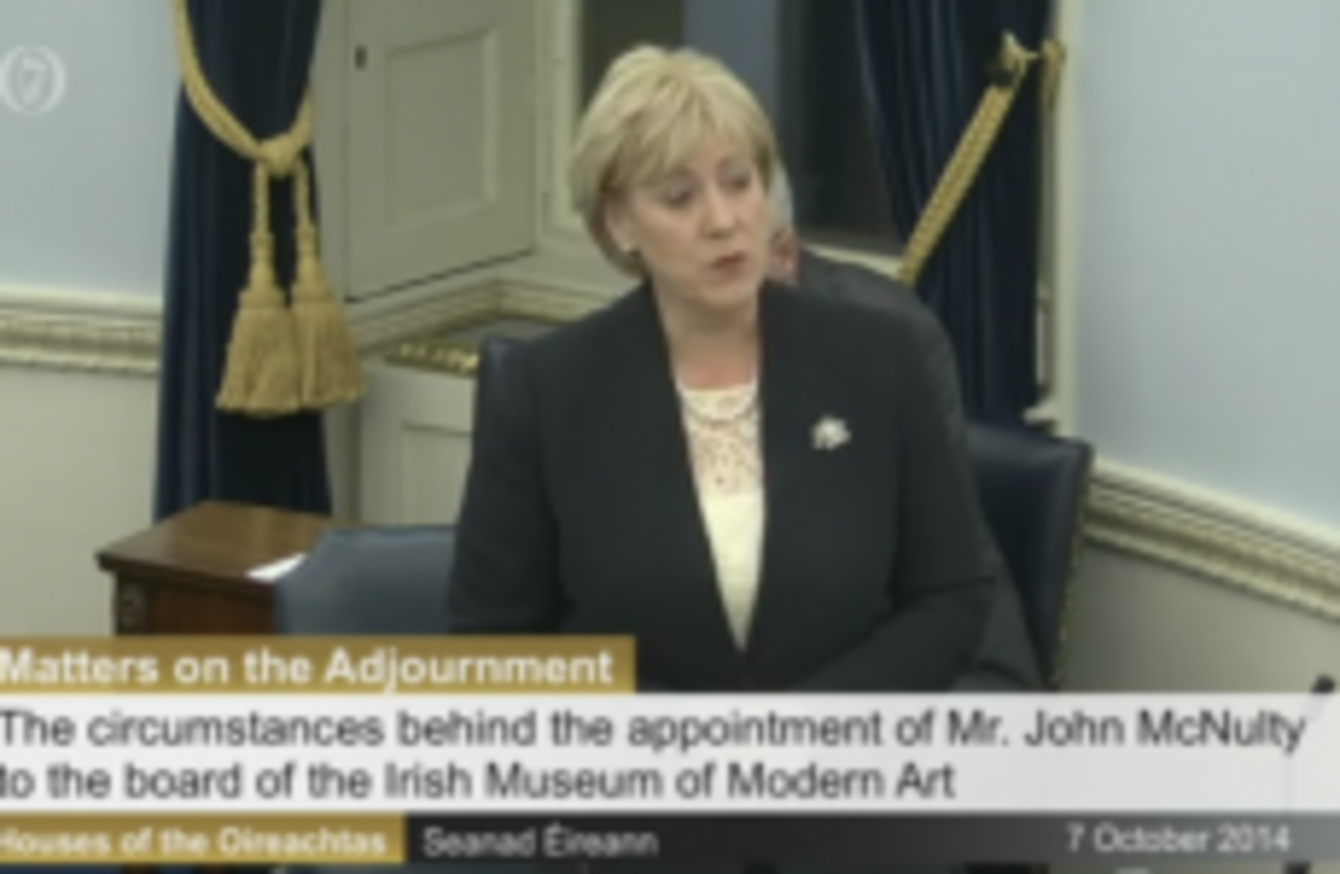 Image: Oireachtas TV
Image: Oireachtas TV
ARTS MINISTER HEATHER Humphreys has again refused to name the Fine Gael official who informed her of John McNulty's desire to join the board of the Irish Museum of Modern Art (IMMA).
In the Seanad this evening, Fianna Fáil Senator Thomas Byrne asked Humphreys to clarify who gave her McNulty's CV.
Her response?
I don't see any benefit out of making a scapegoat of a party official by putting their name into the public domain.
That's been the party line on naming the official since the controversy over McNulty's appointment to the board of IMMA. Last week, Humphreys said she was not at liberty to name the official in question.
The Donegal businessman was appointed to the museum's board on 12 September – just six days before he was announced as Fine Gael's candidate for the Seanad seat vacated after Deirdre Cline was elected to the European Parliament in May.
Humphreys said that Taoiseach Enda Kenny had accepted "full responsibility" for what happened.
Byrne was not impressed with her answer, calling it "a travesty of democracy".
Standing over her decision
Humphreys said that she appointed McNulty based on "his experience in business, in culture and in promoting Irish language".
She said she stood over her decision, but aaccepted the criticism of recent weeks and is "fully committed" to using the public appointments process in the future.
McNulty withdrew from the Seanad race on 30 September. His name is still on the ballot paper but he has asked for people to not vote for him.
Yesterday, the Taoiseach said that he had respected McNulty's wishes.
However, he could still be elected as it is thought several TDs and Senators have already voted for him.
Humphreys refused to reveal if she would vote for McNulty, saying: "The great thing about a democracy is that you vote in secret."