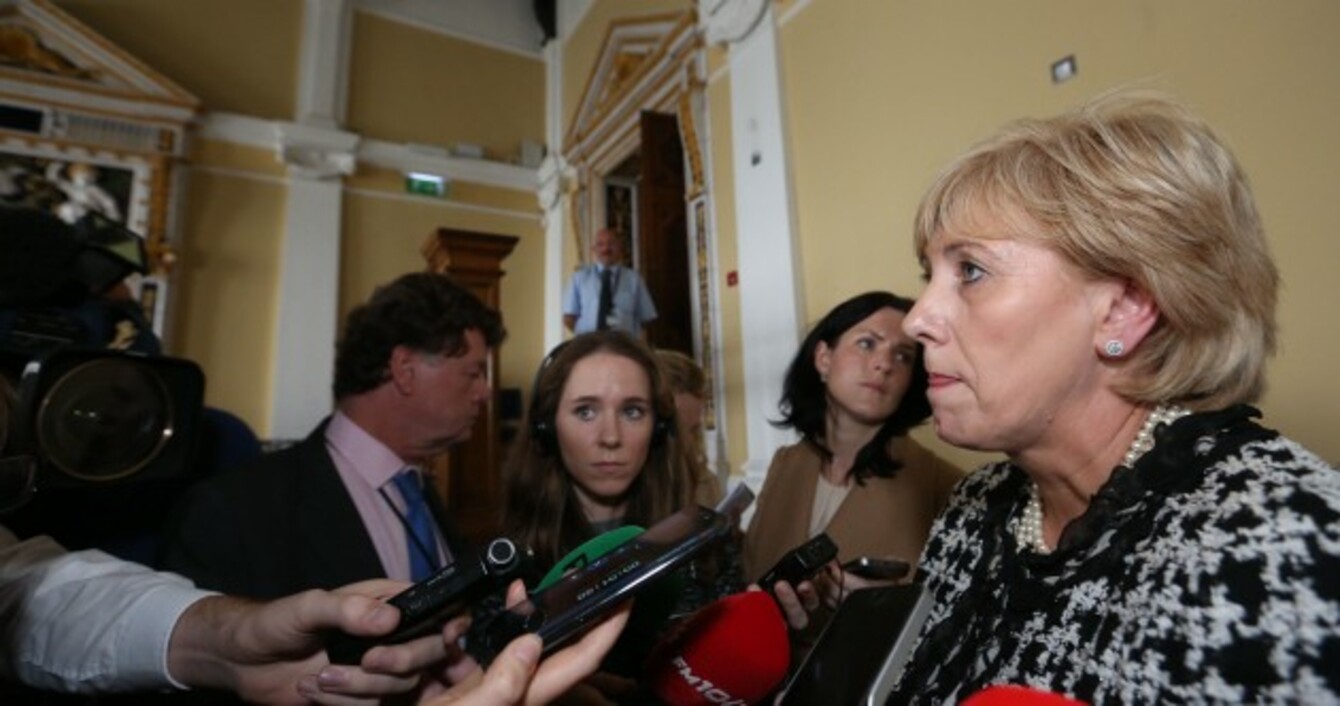 Heather Humphreys speaking to reporters in Dublin last week
Image: Sam Boal/Photocall Ireland
Heather Humphreys speaking to reporters in Dublin last week
Image: Sam Boal/Photocall Ireland
ARTS MINISTER HEATHER Humphreys says she is not at liberty to say who in Fine Gael mentioned John McNulty as a candidate for the board of the Irish Museum of Modern Art (IMMA)
Humphreys, who was appointed last July, was speaking to reporters in Dublin earlier today as the controversy over McNulty's botched appointment to a state board and subsequent nomination as the Fine Gael candidate for the Seanad continues.
The identity of the Fine Gael official who gave McNulty's CV to Humphreys remains unknown with the Taoiseach yesterday declining to name any party officials saying they would be "pilloried" in the media.
Today, Humphreys said she was not at liberty to disclose the identity of the official who spoke to her and once again insisted that she took the decision to appoint McNulty to the IMMA board.
"John McNulty's name was mentioned to me, I looked at his credentials… I am not at liberty to say who mentioned his name to me because that's a Fine Gael matter," she told reporters.
"I got his CV, I looked at it, I assessed it and I take full responsibility for appointing him to the board of IMMA."
Humphreys has endured a torrid time in recent media interviews, with an uneasy performance in front of journalists at the National Museum last week. She subsequently declined to speak to the media at an event in the National Gallery of Ireland over the weekend.
After McNulty withdrew from the Seanad race on Tuesday, Humphreys released a statement admitting she had been approached by Fine Gael officials about McNulty being a possible candidate for the board of IMMA.
She said she was also aware that McNulty was being considered as a candidate for the Fine Gael nomination for the Seanad by-election.
Asked twice by TheJournal.ie to explain how and why Humphreys was aware of McNulty's name as one of 29 possible Fine Gael candidates, a spokesperson for the minister declined to answer the questions.
They said Humphreys became aware that McNulty was a contender "in the weeks prior to his selection" and was aware that he had been nominated as the Fine Gael candidate "when it entered the public domain, late in the week beginning September 15th".
McNulty's name first emerged as the party's candidate for the by-election on the evening of Wednesday, 17 September.