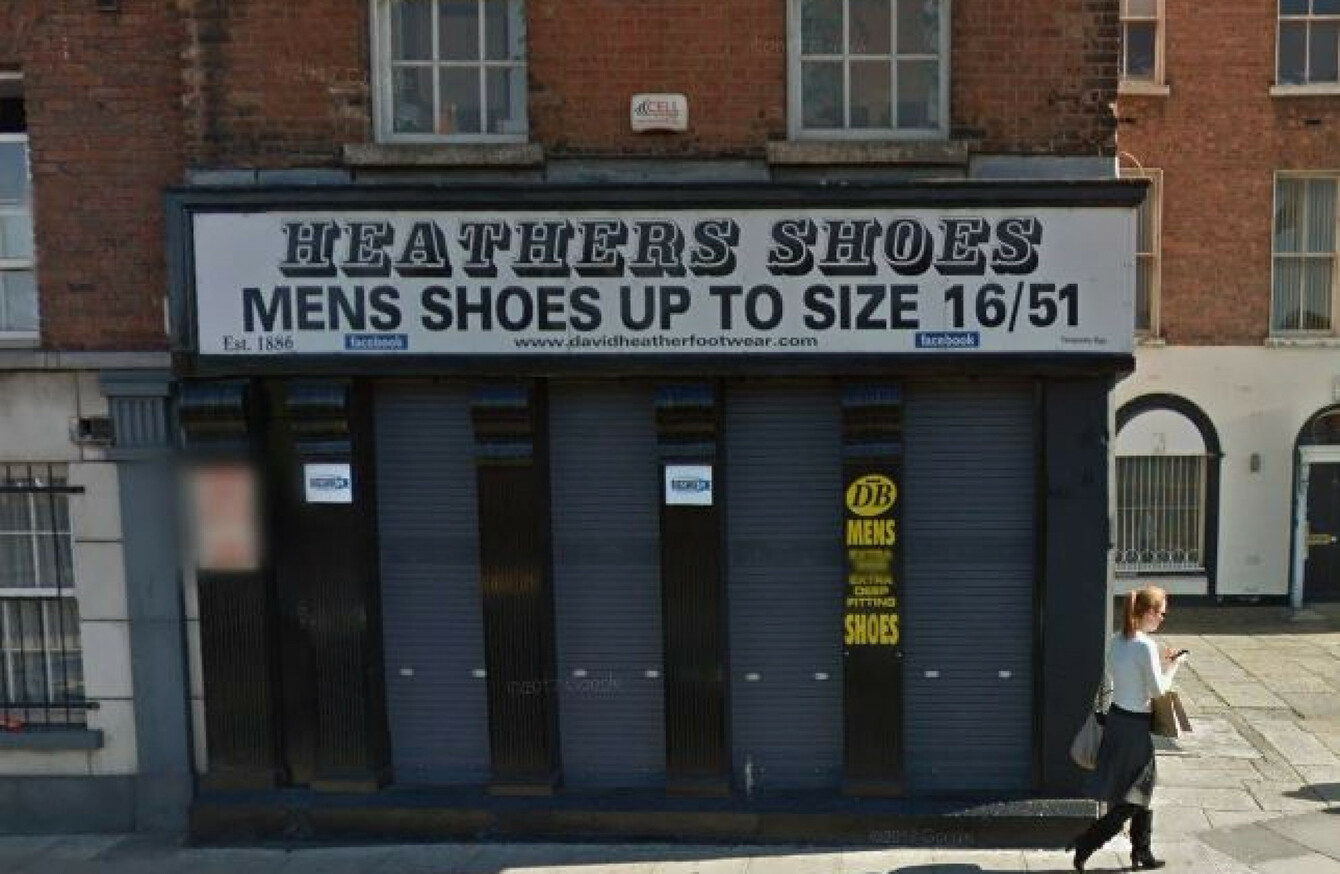 Image: Google Maps
Image: Google Maps
THE DOORS HAVE closed for the final time on yet another independently-run shop in Dublin's city centre.
This time, it's a family business on Arran Quay that has been handed through generations since 1868.
David and Denise Heather, the current owners of Heathers Shoes, have decided to close the store and move their business online.
The Heather family originally ran a drapery on Arran Quay, but it has since evolved into a shoe shop.
Handed down through three generations and passed between siblings along the way, Heathers has specialised in shoes for larger feet and served the needs of those across the country.
Speaking on RTÉ Radio One's Today With Sean O'Rourke, Denise explained how she met her husband for the first time in the shop at the age of 14, and how they've spent almost 50 years working together.
"I started as a Saturday girl and worked on the summer holidays, I never went back to school. David and I married when I was 18 and we're still working together ever since," she said.
"We're very lucky, not everyone could work 24/7 and be together all the time."
Heathers sells a variety of shoes such as formal shoes, hiking boots, wellies, trainers, sandals and slippers. All are available between the sizes of 12 to 17.
Denise told O'Rourke that it was just by chance that they began stocking large-sized men's shoes.
"[It] was just by chance. We bought a stock from a shop that was closing down and there was a lot of big sizes in it, that was going back 25 years ago. We thought we'd never get rid of them but the demand was there," she said.
Denise said that it took almost 15 years to "really build up a proper range of footwear for big sizes".
Through the years, the family have built up a loyal clientele in Dublin, including some big names like Fianna Fáil's Brian Lenihan Senior and David Andrews, along with members of the Irish rugby team.
"David Andrews was a size 12 and he was always a man who wanted to buy Irish, he was very, very stringent about it," Denise said.
Reminiscing about other customers through the years, Denise recalled one particular sale where a man came into the shop wishing to purchase shoes that were too big for him "to impress his future in-laws".
He came in and he only took a size 10. He took a shoe, the runner was actually a size 20. I asked if it wasn't for himself and he said 'no, it is. I'm going to meet my future in-laws and I just want to make a good impression and see what their reaction is'.
O'Rourke asked if those who shopped in Heathers were self-conscious of their larger sized feet, but David was certain that the relaxed atmosphere of the shop made customers feel at ease.
"[Young customers] would be self-conscious if they were 13 or 14-year-olds taking a size 13… they'd come in on maybe a Saturday and they would be the smallest guy there," he said.
The young lads, you could see them looking around thinking 'I'm not the only one'.
Jokingly, David said that every Saturday he would return home and would "have a pain in the back of [his] neck because [he] had spent the day looking up at all these giants".
Despite the fact that the family-run business closed its doors for the very last time last weekend, Denise said that the demand for their stock is still there.
The couple will continue to sell their stock on www.bigshoes.ie.