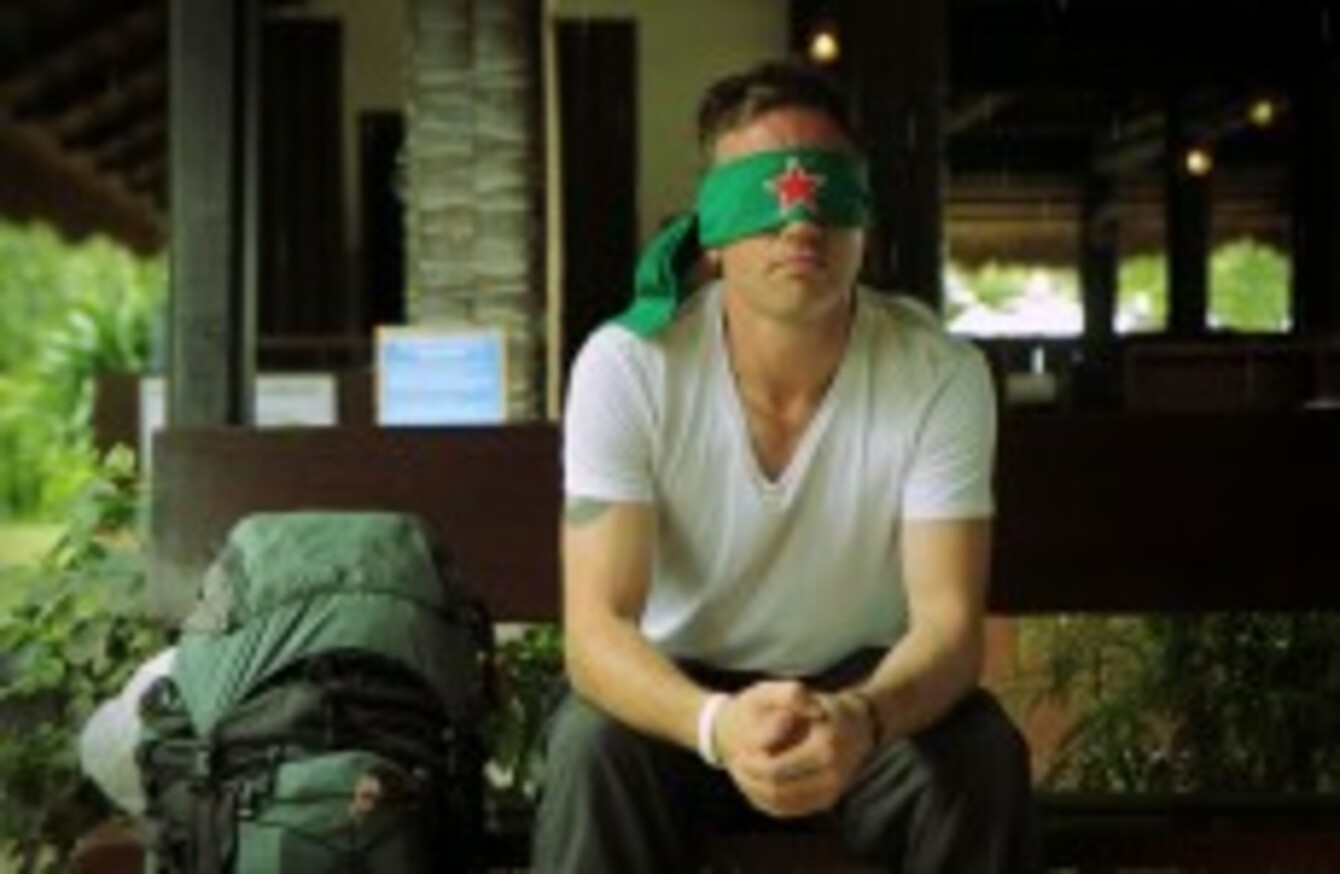 Murray Aston from Dublin won the Heineken 'Dropped' competion.
Murray Aston from Dublin won the Heineken 'Dropped' competion.
A DUBLIN ARTIST who won a competition to star in the next Heineken global Dropped YouTube series recently found himself blindfolded, taken to a random global location and then told to find his way home.
Murray Aston was selected from hundreds of Irish applicants who entered the competition.
'Dropped' is a global campaign that aims to record the adventures of some intrepid explorers on their legendary travel experiences.The challenge selected people from all around the world, plucked them from their everyday lives and without telling them where they were going, moved them to the far ends of the earth. So, what's the appeal in entering such a competition?
Adventure
"For the adventure," said Aston, who said he thinks it was his unusual Skype interview that won it for him. "I sat down in front of the computer at home to have my interview. The project director came on the screen, I said hi and then there was silence. He just nodded," he said.
Aston said there was nothing else he could do but chat away and he soon had the interviewer laughing along with him.
After about 45 minutes he told Aston he had one more thing he wanted him to do – go find a random person on the street, bring them back to his house and introduce them to him.
I said I'd give it a go and ran out of my house on to the street. The first person I saw was an old lady, I quickly explained the competition to her and that I needed her to come back to my house, but she was having none of it, obviously!

Then I saw two figures walking towards me – two members of the gardaí. I thought to myself – 'this is fate!" I explained to them what I was doing and they agreed to come with me. I said, not only have I got two people for you, but they are both members of the police force! The interviewer thought this was hilarious and rolled around laughing when one of the gardaí said it was my gentle and genuine looking face that convinced them to follow me back.
Blindfolded on a flight to the Philippines
Aston found out he had been chosen on the Wednesday after his audition. "I couldn't tell anyone, none of my mates, it was all very hush hush," he said. "One day I was told to expect a wake-up call at 3am. I was blindfolded and flown to the Philippines. When we arrived at our destination, I was put on a boat, still blindfolded and told to put my arm out," Aston said.
"Click, click is what I heard next" he said. Aston turned around to find himself handcuffed to a Polish man, Jacob, who had won the Polish leg of the competition.
All I could say to Jacob was, 'are we mad, what are we even doing here!'
The first night Murray and Jacob camped on the beach, all the while still handcuffed. "Jacob woke me up in the middle of the night, something was wrong," said Aston.
According to Aston, water was rushing into the tent. "I couldn't believe it. It was monsoon season and the sea had come in and was washing us away, not a very successful first night".
On the third day, they were told they had to make it over to a remote island, but they ended up getting a boat to the wrong island. "It was grand though, we got to explore the jungle even more," said Aston.
#Open journalism No news is bad news Support The Journal

Your contributions will help us continue to deliver the stories that are important to you

Support us now
A giant present on the beach
Then they saw a giant box, wrapped up like a present with a bow on the beach. Inside was a giant help sign with bulbs and a bike. They put the sign together and began to cycle to light it up.
That night they slept on the beach – only to awake and find themselves covered in sand fleas the next day. "It really was a 'castaway' Tom Hanks situation. We ended up using the box for shelter until a passing sea plane flew by and landed to see what was going on," he said.
The pilot was an old Vietnam veteran. He brought us to the island we were meant to go to in the first place. There we found two beers and a key. It said it was the key to our freedom or we could carry on. We said, 'feck it, we'll carry on'. In all we spent five days out there, until we made it back to the mainland and I flew back to Ireland.
So was it a good experience? Aston said:
It was a great, if not a strange experience. I am still in touch with Jacob after our adventure. It was a surreal experience to win a competition like this, to be blindfolded and then find yourself on a beach on the other side of the world.

But it was a chance of a lifetime. When are you ever going to get to do something like this in the middle of a recession.
Murray and Jacob trying to find their way home.To view some of Murray's adventure on YouTube click here.

Murray Aston is an artist from Dublin. You can view all his artwork on his website Celteca.com. For more on the Global Dropped series click here.