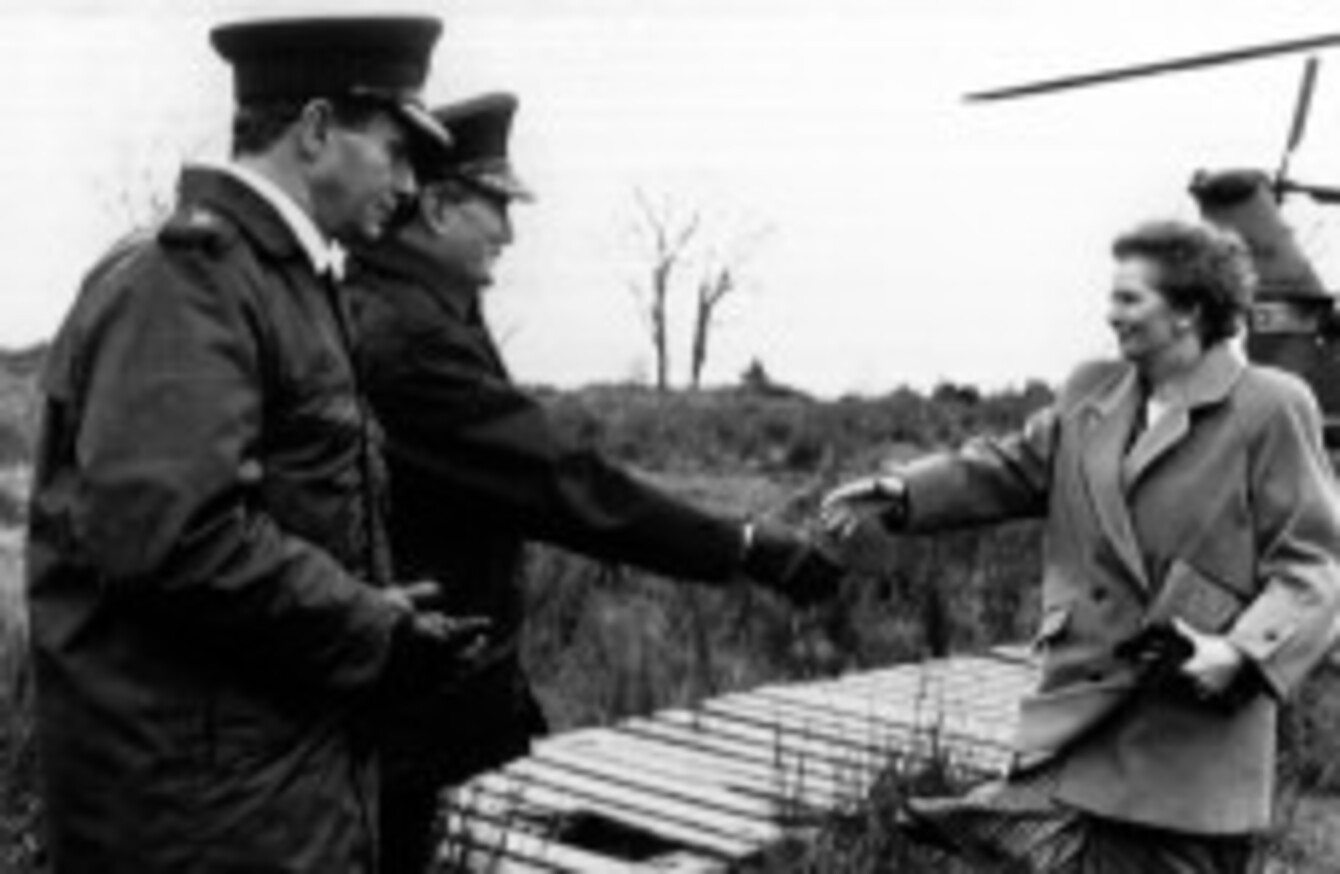 Image: PA Photos/PA Archive/Press Association Images
Image: PA Photos/PA Archive/Press Association Images
WHEN MARGARET THATCHER visited Ireland in 1980, two helicopters were chartered at the cost of £8,063 to the taxpayer.
Following the receipt of the invoice from Irish Helicopters, discussions took place between the Department of the Taoiseach and the Department of Justice on whether the amount was excessive. They also debated about who should cover the cost.
The Justice Department explained it covered the cost of Air Corps helicopters from Baldonnel that were used for air security. Thatcher and her delegation, which included security personnel, were transferred to and from Dublin Castle in the chartered craft as the "single-engined helicopters of the Air Corps were not acceptable to the British for fear of engine failure".
An internal memo shows that there were heightened security concerns because of the escalation of hunger strikes at the H-Blocks in Long Kesh.
Assistant Secretary Wally Kirwan writes:
It was clear in these circumstances that the proposed visit to Dublin of the British Prime Minister and her party, including three other members of the British Cabinet would be attended by particularly acute security risks.
In the face of these, the duration of the visit, originally envisaged as involving an overnight stay was reduced to a single day.
During the course of security discussions, he explained, consideration was given to travelling in a bullet-proof car.
"A few days before the date of the visit, Christopher Tugendhat, one of the British members of the European Commission, was the subject of an assassination attempt in Brussels, for which the Provisional IRA claimed responsibility," he continued.
"Following this incident, the advice of the security authorities was very strongly in favour of the use of helicopters, with two being hired to allow for contingencies."
The Taoiseach's department took on the cost in order to keep an initial promise by Kirwan who admitted to hastily agreeing to the arrangement so as not to delay the process.
Although he conceded that the amount of the account exceeded "by a significant margin" the estimate quoted by the garda officers at the time of the talks, Kirwan said the price was "reasonable".
The helicopters flew for a total of five hours and forty minutes during the single-day visit. The price of the flights were broken down into three categories, costing £400 per hour, £800 per hour and £1,500 per hour.
During the official State trip, the Department of the Taoiseach also incurred costs for a luncheon in Dublin Castle which ran to £3,811 for 95 guests.