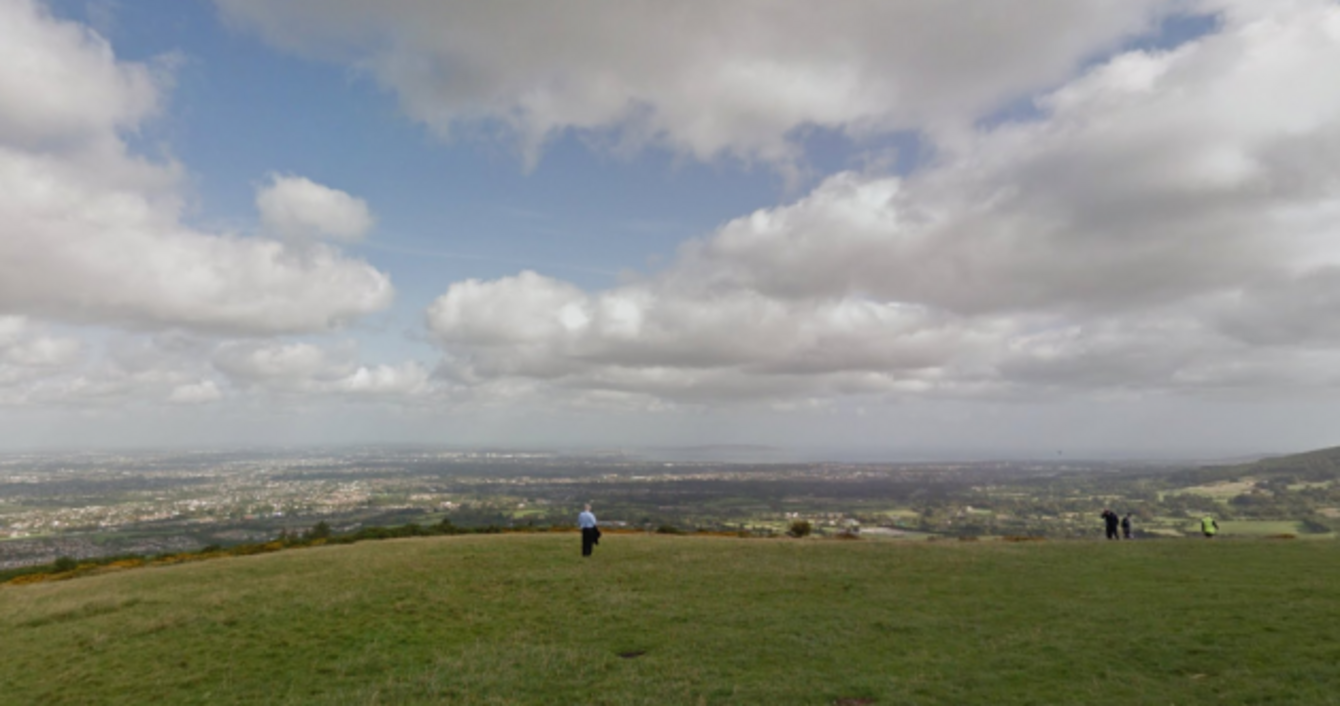 View from the Hellfire Club
Image: Google Maps
View from the Hellfire Club
Image: Google Maps
PLANS TO DEVELOP a €19 million visitors centre at the Hellfire Club has been defended by Coillte and said it will "bring the Dublin mountains to life".
The flagship visitor facility has come in for criticism from some local groups who claim the development will damage the natural environment of the mountains.
However, Coillte is understood to have told Agriculture Minister Michael Creed that the centre will be of benefit to the city's residents and visitors from overseas.
The ambitious plans submitted by South Dublin County Council, supported by Coillte, will see a series of attractions put in place. They include:
A Hellfire Club Visitors Centre – which will include café, toilets and an information hub and will enable access to the wider trail network and activities of Dublin mountains
A tree top canopy walk to Massy's Woodland – that will serve as both "an experience and a safe connection".
A large extension to existing parking areas that will "address congestion and illegal parking issues" currently at the site.
Improve the trail network by establishing new trails and loops with signage, picnic benches, natural play area, views etc.
The proposed flagship Visitor's Centre would feature its own viewing terraces offering views of Dublin, and of the Wicklow Mountains, and would be on the eastern side of Montpelier Hill.
Coillte have pointed out that there is currently no orientation facility for visitors to the Dublin Mountains and said the development will make the trails, heritage and landscapes of the mountains far more accessible to those who are visiting for the first time, both from Ireland and overseas.
"I understand that many people enjoy forest recreation and that it enhances both physical and mental wellbeing. Coillte further advise that this development will bring the Dublin mountains to life for many of the city's residents and visitors from overseas," said the minister.
Creed said there has been extensive consultations with the local community.
He said that Massey's wood is being retained in its entirety, adding that the project will also see the removal of laurel and invasive species from along the stream and river edges, opening up the vistas along the watercourses enjoyed many years ago.
"I am advised, in relation to the Hellfire property, it is proposed to change more than twenty hectares of conifer forest to native mixed broadleaves over a ten to twenty year period and therefore to grow the biodiversity of this area also, he said.
The minister said the trail around the top of Montpelier Hill will give a 360-degree panorama over Dublin City and Bay and south to the Wicklow Mountains, "all brought to life with information panels as the breath-taking views change along the route".
The planning application for the development is yet to be lodged with An Bord Pleanala. Following that, Creed said there will be further consultations with the local community and businesses in the area.