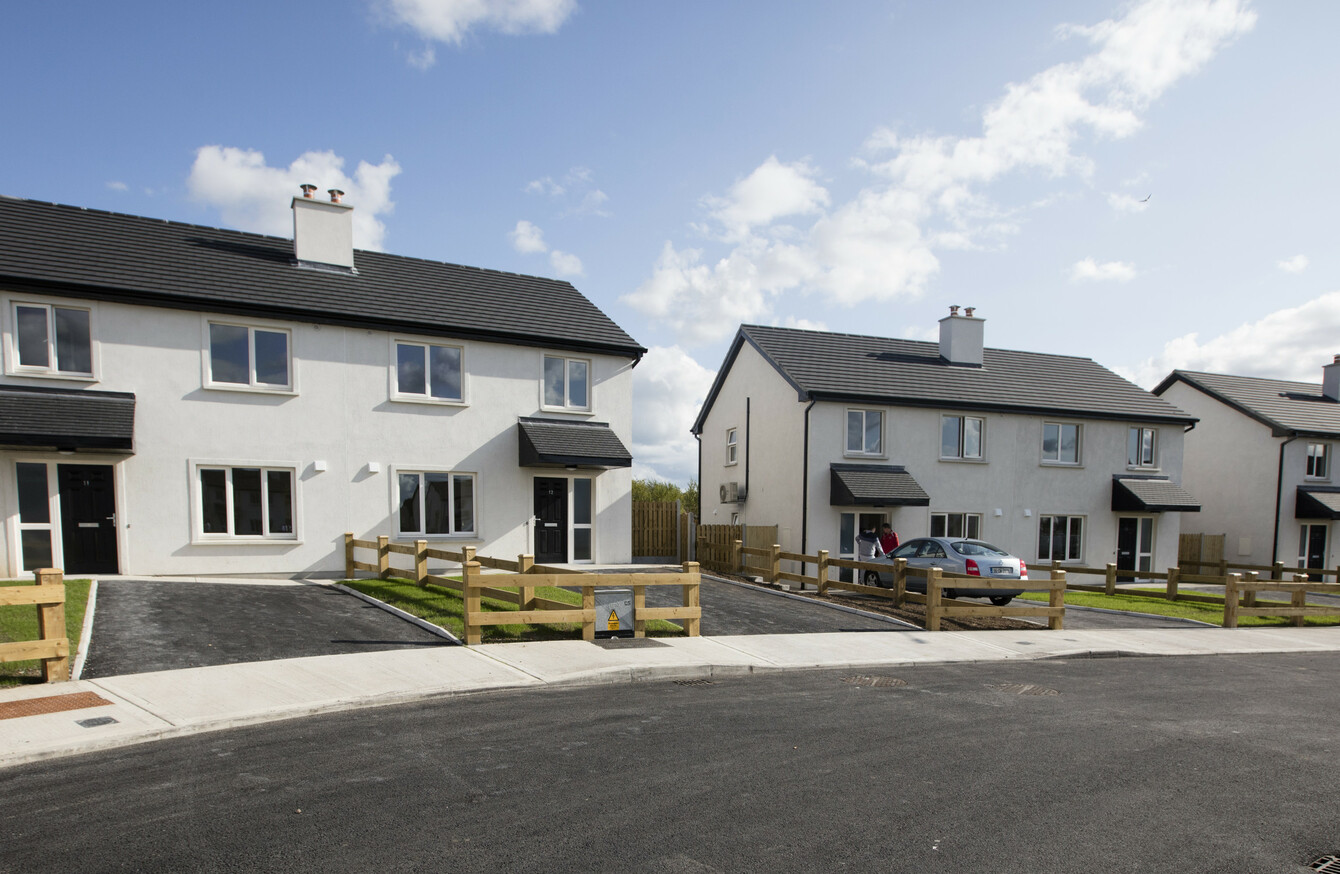 Image: Eamonn Farrell/RollingNews.ie
Image: Eamonn Farrell/RollingNews.ie
MEMBERS OF THE public who contacted then-Housing Minister Simon Coveney about the Help to Buy scheme were particularly angry that second-hand homes were not included.
Documents released to TheJournal.ie under Freedom of Information legislation show that while the Institute of Professional Auctioneers (IPAV) called the plan an "excellent initiative that will greatly benefit first-time buyers", they like others felt it should have been extended to second-hand homes.
The scheme, which was first introduced in last October's budget, provides first-time buyers a grant of up to €20,000. Over 4,000 applicants have been approved.
However, when the scheme was launched, a number of potential house buyers got in contact to outline their concerns over the scheme.
Many of those concerns surround the fact that the scheme is limited to new-build and self-build homes.
One letter says:
"I see this as a slap in the face because we are not lucky enough to be able to afford a new house. We already can't live in an area we grew up in and have to make many sacrifices, but this feels like an insult. I ask you to please reconsider and include all first time buyers in this scheme.
"The lucky ones who can afford the new homes will be lucky again, whilst the unlucky ones who have saved and sacrificed can expect nothing. That doesn't seem fair."
Another outlines how the writer purchased a home in Drimnagh that was "falling down".
"There is no heating, the boiler is 20 years old and the porch is coming away from the house. If I wanted to buy a new build I will get help from my government but would never get a loan from the bank. But a new build has everything new.
"Could you please tell me why they get help when I have to buy a second-hand home because that is what I can afford. I have worked since the age of 16 and paid my taxes. Why is MY government NOT helping me?
"This budget is for builders not working-class people."
Criticism
However, many of the correspondents are simply critical of the idea.
One correspondent is particularly scathing, calling Coveney "arrogant" and "weak".
In a September email, the writer warns Coveney against introducing any relief for first-time buyers.
"I can only think of two possible reasons for you even considering such a foolish move.
"1) You have amnesia and don't remember the recent recession when house prices became so ridiculous the country fell apart.
"2) You are a weak person who cannot stand up to pressure."
The email goes on to tell Coveney to avoid "giving in to Ireland's entitlement mentality" and not create a bigger problem by trying to solve one.
"Cop on and open your eyes. Listen to the experts that you employ who are telling you exactly what I am saying. Do not proceed with this nonsense in your efforts to win votes. For once look at the bigger picture and the good of the country rather than your own selfish gain through populist nonsense."
Seven months later in April, the same person wrote to rebuke Coveney for rising house prices.
"Whilst it gives me some satisfaction to know I was right, it gives me no satisfaction that you, through your stupidity have directed Ireland on the same collision course we were on in 2008.
"It beggars belief that you made such (a) decision last year, going against all advice from those who actually understand economics.
"Are you so arrogant that you do not believe you are in any way to blame for this fiasco?
"Well done Mr Coveney – seriously, well done."
Another told Coveney that the plan was "a nonsensical, populist idea".
"By effectively giving money away, you would essentially drive prices up. This is simple common denominator stuff."