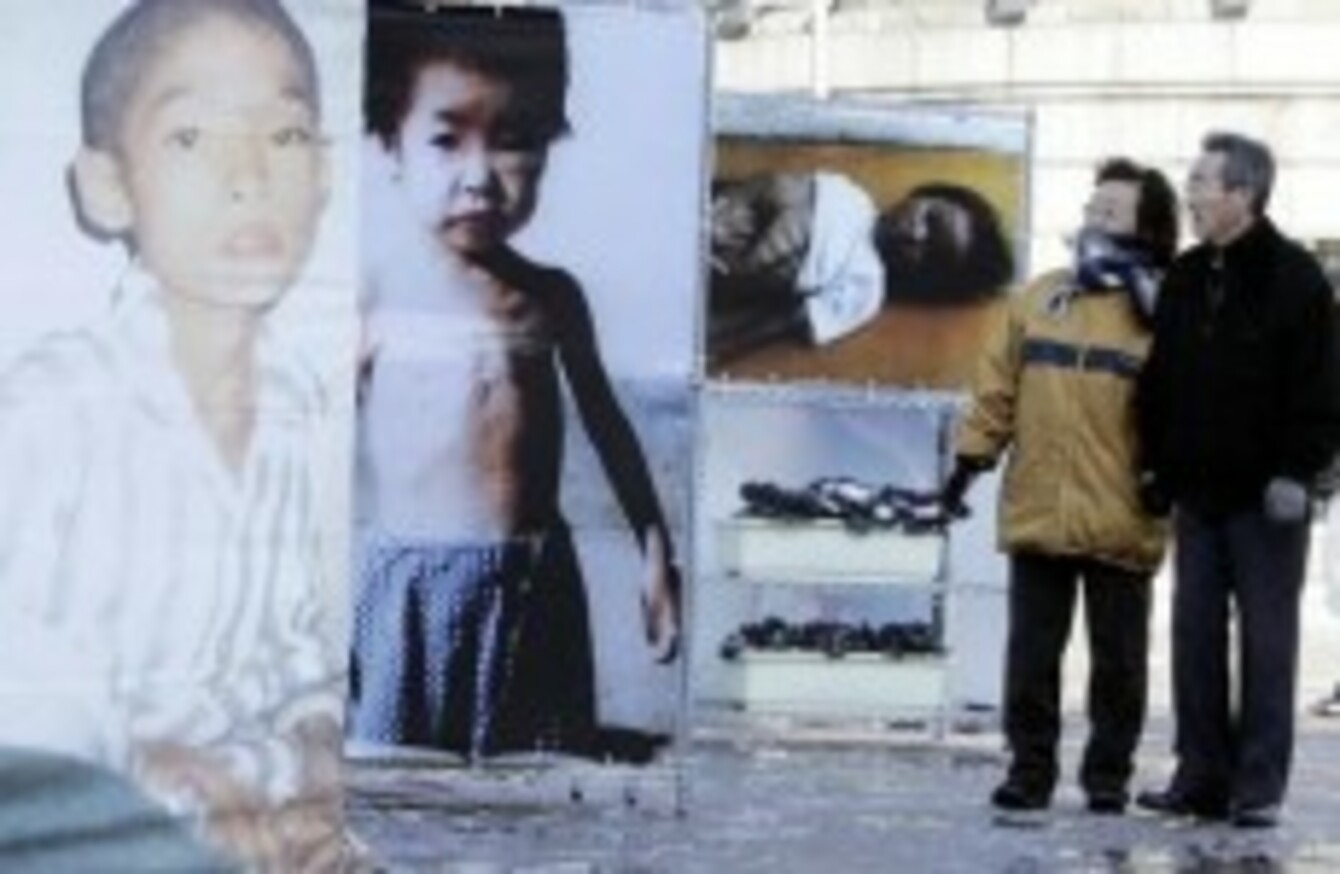 A South Korean couple look at pictures of North Korean famine victims at an exhibition in Seoul in 2005.
Image: AP Photo/Lee Jin-man
A South Korean couple look at pictures of North Korean famine victims at an exhibition in Seoul in 2005.
Image: AP Photo/Lee Jin-man
THE SUCCESSION OF Kim Jong Il's son after his father's death indicates that the North Korean state of dictatorship is not disintegrating in the short-term. And so the deprivation, state camps and repression reported by the few who have escaped or managed to see – albeit briefly – what happens in the heavily censored country will remain largely an enigma to the western world.
State propaganda, a severe clampdown on contact with the outside world and strict control over what any visitors to the country are allowed to see, hear or experience have left us with a patchy knowledge of exactly what happens inside the state.
These articles though – either photographic records or first-hand accounts of daily life within North Korea – shed a little light on the reality of living in the shadow of Kim Jong Il's cult:
Rice rations
This TIME magazine piece by Donald McIntyre from 2005 describes how the state had banned the sale of rice in markets, forcing people to submit to government-controlled rice handouts:
Claiming this year's rice harvest is up 10%, North Korea announced last month that it doesn't need humanitarian aid. On Oct. 1, official rice rations for adults doubled to 500 grams a day, the bare minimum for survival, according to the U.N.'s World Food Program (WFP). WFP officials who visited Pyongyang's biggest market this month saw "empty tables, empty stalls" where grain vendors once worked, says WFP spokesman Gerald Bourke, adding that grain seems to have disappeared from roadside kiosks, too.
Subdued celebrations
Tania Brannigan in The Guardian was allowed entry in October of last year to cover the 65th anniversary of the North Korean Workers' Party and the introduction of Kim Jong-un as heir apparent. She found the festivities strained and threadbare:
But some who know the city suggest that attractions such as the street lighting will vanish once we have gone. Even during our visit, most roads away from our hotel are dark. The sleek restaurants surrounding it are almost empty. The central department store is gloomy, illuminated only by late-afternoon light and a string of fairy lights.
Famine and child beggars
This time last year, Sharon LaFraniere wrote for the New York Times of how "signs of hardship are evident" in the capital Pyongyang – but that she also heard of horrifying stories emanating from more isolated places in North Korea:
Elsewhere, especially in northern provinces, residents report that child beggars haunt street markets, families scavenge hillsides for sprouts and mushrooms and workers at state enterprises receive nominal salaries, at best. Workers in Pyongyang are said to be much better compensated.
Maintaining the myth
Barbara Demick wrote a superb book on life inside North Korea in 2009 called Nothing to Envy. She did a Q&A with the New Yorker magazine which gives a glimpse into the icy grip of propaganda and censorship on the state's citizens:
The North Korean propaganda machine had to go into overdrive to maintain this myth during the famine of the nineteen-nineties. North Koreans were told food shortages were due to a U.S. blockade and other nefarious plots of the U.S. warmongers. The hungry stomach shouldn't believe a lie, but in the absence of any outside information it did.
'Luxury' – North Korean style
This photo gallery from LIFE magazine in 2008 has some outstanding photographs – look at the one of a North Korean 'luxury cruise' on the Yalu River on a national holiday for a sense of the basic nature of people's lives.
Labour camps
A survivor from a North Korean labour camp during the 1990s famine there told her story in this Guardian video this month of digging icy paddy fields in her bare feet and supplementing meagre rations with frogs.
Crystal meth centre
A project by Isaac Stone Fish at the Pulitzer Center on crisis reporting is currently investigating the production of crystal meth in North Korea for export abroad – and the fact that some starving residents are using the drug to stave off their hunger:
Paradoxically, the more Pyongyang opens up for trade the bigger the problem of drug smuggling will be. The border between the two countries stretches for 880 miles, most of it a river which freezes in the winter and is extremely difficult to police. Cheap, available, and, for the North Koreans, an antidote to hunger, ice (crystal meth) is becoming a problem.
Absurd officialdom
The title of this Cracked.com article from 2009 might seem light-hearted – 6 Reasons North Korea is the Funniest Evil Dictatorship Ever – but in fact it spotlights the absurdity of North Korean officialdom's efforts to paint a veil of propaganda over the reality of life for citizens there.
And then there's the Meeting Hall for Separated Families.

One of North Korea's hobbies is kidnapping South Koreans. Another hobby is not letting people leave North Korea. We think now might be a good time to get North Korea into knitting.

Anyway, the Meeting Hall for Separated Families is billed as a resort amenity wherein once a year, the relatives of South Koreans trapped in North Korea can visit with their kidnapped kin.