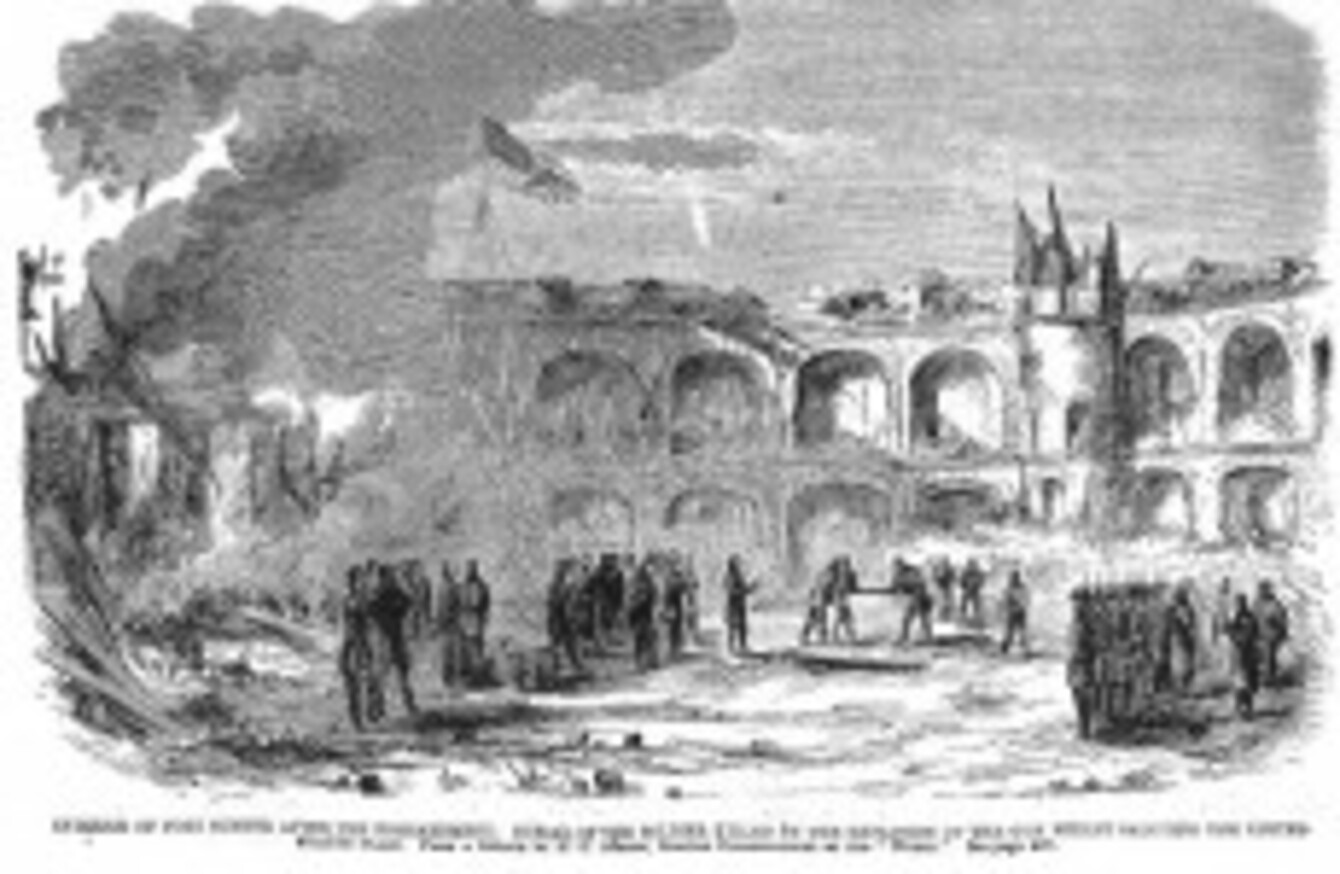 An illustration of Private Daniel Hough's funeral after the bombardment of Fort Sumter.
Image: Tom Hurley via Tipp FM
An illustration of Private Daniel Hough's funeral after the bombardment of Fort Sumter.
Image: Tom Hurley via Tipp FM
LAST WEEKEND THEJOURNAL.IE began looking at the involvement of the Irish in the American Civil War.
Nearly 200,000 men – and some women – from Ireland fought in the many battles that raged between 1861 and 1865. An estimated 750,000 soldiers were killed during the five-year war and the first casualty was actually an Irish man called Daniel Hough.
A relatively unknown figure on both sides of the water, Private Hough is the subject of a new radio documentary due to air this evening on Tipp FM.
During five months of research, presenter Tom Hurley discovered new information about the emigrant in the hope of solving some of the mystery that shrouds him.
Dan Hough arrived in New York harbour in March 1849 after leaving his native Tipperary. Just two months later, he followed in the footsteps of thousands of his native countrymen and joined the US Army. It was one way the Irish had of securing a livelihood.
Each time a soldier enlisted, he would have to promise five years service. Hough did this three times – in 1849, 1854 and 1859.
However, there was a brief period in 1857 where he was interred in a mental institution as he was described as "crazy" by an army doctor who believed he had a hereditary condition. More recently historians have produced another version. Military historian Robert Doyle, who is interviewed as part of tonight's broadcast, suggests that the Private worked with cannons which could have affected his hearing.
On leaving the institution, Hough was placed in Company E instead of returning to Company D – a fact that directly led to his death. He had returned by the time the Civil War kicked off at Fort Sumter on 12 April 1861. Although nobody died during the 36-hour bombardment, Hough died when a cannon exploded prematurely while firing a salute following the surrender to Confederate forces.
Another Irish man, Edward Gallway from Skibereen, county Cork was also injured in the blast which occurred on the 47th shot of what ended up as a 50 gun salute. He died a few days later from his injuries.
Hurley says that it cannot be explicitly stated that the Private fought against slavery because he had joined the federal army before the outbreak of the war.
The Hough mystery centres on where he is from and where is is buried.
Hurley told TheJournal.ie that there is only one Daniel Hough who fitted the description to be found among information available across Ireland. He was born in 1829 in the Borrisokane area and had a brother called William. This would mean that he had lied about his age when joining the army – something that would not have been uncommon among Irish men joining the forces.
There is a letter – written by a William Howe claiming to be Private Hough's brother – asking for the money owed to the soldier to be forwarded to his address on Greenwich Street in Manhattan. There is also evidence that his family asked his body to be exhumed and moved from its burial location at Fort Sumter to New York.
Tonight's documentary features interviews with contributors from both Ireland and the US and incorporates resources such as famine ship passenger lists, Hough's military record and Tipperary parish data.
A recurring theme throughout the programme is how difficult research was because of the spelling of his surname. How it was pronounced and spelled on documents once he left Ireland varies greatly. According to Irish military historian Wesley Bourke, one reason for this was because many Americans spelled Irish names phonetically and were not corrected because of high levels of illiteracy among the emigrants. So Hough became Howe or Haugh on many occasions and details lost about the first casualty of the American Civil War.
What the Hough – the First Casualty of the American Civil war was a Tipperary Soldier was made with the support of the Broadcasting Authority of Ireland and Tipp FM. It will be aired on Tipp FM on 7 October at 6pm. It can be heard outside the county on www.tippfm.com or as a podcast.