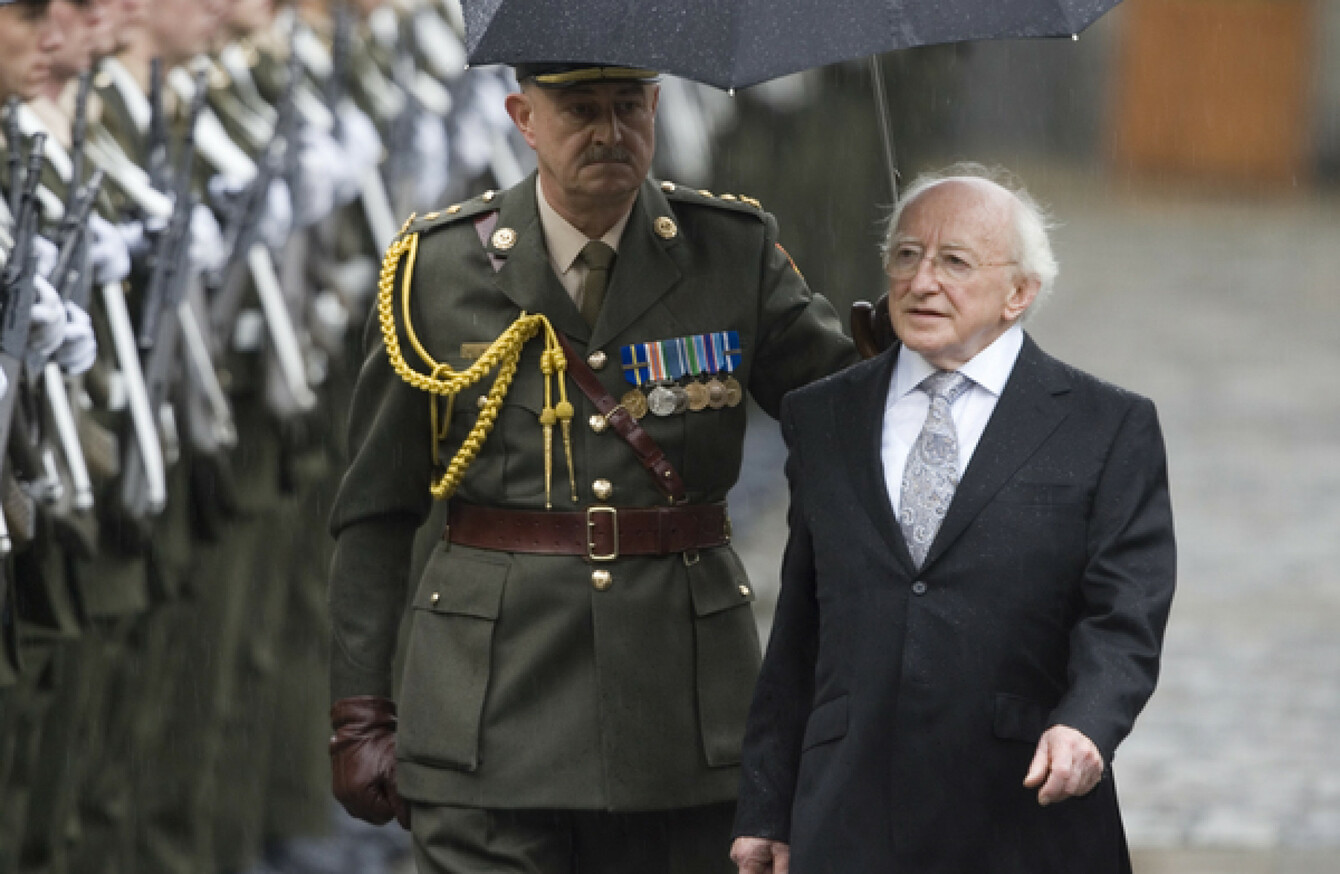 Michael D Higgins at his inauguration on 11 November 2011.
Image: Eamonn Farrell/Photocall Ireland
Michael D Higgins at his inauguration on 11 November 2011.
Image: Eamonn Farrell/Photocall Ireland
PRESIDENT MICHAEL D Higgins has asked the Taoiseach to consider moving his inauguration ceremony to the evening of 11 November, in light of events to mark the centenary of the World War I Armistice taking place earlier in the day.
A statement from the Áras this afternoon said:
"President Higgins has today written to the Taoiseach, Leo Varadkar TD, concerning the arrangements for his inauguration on 11 November.
"The date of the inauguration coincides with the centenary of the Armistice which signalled the end of the first World War and the President, conscious of the desire of many Irish people to participate in morning commemoration ceremonies, and of the invitations to Members of the Government to represent the State at ceremonies abroad, has asked for these special circumstances to be borne in mind in the arrangements.
In a change to the normal procedure, the President has asked the Government to make the arrangements for the inauguration ceremony for the evening of the 11th November so as to accommodate all of those who wish to mark the cessation of hostilities and to remember the Irish men and women and all those who lost their lives or were wounded during World War I.
Logistical reasons 
The question of when the ceremony should take place was raised in advance of the presidential election campaign, with both Labour and Sinn Féin calling for the ceremony to be moved from 11 November. 
Health Minister Simon Harris said it was his understanding that the ceremony couldn't be moved for logistical reasons. 
Labour leader Brendan Howlin said in a statement in August that the ceremony could be moved by a day or more. 
Howlin pointed out that Higgins' first term of office "will expire at midnight on the 10th November".
So, regardless of the outcome of the election – whether the incumbent is returned or not – we will have no President for a number of hours, until the new Presidential term is inaugurated.
We do not have 'acting' Presidents. Instead, the Presidential Commission is provided for and in place, in the unlikely event that any Presidential acts are required during that interim period. This has been true of every one of the 12 occasions to date when there has been an expiry of a Presidential term of office: the office, of necessity, must be vacant for a period.
There is therefore nothing unprecedented about a vacancy in the office of President during the transition period. The question is really whether it should be a vacancy of 36 hours instead of 12 hours.
I believe there are sound reasons for just one day's delay in the present case and I believe the Constitution provides latitude for the date of the inauguration to be moved.