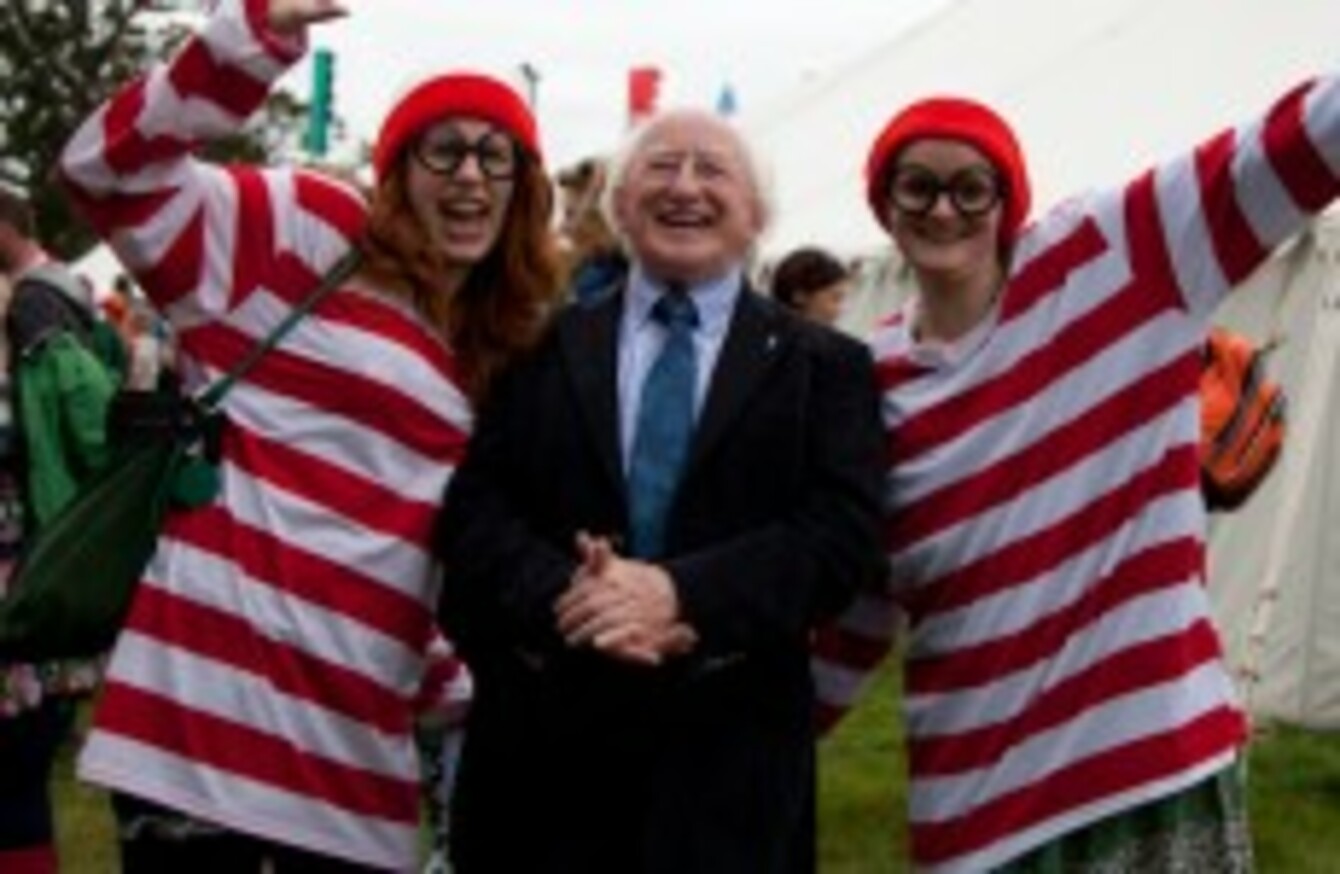 Michael D Higgins with a pair of Wallys at Electric Picnic yesterday
Image: Michelle Geraghty
Michael D Higgins with a pair of Wallys at Electric Picnic yesterday
Image: Michelle Geraghty
LABOUR'S PRESIDENTIAL CANDIDATE Michael D Higgins leads two opinion polls published today, eight weeks ahead of polling day.
Higgins tops a Millward Brown Lansdowne Poll in today's Sunday Independent with 32 per cent first preference support whilst a Behaviour & Attitudes poll in the Sunday Times gives Higgins 35 per cent of the vote.
In the Sunday Independent poll, Higgins is 8 per cent ahead of Fine Gael's Gay Mitchell on 24 per cent.
David Norris follows on 18 per cent despite the independent senator withdrawing his candidacy in August after the controversy over letters he wrote in support of his former partner Ezra Nawi who was convicted of statutory rape of a 15-year-old boy in the 90s.
The poll found that 34 per cent of people favoured him re-entering the race. However, 46 per cent said they were not in favour of a Norris comeback.
Of the other declared candidates, former Special Olympics CEO and independent Mary Davis has 13 per cent first-preference support while businessman and fellow independent Sean Gallagher is on 11 per cent.
The poll also shows 6 per cent supporting Micheál Ó Muircheartaigh who has since announced his intention not to stand in the forthcoming race.
In the Sunday Times poll, Higgins is on 35 per cent, trailed by Mitchell on 23 per cent.
Fianna Fáil MEP Brian Crowley took 17 per cent of the vote, after undecided voters were excluded and before the party announced its intention not to run a candidate.
Gallagher and Davis polled 13 and 12 per cent respectively. Redestributing Crowley's second preference votes puts Higgins on 39 per cent and Mitchell on 26 per cent.
The Sunday Times has also polled the popularity of political parties finding that Fine Gael's support has reached a record rating of 44 per cent, Labour has dropped to 12 per cent, Fianna Fáil is on 15 per cent, Sinn Féin 13 per cent and independents on 12 per cent.