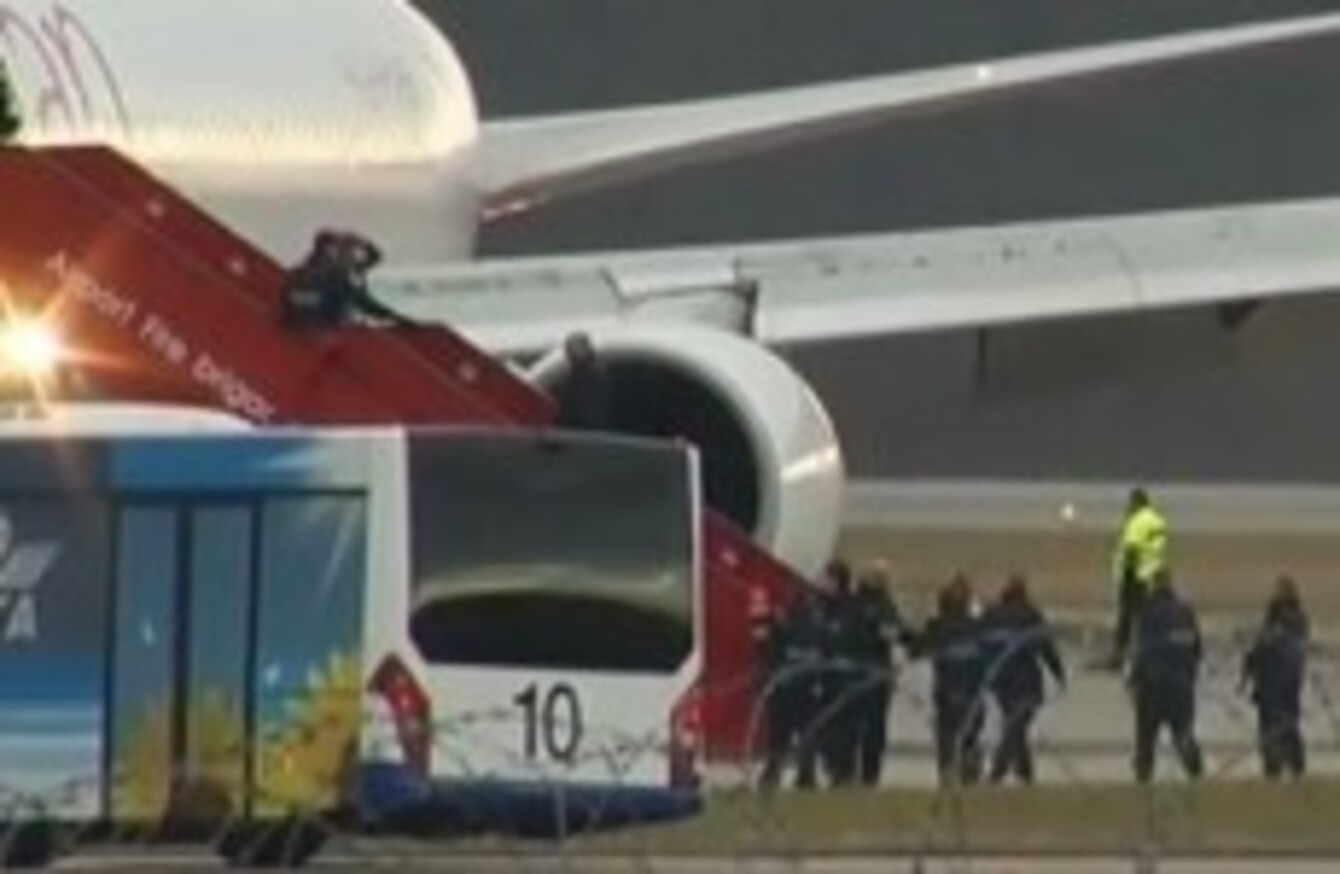 Image: Screengrab/Sky News
Image: Screengrab/Sky News
Updated at 9.55am
THE HIJACKER OF an Ethiopian Airlines plane en route to Rome that was hijacked and forced to land in Switzerland was the co-pilot of the plane, Geneva police have said.
A police spokesman said earlier that the alleged hijacker had been arrested and that the airport had been closed.
It's since been confirmed that the man arrested was the co-pilot, and that he seized his chance to take control of the plane when the pilot went to the bathroom.
"He said he felt threatened in his country and wants to seek asylum in Switzerland," Geneva police spokesman Eric Grandjean told reporters.
The man, born in 1983 and an Ethiopian citizen, had contacted Geneva Airport and said "he needed to land to fill the tank. After that he announced the hijacking," Grandjean said.
"At 6:02 am, the plane landed safely," he said, adding that the co-pilot had left the plane by scaling down a rope he had thrown out of the cockpit window.
"He didn't have a weapon with him," he said, adding that the hijacker would go before a judge later today.
Technically, he can be charged with "hostage-taking," and could face up to 20 years in prison, Grandjean said.

(Youtube:
Burger Van Dreamz
)
The airline said in a statement that the plane had been forced to land, and that no passengers had been harmed:
Ethiopian Airlines flight ET-702 on scheduled service departing from Addis Ababa on 17 February 2014 at 00:30 (local time) scheduled to arrive in Rome at 04:40 (local time) was forced to proceed to Geneva Airport.

Accordingly, the flight has landed safely at Geneva Airport. All passengers and crew are safe at Geneva Airport.

Ethiopian Airlines is making immediate arrangements to fly its esteemed customers on-board the flight to their intended destinations.
The Tribune de Geneve newspaper reports that the plane was hijacked as it was flying over Sudan.
Geneva Airport has now reopened in the wake of the alert:
First posted at 7.25am
This article includes reporting from AFP.