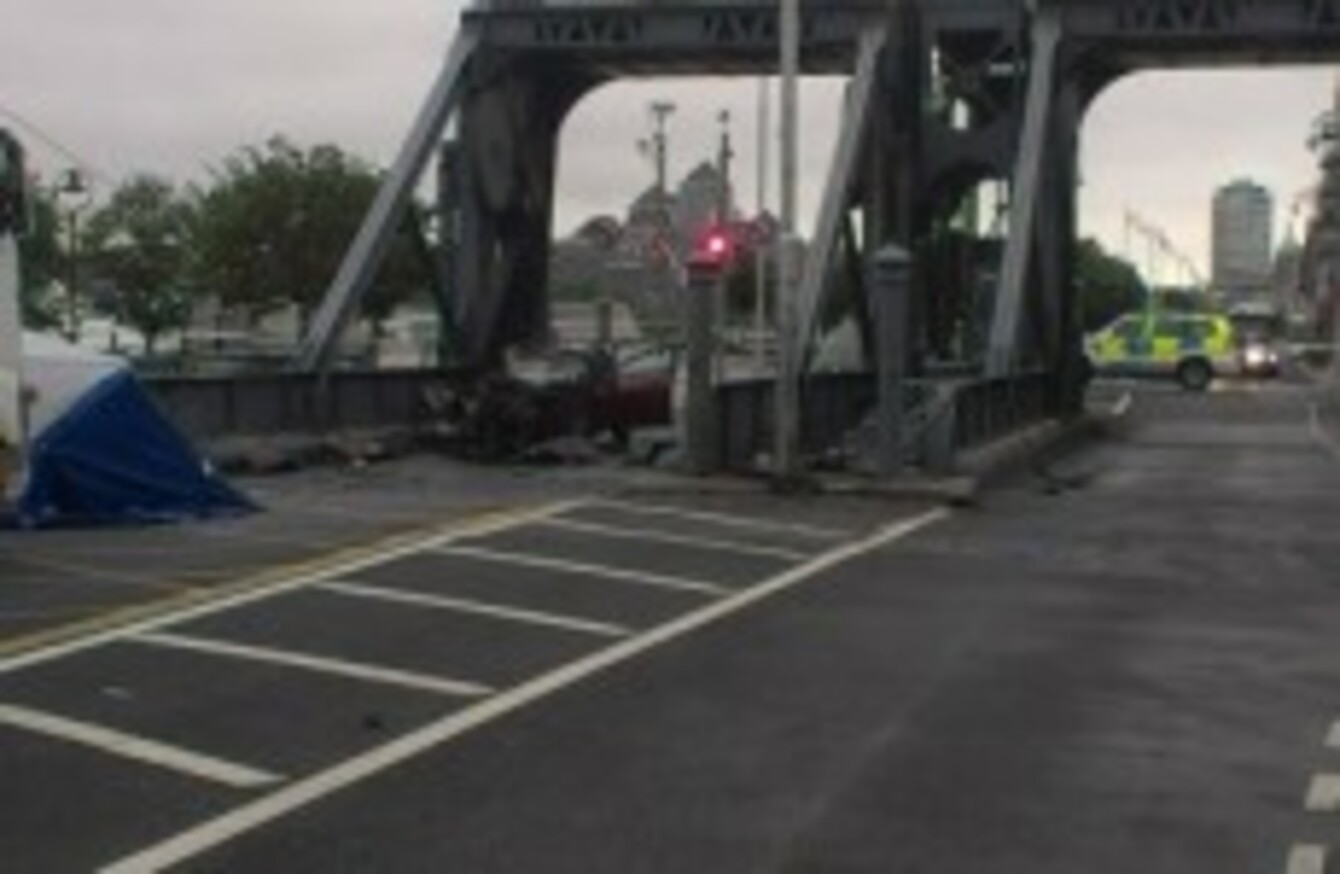 The aftermath of the crash on Monday morning
Image: Kevin Purcell
The aftermath of the crash on Monday morning
Image: Kevin Purcell
THE TAXI DRIVER whose car was stolen at knifepoint by a group of young men who later crashed it at speed into a metal bridge on North Wall Quay has been speaking of his ordeal.
Two men in their 20s were killed when the car was driven into a lock bridge close to the Convention Centre at the IFSC. Another occupant of the car received only minor injuries.
The driver of the taxi, Matthew Ilori, says he was approached by a group of men on Castleforbes Street – close to the O2 venue. As they climbed into his car, they produced a knife, as Ilori explains:
They just grabbed me from the back, pinning my neck onto the headrest, took the knife and said 'we will knife you and we will kill you'.
Ilori, who is originally from Nigeria but lives in Ireland, says his first instinct was to get out and that he "didn't struggle much":
When they said we will knife you and I saw that there was a big empty bottle in their hand – I didn't know if the guy in the middle had a knife [...] I was terrified.

You can only think of escaping, the car can be replaced my life can't be replaced.
Telling his story last night to 4fm talk-show host Niall Boylan, Ilori says he began calling for help, and that another taxi driver soon arrived at the scene, whereupon they called the gardaí.
The two then made their way in the direction the car had travelled, down the quays towards the city centre, and soon came upon the crash scene at one of two metal lock bridges on North Wall Quay.
One man in his 20s died in the immediate aftermath of the crash, which happened at 2.40am on Bank Holiday Monday morning. A second died in hospital at the nearby Mater yesterday.
Asked whether he had any sympathy for the men who died, Ilori said he "wouldn't be happy for a life to be lost at this time like that" and that he was "personally unhappy" with what happened. He added:
I really have deep sympathy for their families but I can assure you I was not happy with what they wanted to do to me.
Meanwhile, the family of the second man who died – Dylan Lacey – have spoken of their "inexpressible grief" at his death, in a funeral notice posted yesterday. His funeral has been arranged for Ringsend church on Saturday morning.
Gardaí are waiting to interview the third man involved in the crash.