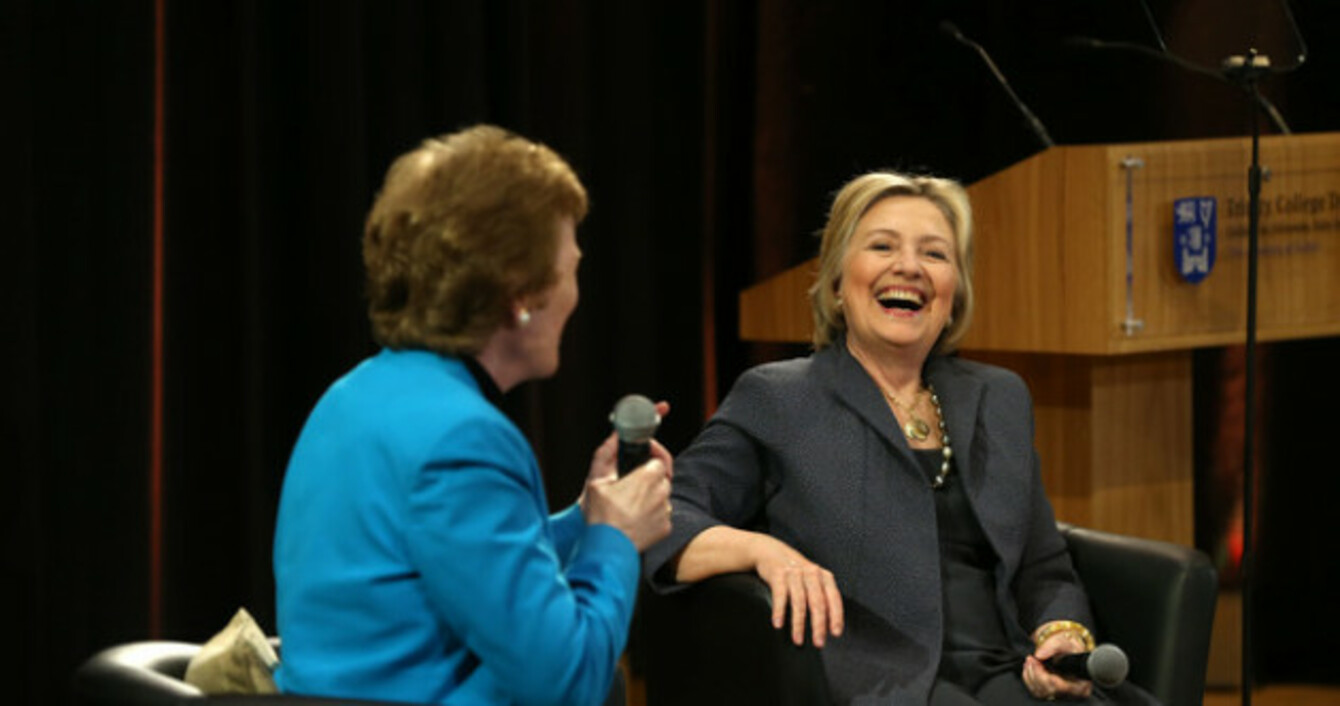 Mary Robinson and Hillary Clinton at TCD today
Image: RollingNews.ie
Mary Robinson and Hillary Clinton at TCD today
Image: RollingNews.ie
FORMER US SECRETARY of State and First Lady Hillary Clinton has been conferred with an honorary doctorate from Trinity College Dublin.
Clinton was one of five people recognised for what the college calls "their contribution to society". However, the procession into the conferring hall was marked by a small number of protesters chanting "warmongers not welcome".
Those chants were quickly drowned out by the assembled crowds, who began applauding Clinton.
The honorary doctorate line-up included prominent US philanthropist, Dr James Simons; president of the Confederation of British Industry, Paul Drechsler; archivist at the Irish Architectural Archive, Ann Rowan; and co-founder of the Young Scientist Exhibition, Dr Tony Scott.
Speaking at a talk in the college this morning hosted by former Irish President Mary Robinson, Clinton urged young people to get involved in the world around them.
"Now, a lot has happened since I was last in Ireland. I became a grandmother twice over, which is just about the greatest thing in the world. As you may have heard, I ran for president. That didn't exactly work out how I had hoped.
"I've also seen what's possible when young people participate, and make your voices heard. The Irish abortion referendum was an inspiring sight. People flew home to vote from all over the world."
Professor Anna Chahoud's oration this afternoon paid tribute to Clinton's life's work:
"Almost 66 million people have given her their vote of confidence, sharing her belief that a true democracy is a society in which everyone is equally valued as a human being, from infancy to old age, irrespective of gender, status or nationality; it is a society in which women have the power to effect a transformative change towards development, justice, and peace."
Protests
The award of the degree came against the backdrop of two protests outside the college against Clinton receiving the honour. Councillor Éilis Ryan of The Workers' Party said that Clinton's role in "promoting war should be reason enough to deny her this honour".
"She advocated a war in Iraq which cost half a million lives, led the bombing of Libya which left a chaotic vacuum behind that has been filled by a return to human slavery, and promoted and facilitated a coup in Honduras which led to the murder of many progressive, female political activists."
The Irish Anti-War Movement also held a protest with TCD Students for Justice in Palestine.