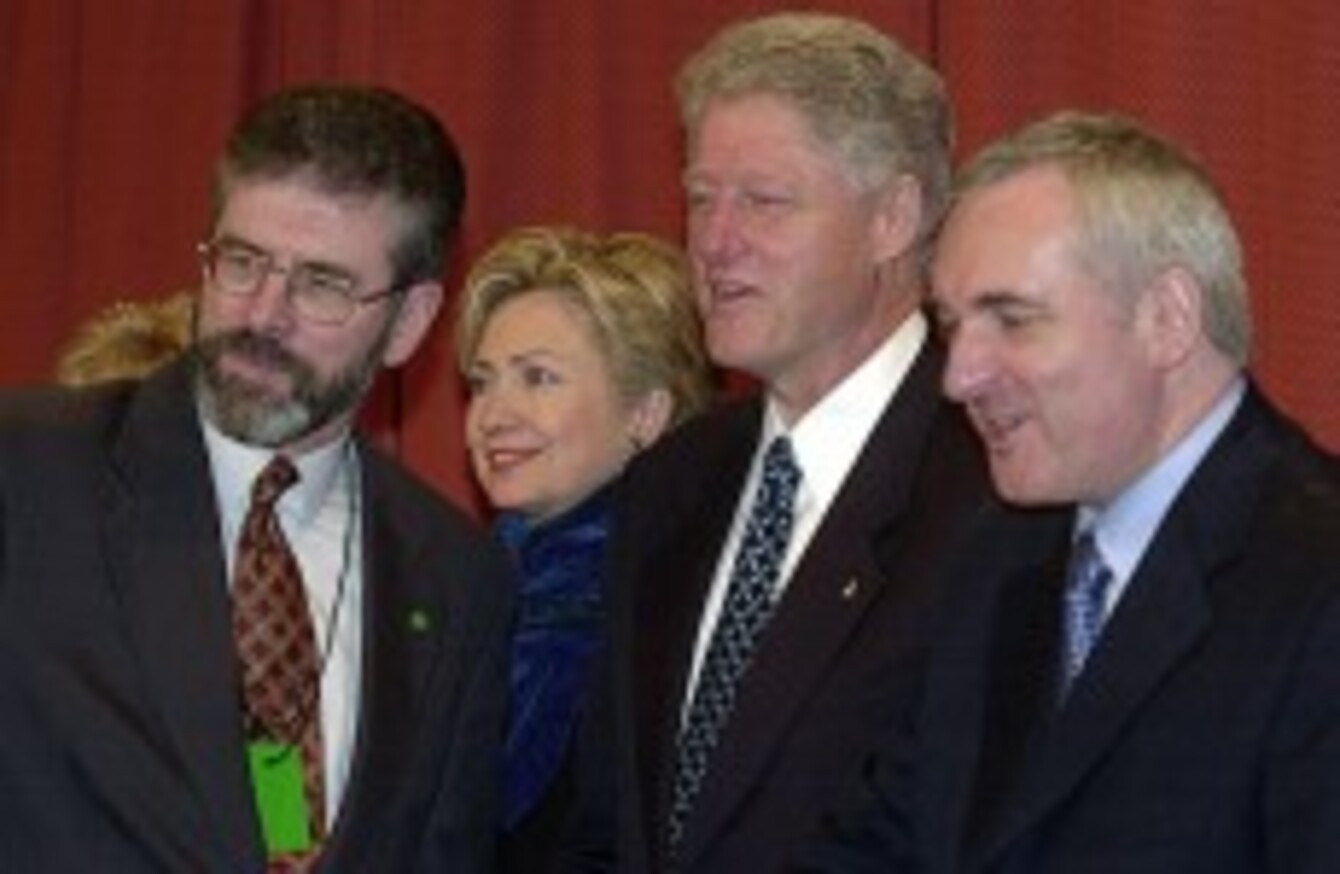 The Clintons with Gerry Adams and Bertie Ahern back in 2000.
Image: Photocall Ireland
The Clintons with Gerry Adams and Bertie Ahern back in 2000.
Image: Photocall Ireland
HILLARY CLINTON SAYS that she "cares deeply about what happens in Northern Ireland" but refused to be drawn on whether parties in southern Ireland should enter Government with Sinn Féin.
The former US Senator, Secretary of State and First Lady spoke with Seán O'Rourke on RTÉ this morning and was asked, in light of her and her husband's involvement with the peace process, whether she was disappointed that Irish parties would rule out a coalition with Sinn Féin.
"I'm not going to comment on internal Irish politics," she responded.
I have enough challenges dealing with American politics. But obviously people in any democracy have the right to vote and when those votes are counted then I think the responsibility of governing falls on those who have been elected whichever way they organise themselves.
While her husband was US President, Bill Clinton made a controversial decision to grant Gerry Adams an entry visa into the United States in the period before the 1994 IRA ceasefire. The decision was criticised by some because of the status of the IRA as a terrorist organisation in the US, but the move was credited as being vital in allowing Adams to discuss the peace process with US-based backers of the IRA.
But Clinton did say that she and her husband both continue to monitor developments in Ireland closely, making reference to the current impasse.
"I care deeply about what happens in Northern Ireland as does my husband," she said.
"So much has been accomplished. I know there are obstacles in the way of trying to achieve all the goals that everyone hopes for, but I certainly pray that everyone keeps their eyes on the ultimate goal on trying to make sure that people can live in peace and security."
In the varied interview, Clinton discussed topics such as her vote in favour of the Iraq war, the capture of Osama Bin Laden while Secretary of State as well as her front-row position in two different presidencies.
Asked to compare Barack Obama and her husband, she said she is "very proud of both of them".
I'm certainly proud of my husband, the President I have been married to and have watched him do good things for our country as well as the things he did in working with the Republic of Ireland and Northern Ireland.
Clinton also responded to questions about whether she would run for the US Presidency in 2016. O'Rourke put it to her that in her new book she talks about disappointing the supporters of her failed bid in 2008 and whether not running in two years time would further disappoint the people already campaigning for her:
I'm not going to send anybody a signal pro or con because ultimately people are allowed and encouraged to do whatever they desire. I'm the one who's going to have to make the final decision and I have lot to consider.
"I'm very honoured by the enthusiasm and by the energy that people are putting into encouraging me and persuading me to make the decision they want me to make but that's now way to do this," she said.