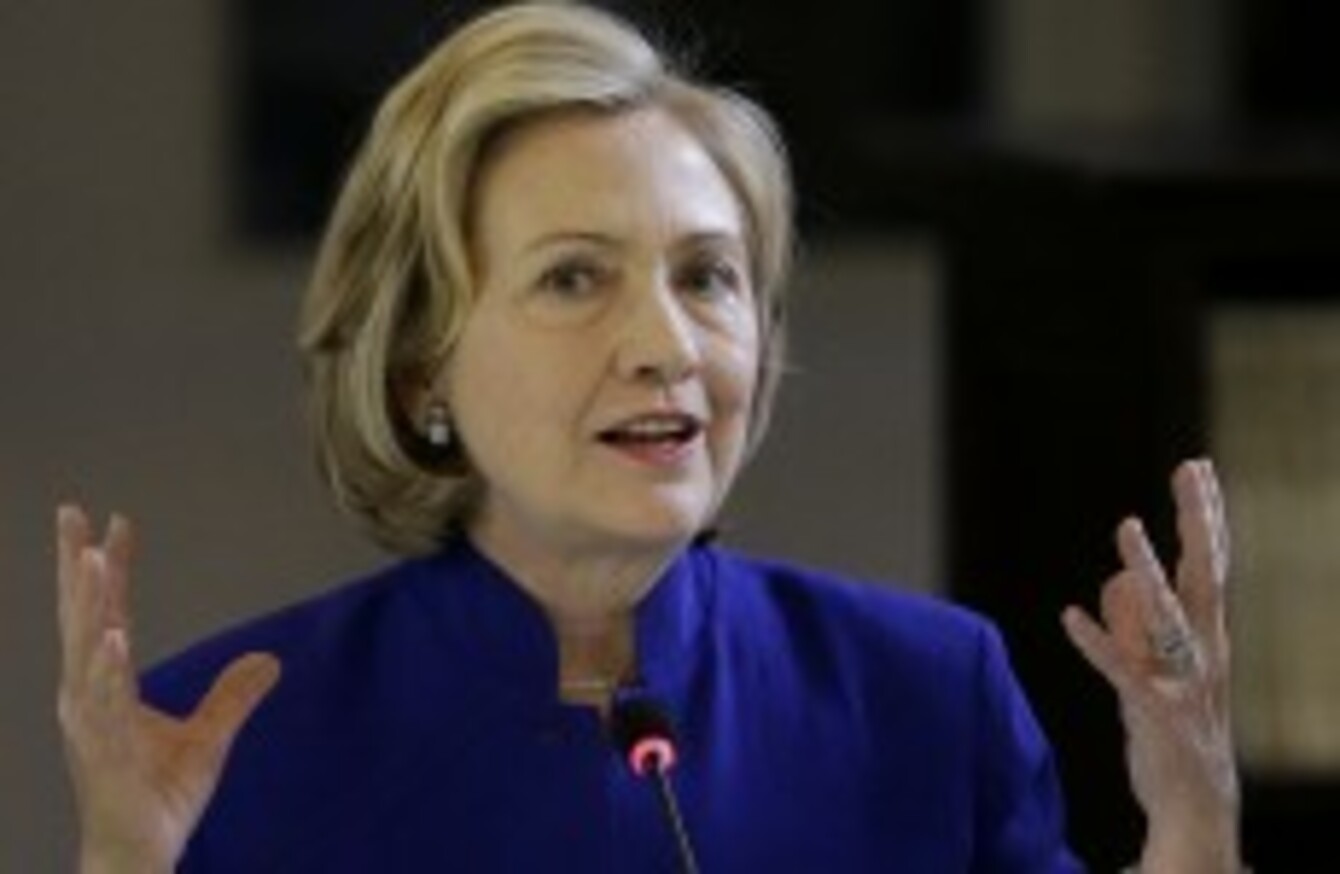 Image: AP/Press Association Images
Image: AP/Press Association Images
HILLARY CLINTON HAS offered a vociferous defence of Israel saying that the international reaction to the state's actions has been "uncalled for and unfair".
In an interview with The Atlantic magazine, the former US Secretary of State said that she is in no doubt that Hamas must take responsibility for civilian deaths in Gaza and added that demonstrations against Israel are influenced by anti-Semitism.
"More than 1,000 people have been killed in Ukraine on both sides, not counting the [Malaysia Airlines] plane, and yet we do see this enormous international reaction against Israel, and Israel's right to defend itself, and the way Israel has to defend itself. This reaction is uncalled for and unfair," Clinton said.
The former First Lady and presidential candidate also said that Israel has a "PR problem" in getting its message across:
What you see is largely what Hamas invites and permits Western journalists to report on from Gaza. It's the old PR problem that Israel has. Yes, there are substantive, deep levels of antagonism or anti-Semitism towards Israel, because it's a powerful state, a really effective military. And Hamas paints itself as the defender of the rights of the Palestinians to have their own state. So the PR battle is one that is historically tilted against Israel.
Clinton spent a large portion of her time as US Secretary of State wrangling with Israel over its expansion of settlements in the West Bank, so her comments represent a significant strengthening of the hawkishness of her position.
US President Barack Obama is also reported to have had some forthright conversations with Israeli Prime Minister Benjamin Netanyahu over civilian casualties but the US has consistently supported Israel's actions.
Clinton was pushed on the deaths of hundreds of children from Israeli attacks, something she said was "dreadful". Then again though she cast doubt on the reporting of the conflict, saying that apportioning blame is difficult because of the "fog of war":
Some reports say, maybe it wasn't the exact UN school that was bombed, but it was the annex to the school next door where they were firing the rockets. And I do think oftentimes that the anguish you are privy to because of the coverage, and the women and the children and all the rest of that, makes it very difficult to sort through to get to the truth.
A number of times during the course of the current violence UN shelters have been hit by Israeli shelling. The United Nations Relief and Works Agency in Gaza said in one case that it had provided the location of the shelter to Israeli forces 30 times.
Clinton's comments will be viewed by many as a further evidence of her ambition to run again for the White House and an attempt to sure up support of the pro-Israel lobby.
The interview and transcript can be read on The Atlantic.