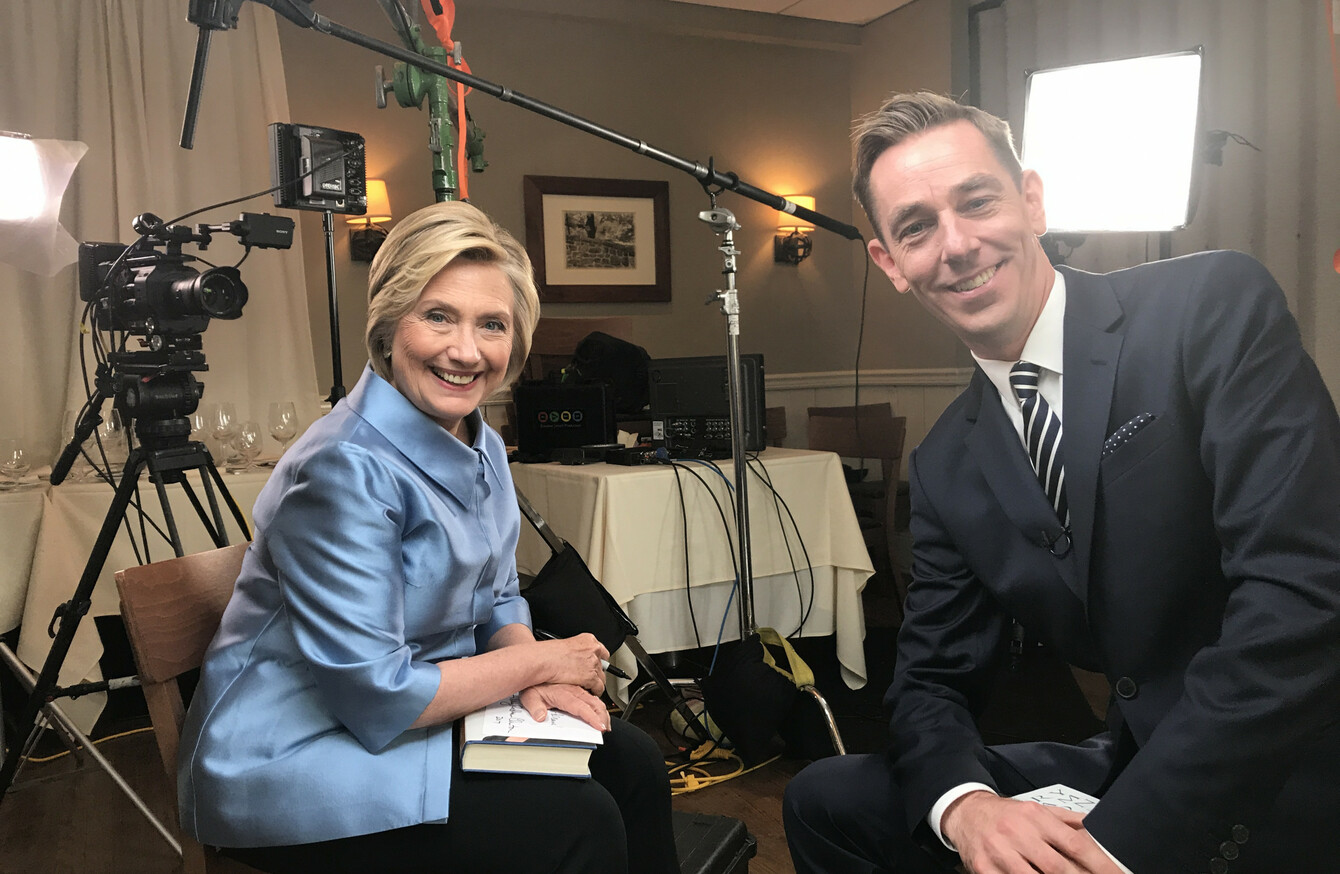 Image: RTÉ
Image: RTÉ
FORMER US PRESIDENTIAL candidate Hillary Clinton has pulled no punches in her criticism of President Donald Trump, describing him as "unpredictable" and "profoundly not ready for the job".
In a pre-recorded interview for RTÉ's The Late Late Show, Clinton talked about what it felt like losing the election to Trump and criticised the president's actions during the campaign and while in office.
"It was painful. So terrible," Clinton said of losing the election to Trump.
"I say in this book I would write my experiences, my reflections. I would have to go lie down because it was so excruciating," she said.
Clinton was referring to her book – What Happened – which she recently wrote and published on the subject of her failed presidential campaign.
Speaking to Ryan Tubridy, Clinton described facing Trump during the election, and spoke about what she felt went wrong in her failed bid.
"I was really running a campaign that was based on telling people what I would do as president, how we would work together how we would pay for it," she said.
And he was running a reality TV show campaign and I don't think I figured that out well enough at all to be able to respond more effectively.
She said that Trump had gotten through the Republican primaries and saw off all of his opponents without ever having been held accountable.
"When I found myself facing someone who had defeated 16 opponents on the Republican side, never held accountable, insulted his way to the nomination – that was unlike anything I'd ever seen in presidential politics," she said.
"You could have disagreements. I mean I certainly had with Republicans and I watched Democrats win and lose over the last 30 or 40 years.
But I never saw a candidate who nobody reined in and held accountable for what he said and did the way we had here. And that was hard to make adjustments for.
"Stalking"
Clinton spoke about the final debate of the campaign between her and Trump, where the pair refused to shake hands.
The debate took place soon after the release of the infamous tape in which Trump is recorded making lewd and sexist remarks about a female TV soap actress.
Ahead of the debate, Clinton and her team had worked out how they would prepare for her sharing a stage with Trump.
"I really thought it was all I could do to share a debate stage with him," she said.
"I thought what he said on the tape which was so in keeping with how he had presented himself for years was just not something to show any respect for.
Clinton said she had heard"rumours" that Trump was going to "pull some stunt if they shook hands".
"And we practiced him stalking me on the stage because we thought that would be one of his responses to the tape," she said.
We didn't know what he would do. I didn't want to be in a position where I would be forced to have to respond physically. I wanted to just keep it on the issues and what we would say in the debate.
Trump's presidency 
Clinton said that she "would have been really unhappy if I had lost to a normal Republican".
"But to lose to someone who I believed profoundly was not ready for the job, was temperamentally unqualified for the job, was such a burden.
I just thought, 'I've just let everybody down, I've let my country down, I've let the world down. How did this happen?'
She said that since Trump has taken office he has been unpredictable, and she strongly criticised him over his recent speech to the United Nations.
"He certainly is unpredictable," Clinton said.
We can see the speech that he gave to the UN. It was a dark, dangerous, selfish speech and it was provocative in the worst possible way.
Clinton said that Trump was not only provoking North Korea, but also Iran in his threats to dismantle the deal put in place to curb the Middle East country's nuclear programme.
#Open journalism No news is bad news Support The Journal

Your contributions will help us continue to deliver the stories that are important to you

Support us now
"Why would anybody want to unleash nuclear proliferation on our planet?" She said.
Clinton also spoke about being present for Trump's inauguration, and again criticised the president over his speech.
"He should have risen to the occasion," she said.
He was now the president of all the Americans, not just the people who voted for him.
However, she said that he was only interested in appealing to and addressing his base.
Russian interference

Clinton said she wrote the What Happened book so that she could reflect on her own shortcomings during the campaign, but also to highlight and raise awareness of the other forces she said were at work in her loss.
"I knew there was these other forces at work that needed to be unpacked and analysed because it's not only about what happened it's about preventing it from happening again," she said.
Clinton said it was important for people to be aware of Russian interference in US politics, which she said will continue to be an issue in the future.
"No one – including me – is calling for a review contesting the election," she said.
That's done. But it does raise questions about the legitimacy of the election and that then should prompt people across the political spectrum to say, 'Okay that's fine, that's history, but what do we do now to prevent the Russians from continuing to interfere?' which it is my belief they will do.
While Clinton said she was devastated at the time of the loss, she said she was now happy and would continue to use her platform to advocate for women in politics and to fight back against "politically damaging" trends which she had seen emerge in the US.