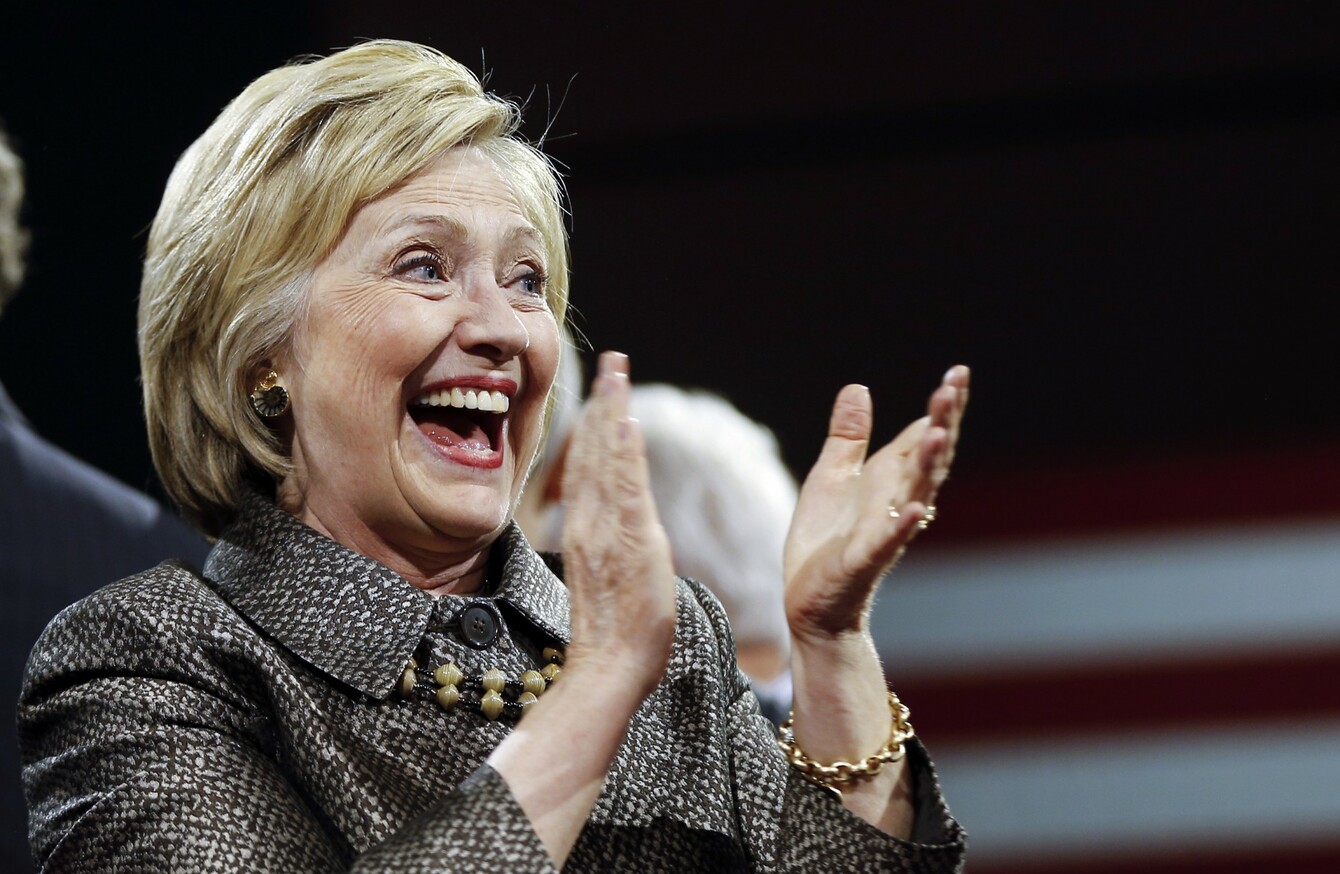 Clinton is on the cusp of a historic first nomination for a female candidate.
Image: Matt Rourke/PA
Clinton is on the cusp of a historic first nomination for a female candidate.
Image: Matt Rourke/PA
HILLARY CLINTON HAS captured the Democratic White House nomination according to a count of US delegates counts released yesterday evening, hours before the last major primaries of the contest.
Passing the milestone of 2,383 delegates secures Clinton's status as the presumptive nominee, ensuring she will go head-to-head with Republican real estate tycoon Donald Trump in an unprecedented showdown for the White House.
But Clinton's party rival, Senator Bernie Sanders, was not ready to throw in the towel, insisting the Democratic standardbearer will not be anointed until delegates vote at the party's national convention in late July.
And while her campaign acknowledged as "an important milestone" the US network tallies that pushed her beyond the magic number, Clinton said her battle with Sanders was not yet over.
The former secretary of state told a rally in Long Beach, California, that "according to the news, we are on the brink of a historic, historic, unprecedented moment."
"But we still have work to do, don't we?" she said, referring to Tuesday's primaries in California, Montana, New Jersey, New Mexico, North Dakota, and South Dakota.
The capital Washington rounds out the nominating contests when it votes on 14 June.
Clinton has mounted a hectic 48-hour campaign push ahead of California's high-profile primary, hoping to finish strong and end any argument for Sanders to remain in the race, as he has pledged to do until the Democratic convention.
"It's not over until it's over," the former secretary of state told reporters at a community center in Compton, near Los Angeles.
President Barack Obama has appeared eager to enter the campaign fray, and he edged closer to a formal endorsement of Clinton Monday, with his White House suggesting the next 48 hours would be pivotal.
"Once the voters in New Jersey and California have an opportunity to express their preference," said White House spokesman Josh Earnest,
then we may be in a position where we have a much greater sense of what the outcome is likely to be.
Rush to judgment?
Clinton came to the brink of the nomination Sunday when she won the US territory of Puerto Rico, pushing her delegate count to 2,373, according to a CNN tally.
She reportedly surpassed the threshold Monday after a number of superdelegates — current and former elected officials and political activists who are not bound to vote for a specific candidate — committed to back her candidacy.
The Sanders campaign called it "a rush to judgment."
"Secretary Clinton does not have and will not have the requisite number of pledged delegates to secure the nomination," Sanders spokesman Michael Briggs said in a statement.
She will be dependent on superdelegates "who do not vote until 25 July and who can change their minds between now and then."
Clinton noted Monday that she has earned three million votes more than Sanders and is well ahead in the pledged delegate count.
'Have to be unified'
Clinton vowed Monday to "do everything I can to unify the Democratic Party," saying she would be reaching out to Sanders.
And I hope he'll join me in that. We have to be unified going into and out of the convention to take on Donald Trump and to repudiate the kind of campaign he's running.
Trump became the presumptive Republican nominee last month.
But the provocative billionaire has made several mis-steps since then, the latest being his belligerent attacks on a judge presiding over a case against the Trump University real estate program.
Trump has claimed the judge, Gonzalo Curiel, is a "Mexican" was biased against him because of his call to build a wall on the southern US border with Mexico.
Curiel was born in the US state of Indiana to Mexican parents.
Trump's position unleashed stinging criticism from fellow Republicans accusing him of bigotry and racism, highlighting the potential trouble Trump might have in unifying Republicans behind him and wooing independents in the general election.
"Saying someone can't do a specific job because of his or her race is the literal definition of 'racism,'" Republican Senator Ben Sasse posted on Twitter.
Clinton joined in the criticism Monday, telling supporters at a rally in Lynwood, near Los Angeles, that "we need to stop this divisiveness, this bullying and bigotry."
At a small, family-owned burger joint in Watts, a man praised Clinton for her San Diego speech in which she knocked Trump as "temperamentally unfit" to be commander in chief.
"I'm gonna go after him all the time," she told the man. "All the time."