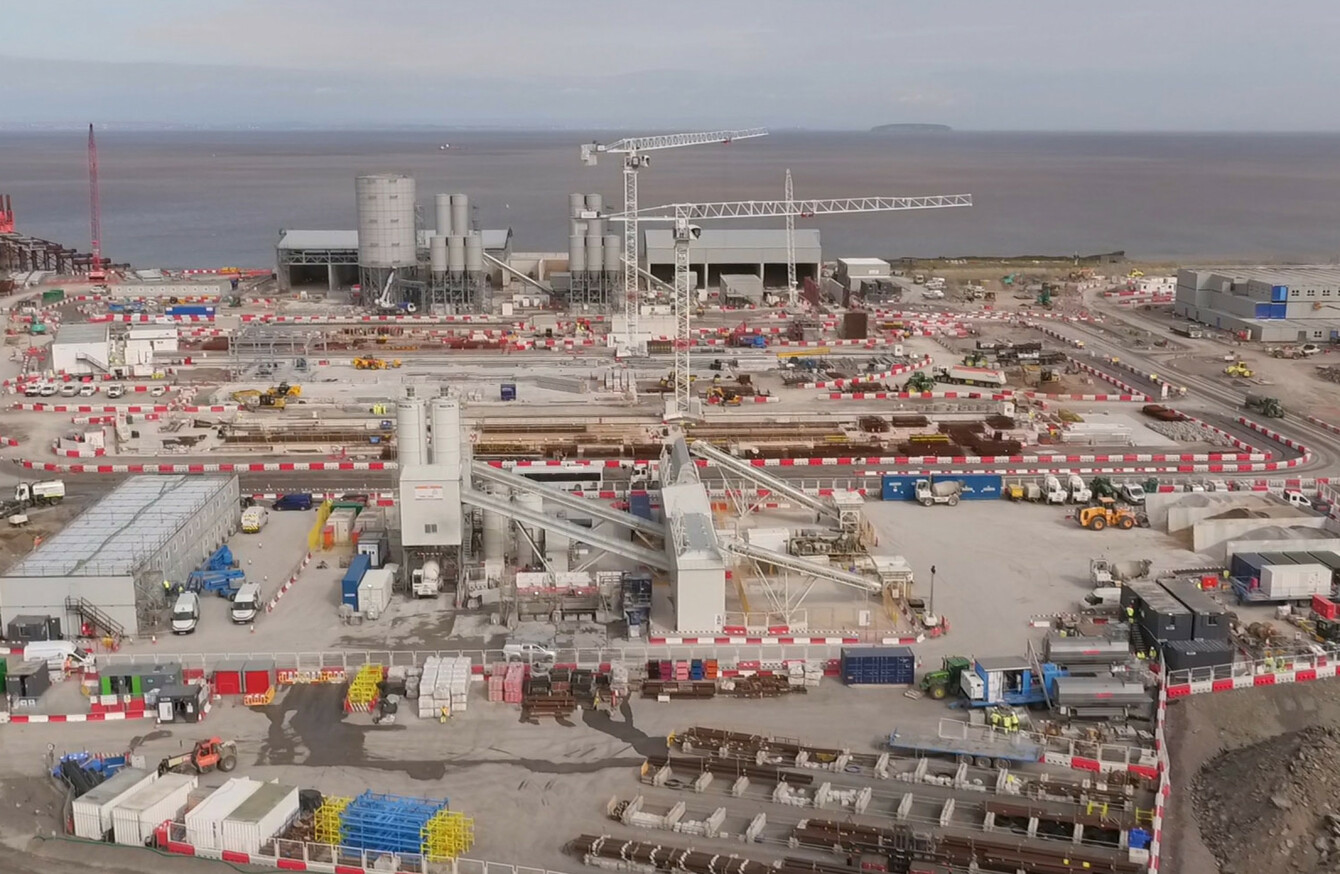 Image: EDF Energy/PA
Image: EDF Energy/PA
AN OIREACHTAS COMMITTEE will express its concerns to UK authorities about plans to build a new power plant on the west coast of England as environmental experts here claim the government has failed to consider the possible consequences for Ireland.
Attracta Uí Bhroin, of the Irish Environmental Network told the Committee on Housing, Planning and Local Government that her intention was not to panic people or cause unnecessary concern, but her organisation wants to ensure Irish people's rights are upheld.
Although the process for the new nuclear site at Hinckley Point in England, which is 250km from the coast of Ireland, began five years ago, it was only in 2016 that the news about the plans broke.
Hinkley Point C was given the final investment approval by French energy giant EDF, which has a two-thirds share and which is building the plant in conjunction with a Chinese company.
Speaking to TDs and senators today, Uí Broin pointed out that of the eight power plants the UK has planned as part of its energy expansion, "five are on the west coast of the UK, facing Ireland on the most densely populated east coast".
Some of these plants are planned in locations closer than Hinkley Point C.
The potential economic impact of a nuclear leak or meltdown could be very serious, she explained. A 2016 ESRI report considered a scenario where there was a nuclear incident, but with no radioactive contamination reaching Ireland.
"Even then they estimated that impact economically could be in the order of €4 billion," she said, explaining that an incident such as this would have serious implications for the agrifood and tourism industries in Ireland.
In the event of an incident where there is a risk of contamination, she said there are no detailed plans in place to protect Irish people, the water supply, or the country's farm animals and produce.
"Not only would you not have fodder, you would not have livestock. You are talking about the national herd."
She explained that the UK had made two screening determinations as part of its assessment process ahead of construction.
"There are serious questions about the adequacy of the assessment of impacts on Ireland in particular and the complacency of Ireland in respect of that assessment."
Despite the fact that Ireland is the nearest state to the plant, Uí Bhroin said it was "entirely omitted" from the severe accident assessment.
She pointed out that other countries like Austria, Denmark and Germany had pushed back and insisted on being consulted and included in the assessment process.
Uí Bhroin was joined by Professors John Sweeney and Steve Thomas, who outlined some of the specific concerns around safety assessment and treatment of waste.
Sweeney was critical of the models used in risk assessments – some older models were used in calculations, for example, despite the fact that more modern ones exist.
Thomas spoke about some of the parts of the plant which are being made in France and which French regulatory authorities will not a clear for use in French nuclear plants.
Uí Bhroin said there was an "extraordinary level of frustration, anger and disappointment" among environmental groups at the government's reaction to these plans.
"This has been a lone battle by Irish ENGOs [Environmental Non-Governmental Organisations]," she told the committee. She also said there had been a "lack of support and expertise from Irish bodies".
Responding to the evidence from the witnesses, Green Party Senator Grace O'Sullivan said she was concerned about what impact the committee could have at this late stage.
"We are here not very late in the day."
The public consultation concluded on April 17, but the committee was given an extension. It now has until 11 May to submit its report outlining concerns about the plan.