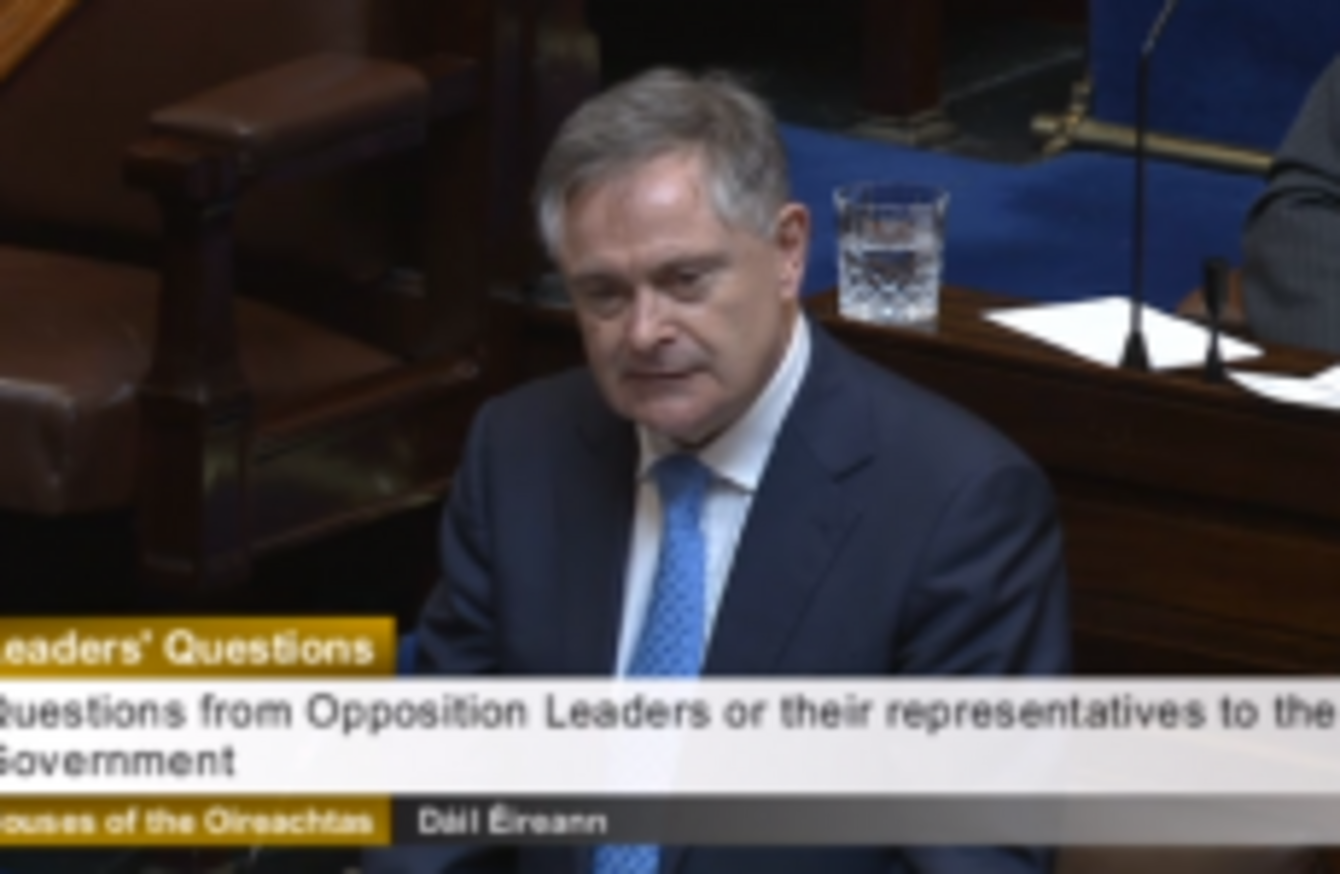 Brendan Howlin
Image: Screengrab/Oireachtas TV
Brendan Howlin
Image: Screengrab/Oireachtas TV
Updated at 7.30pm
THE GOVERNMENT IS in the process of creating a "reconfigured, refined, improved" ambulance service, according to Public Reform Minister Brendan Howlin.
Howlin was responding to a question posed by Sinn Féin's Peader Tóibín in the Dáil this afternoon when he said that an ongoing HIQA review would result in an improved service with better outcomes.
Referencing a recent Prime Time programme that highlighted inefficiencies in the ambulance service, Tóibín said the current system was "failing miserably".
He noted that less than half of patients with life-threatening conditions were responded to within time limit targets, compared to 70 per cent of people in the UK and Scotland.
"A person dying on the roadside for an hour waiting for an ambulance is unacceptable," Tóibín stated.
Howlin said that when the current government took office in 2011 there were no targets for the service, stating: "[Health Minister] James Reilly has raised the bar annually" regarding ambulance response times.
He accused Tóibín and other members of the Opposition of focusing on input, rather than outcome.
Targets
Howlin admitted that the current policy does not work as if an ambulance arrives within 19 minutes of a call-out, but the patient passes away, this is recorded as meeting a target, whereas if paramedics take 20 minutes to arrive and the patient's life is saved, this is viewed as a missed target.
Peadar Tóibín (Pic: Screengrab/Oireachtas TV)
Tóibín said it was unacceptable that gardaí are now asked to respond to emergency situations and make a decision on the patient's wellbeing as the only relevant experience they have may be "first-aid training in Templemore 20 years ago".
He also criticised the fact that some 60 senior managers within the ambulance service were using work vehicles for personal purposes, saying it proved the "culture of entitlement rife under Fianna Fáil" still existed.
"We the taxpayer are filling their tanks," he added.
Tóibín noted the drop of active ambulances from 320 in 2008 to 265 in 2013 and said Ireland had the half the number of paramedics per capita when compared to Northern Ireland or Scotland.
Irish Water
Also during Leaders' Questions, Fianna Fáil's Barry Cowen accused the government of setting up Irish Water "under a cloud of secrecy".
He stated that the government must account for the €85 million set to be paid in consultancy fees in relation to the venture, saying "there's been no consultation, even at committee level" with the Opposition.
Cowen said it was unfair that "the public [be] asked to pay for a system that may not be fit for purpose".
Barry Cowen (Pic: Screengrab/Oireachtas TV)
Howlin said that the current water system in Ireland was inefficient as 18,000 homes have to boil their water before use and one third of Dublin's population are subject to constraints in terms of their usage.
#Open journalism No news is bad news Support The Journal

Your contributions will help us continue to deliver the stories that are important to you

Support us now
He added that 40 per cent of our water leaks and 36 per cent of water treatment plants not up to Environmental Protection Agency standards.
The minister admitted that there would be "issues" as 34 local authorities switched to the new system and said information regarding costs would be made public "in good time".
Wealth tax
Howlin also dismissed a suggestion by Independent TD Séamus Healy that the government should introduce a wealth tax, accusing him of the "usual political drivel".
"He's only in favour of fantasy taxes on fantasy people," Howlin remarked.
Healy accused the government of adopting a policy of "Make the poor and the less well-off pay", saying that recent research showed the gap between rich and poor in Ireland was four times the OECD average.
He said that the Labour party should be "ashamed" for supporting cuts to child benefit and other allowances for low earners.
Howlin responded by saying that Labour was a party with a minority share of the power in government and, as such, had to make compromises when creating policies with Fine Gael.
He said that the coalition had "picked up the pieces of a shattered economy" and were working towards lowering the unemployment rate to below 11 per cent by the end of the year.
First posted at 1.45pm