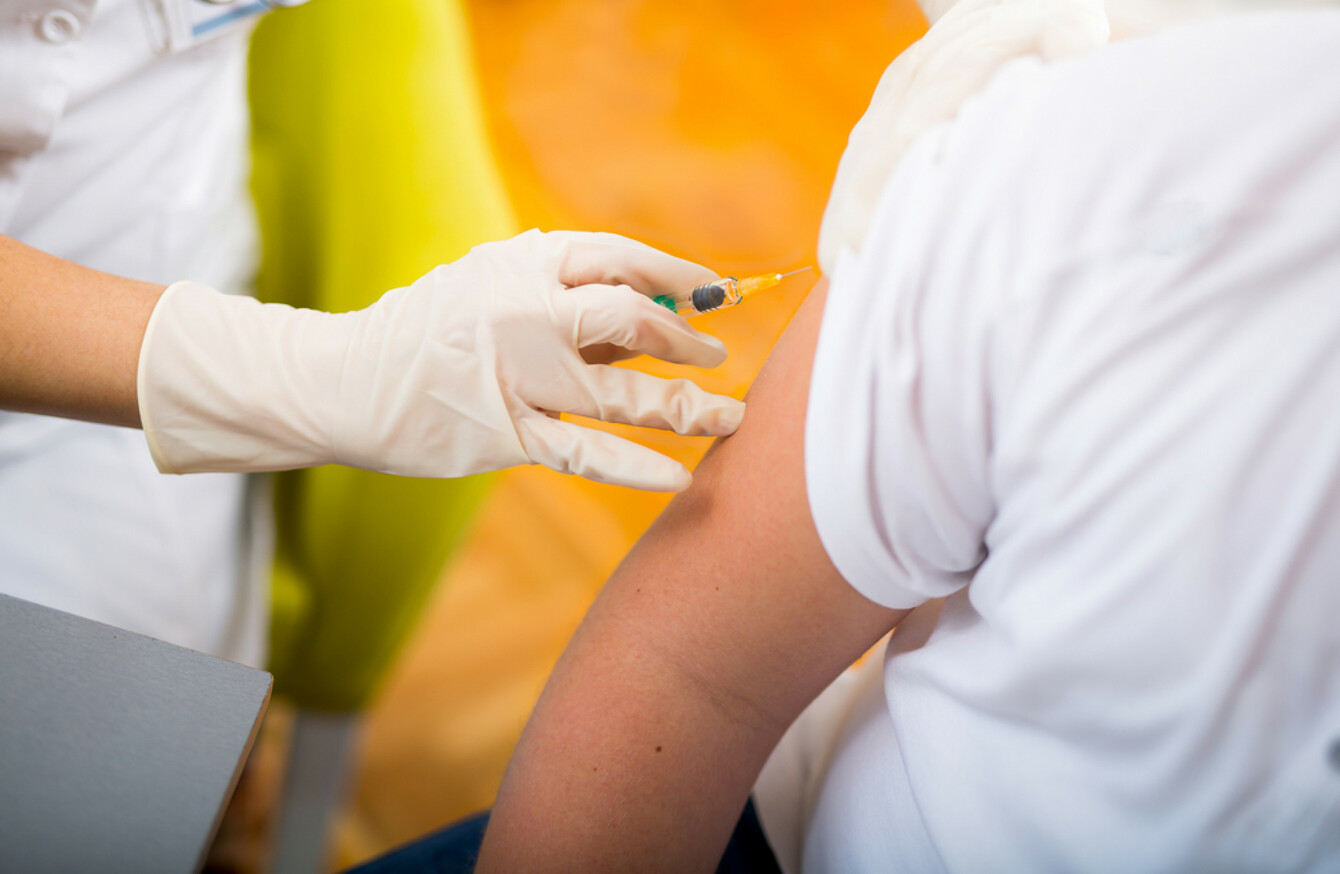 Image: Shutterstock
Image: Shutterstock
THE HEALTH MINISTER has announced that the HSE will extend the HPV vaccination to boys next year. 
The Health Information and Quality Authority (Hiqa) today published its assessment on the clinical and cost-effectiveness of extending the vaccine to boys. Currently, girls in their first year of secondary school are offered the 4-valent vaccine, which protects against four types of HPV.
Hiqa has advised switching from this vaccine to the 9-valent vaccine, which protects against an additional five types of HPV. It has also recommended that the vaccine is extended to boys in their first year of secondary school.
Minister Simon Harris said funding has already been made available in the budget to facilitate the introduction of the initiative in 2019. 
"The efficacy of vaccination is well documented. The virtual eradication of Smallpox and elimination of Polio; increased protection for women and girls against cervical cancer; protection of the vulnerable against influenza – all are due to vaccination," he said.
There have been attempts to spread fear and scaremonger. This came to light here in when there was an attempt to link the HPV vaccine with serious side effects. This continues to be a problem for Member States.
"This can have negative, and potentially long-lasting, consequences, particularly when such views are spread through online media."
Switching to a different vaccination will cost an extra €870,000 over five years and extending it to boys will cost an additional €11.7 million over that same time period. 
"A gender-neutral 9-valent vaccination programme, where both boys and girls are vaccinated, is estimated to be more effective than the girls-only alternative," Dr Máirín Ryan, deputy chief executive of Hiqa said.
"It is likely that gender neutral 9-valent vaccination would also be cost-effective in light of the conservative assumptions used with regard to final cost, uptake rate and protection provided against all types of cancers."
She pointed out that HPV is responsible for approximately one in every 20 cases of cancer across the world. Around 90% of people will be infected with HPV at some point in their lives. 
Every year, 538 cancers associated with the virus are diagnosed in Ireland, including in the cervix, anus, penis, neck and throat. HPV infection is also responsible for genital warts. 
Hiqa also carried out a safety assessment by reviewing data in 10 studies. It said conclusions across all ten were consistent:
No safety issues were identified for a range of serious adverse events.
No deaths causally associated with HPV vaccination were found.
Local injection site adverse events, like pain, swelling or redness, commonly occur following vaccination, as expected.
Out of the 242 submissions Hiqa received as part of its public consultation, 49 related to safety. 
Ryan said the watchdog had looked at data from 70,000 trial participants and 20 million individuals who received the vaccine under observation. 
She said part of establishing whether a vaccination has caused an issue is looking at whether there were increased incidences of serious adverse effects in those who had the vaccine, compared to those who received a placebo.
#Open journalism No news is bad news Support The Journal

Your contributions will help us continue to deliver the stories that are important to you

Support us now
With a number of syndromes that have been claimed to be linked to the vaccination, she said no increased incidences were found compared to numbers of those who developed these conditions after receiving the placebo. 
Dr Ryan said extending the vaccine to boys will provide direct protection for them and indirect protection to girls who have not been vaccinated, reducing HPV-related disease and mortality in Ireland. Over 20 years, Hiqa estimates these two changes to the current programme will prevent an additional 101 cases of cervical cancer.
"This assessment demonstrates that the HPV vaccine provides effective primary prevention against HPV infection and HPV-related disease, and that the vaccine is safe."