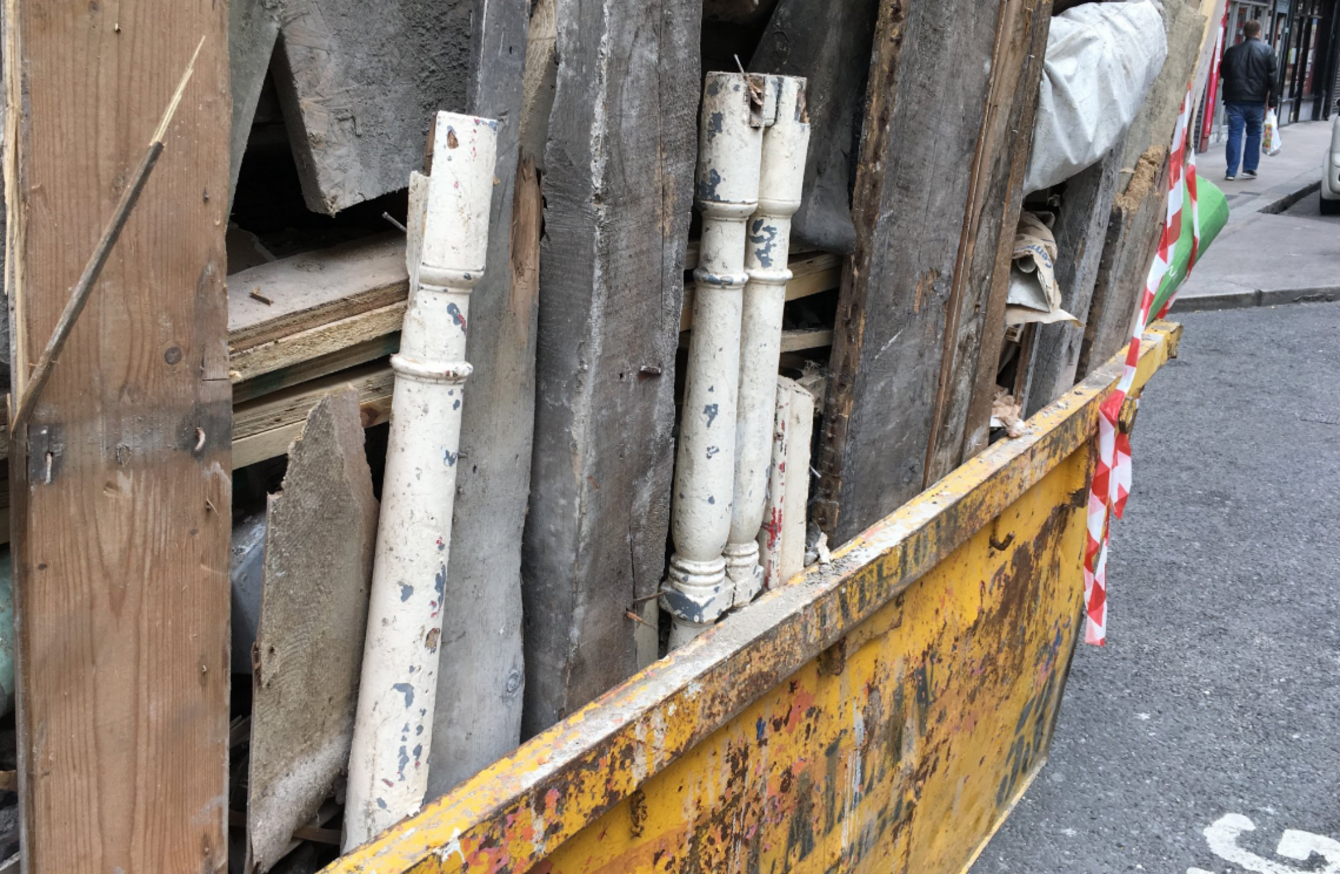 Image: Dublin Civic Trust
Image: Dublin Civic Trust
A SKIP FULL of furnishings and building materials that date back several hundred years has prompted calls for Dublin's historic buildings to be protected.
The items destined for the dump included hardwood newel posts, Georgian fabric and thick timber planking dating from the late 17th century.
It was stripped from a building on Capel Street and Graham Hickey of Dublin Civic Trust says it's a regular occurrence.
"It's an all too common sight that can be seen at almost any time of the week. Skips full of historical material. It's the gradual attrition of historical Dublin," he said to TheJournal.ie.
I'd say that the gradual loss of historic fabric on Capel Street urgently needs to be arrested. Only last year, in the nick of time we caught some of the oldest windows on the street in the process of being removed.
Following the charity's intervention the 18th-century sashes were fully restored, including their original panes of hand-blown glass.
Capel Street is a designated a 'Architectural Conservation Area' and Dublin City Council describes it as "one of the most historically significant streets in Dublin City".
Many of the buildings on the street date from the late 18th and early 19th century. During this period the street became a thriving area for retail activity.
Hickey argues that the street is symptomatic of the wider under-resourcing of planning enforcement in Dublin and says active public monitoring is needed to protect historic buildings.
The conservationist says that Dublin's historic streets should be as closely managed as shopping centres where the appearance of shop fronts is tightly controlled.
Dubliners are well aware of just how shabby and visually chaotic streets like Westmoreland Street, Talbot Street and even Dame Street have become – they're virtually planning-free zones when it comes to garish signage, shop fronts and inappropriate works to upper facades.