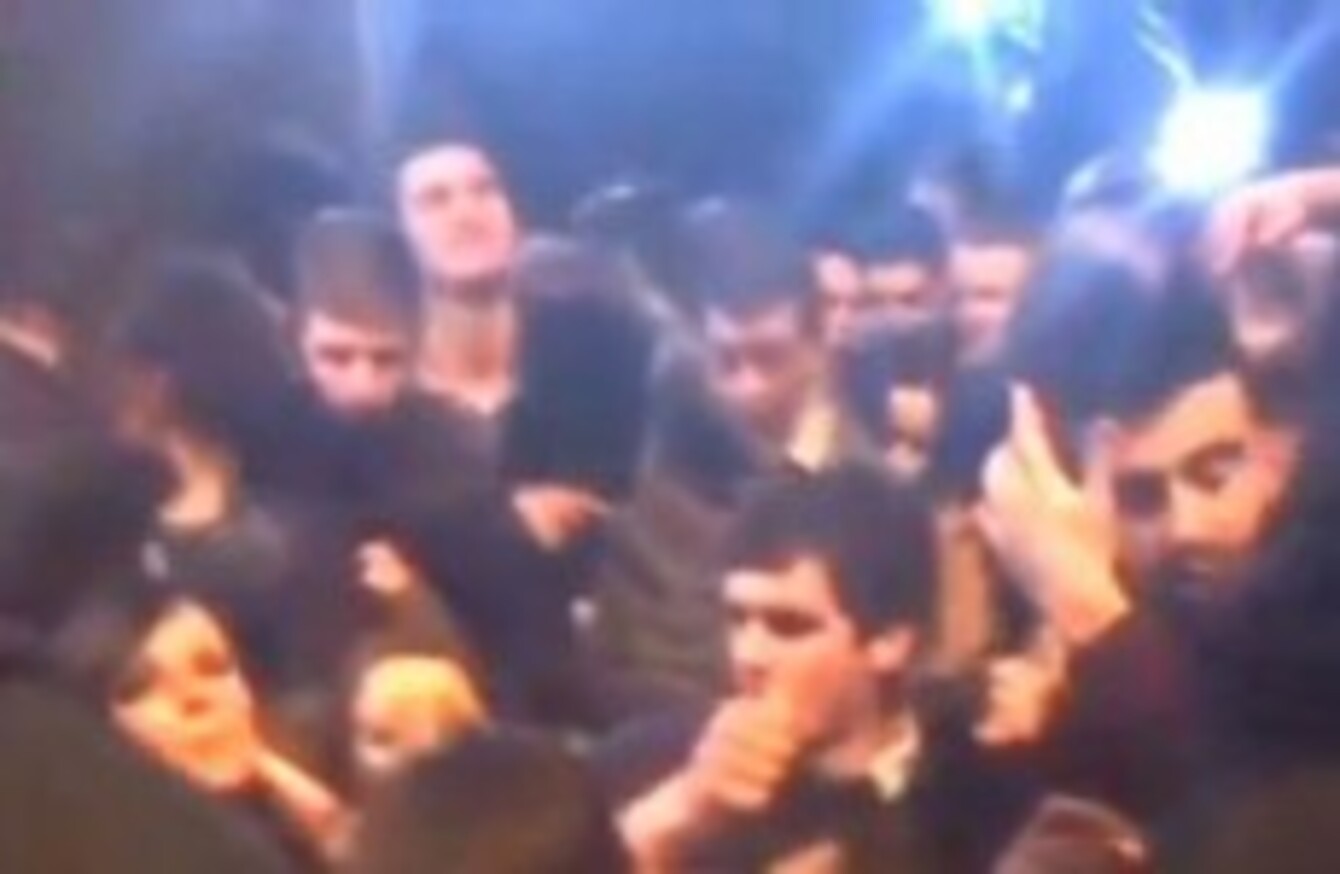 A clip from a video that shows the degree of crowding at Copper Face Jacks on Monday.
Image: Kelly Redmond via YouTube
A clip from a video that shows the degree of crowding at Copper Face Jacks on Monday.
Image: Kelly Redmond via YouTube
WITH SEVEN PEOPLE injured at Copper Face Jacks on Monday, questions were raised about the policing, advertising and general safety of large-scale club nights.
Many of the club nights, including the drinks promotions, are not directly run by the majority of clubs.
Most are run by outside promotions companies, who are adept at reaching young people through social media.
The promotions companies take a cut of the money made on the door and, sources say, advise landlords to lower the price of drinks to attract more young punters.
"They'll say to a pub owner 'I can put 400 or 500 or 600 people in here, but you have lower your prices'," says one source with years of experience in the pub industry.
"You say that to any landlord who's struggling and they'll do it," they added.
The Messy Mondays promotion, which was taking place at Copper Face Jacks when seven people were injured queueing outside earlier this week, is run by a company called NightLife Ireland.
They run nights in a number of Dublin's biggest nightclubs, attracting hundreds of people every week.
Sources say that the typical night will see a promotions company take 50 per cent of the money made on the door, but that number will rise as admissions go up.
Nightlife's Facebook page lists an official website, but this only brings up a holding page.
The Facebook information lists a Dublin office, but this was empty when called to by TheJournal.ie and the phone number listed goes to a Dublin taxi firm.
No information could be found on the company through the Companies Registration Office.
Youth on their side
The age profiles of the promoters is significant, one industry professional says.
"The oldest person you'd deal with is about 25.
"So you take a pub owner, whose business is suffering and you try and tell them that they need to get on Facebook. They're so old-fashioned that they can't do it.
But then you get a college student coming through the door, promising access to the Facebook pages of young people.
Policing
There is no law in Ireland on how many door staff are required to police events, but Garda licensing inspectors advise clubs that a ratio of one doorman to each 100 people should be maintained.
Added to that, clubs and pubs are responsible for a radius of 50 metres from their door. If incidents occur within that distance, the licencing inspector in the area can take action against a venue.
A former club manager says that the gardai should be the first port of  call if a potential issue is identified in that wider radius outside the pub or club.
"You'd have to ring your nearest station straight away and tell them "I have a situation that my staff cannot handle".
There'd be consequences, your licence would be looked into and you might lose your special exemption for a week, but at least nobody would be hurt.
Relationship
So why are landlords eager to link up with promotions companies?
"The industry has changed," says one source.
"We have to be open at all hours to attract people in.
Most landlords don't like dealing with these companies, but they recognise them as a necessary evil.
Numerous calls to contacts for Nightlife and Copper Face Jacks went unanswered.