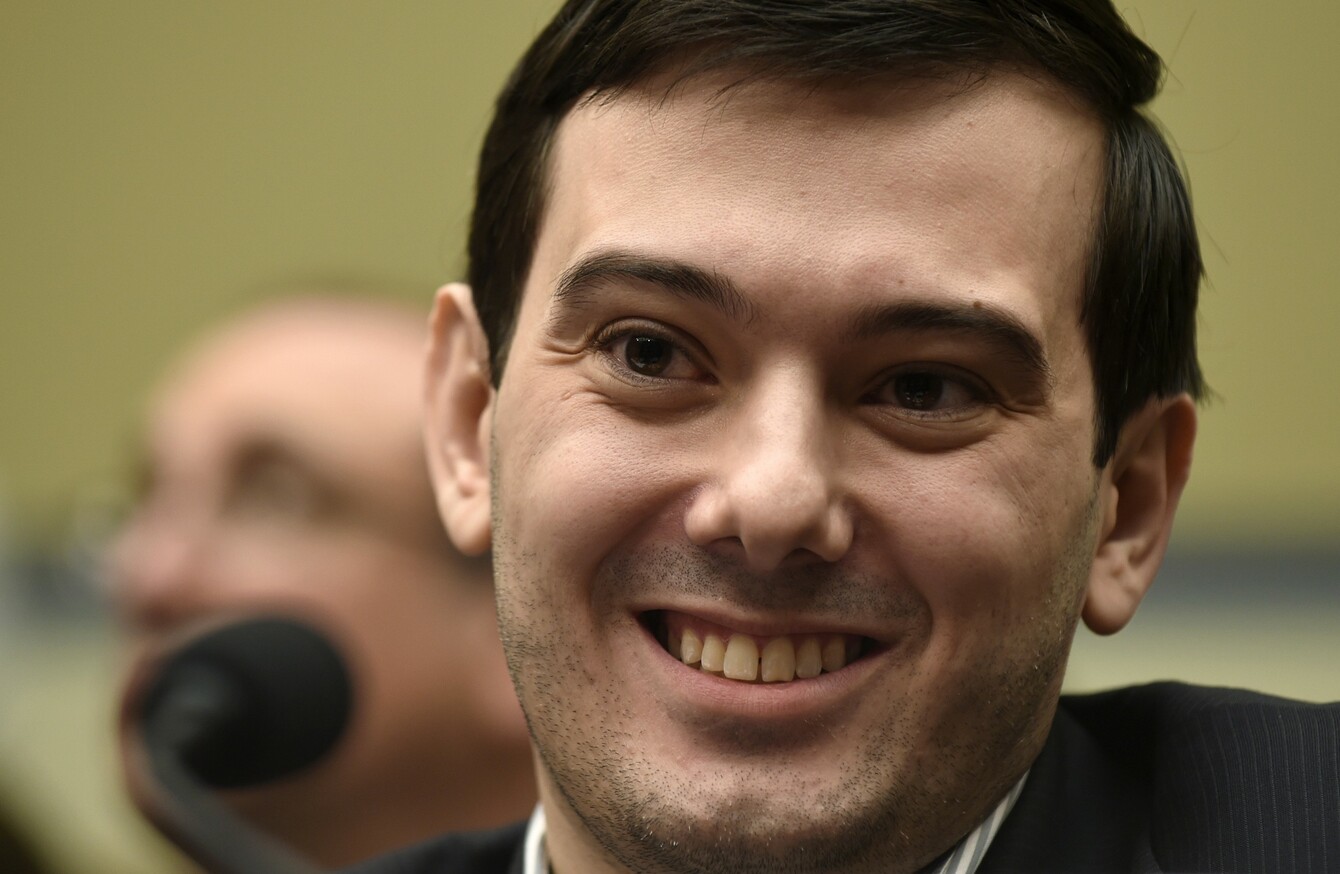 Former Pharma exec, Martin Shkreli
Image: Susan Walsh AP/Press Association Images
Former Pharma exec, Martin Shkreli
Image: Susan Walsh AP/Press Association Images
A GROUP OF Australian school children working on a shoestring budget have recreated the HIV drug whose price was controversially jacked up 5,000 percent by a former hedge fund manager.
US drug company chief Martin Shkreli became a global figure of hate after buying the rights to Daraprim and then raising the price in the United States from $13.50 a tablet to $750.
Shkreli opted to use Twitter to mock the school children, saying that he should use secondary school kids to make his medicines in future.
Making a point
Youngsters at a Sydney school decided to draw attention to the scandal and went to work creating pyrimethamine, the active ingredient for Daraprim, an anti-parasitic used to treat people with low immune systems such as those with HIV, chemotherapy patients and pregnant women.
Student James Wood said he and his friends had started off with just $20 of the drug, and in one reaction had produced thousands of dollars' worth.
"So we really just hope this makes a point about the nature of the pharmaceutical industry," he told the Sydney Morning Herald.
University of Sydney research chemist Alice Williamson helped the boys synthesise the medicine using an online platform Open Source Malaria.
The pupils "shared the outrage of the general public," Williamson said.
"The original recipe, if you like, to make this molecule was from a patent that was referenced on Wikipedia," she said.
Turing Pharmaceuticals continue to sell the only FDA-approved form of the drug in the US, but reportedly cut the price in half for hospitals after the outcry.
Daraprim, which figures on the World Health Organization list of essential medicines, is cheap in most countries, with 50 tablets selling in Australia for $10.
Hate figure
After it emerged that Shkreli had increased the price of the HIV drug by 5,000% overnight, the unapologetic pharma boss has become a hate figure in the US.
At a meeting before US congress officials, Shkreli infuriated members by staying silent and smirking throughout.
Since the controversy surrounding Daraprim emerged last year and the similar case of another firm hiking the price of an essential medicine in the US this year, Shkreli has been seen as symbolic of the problem of just how expensive medicines are.
Reacting to the news of the Australian school children, Shkreli tweeted some sarcastic remarks about the students' successful recreation of the drug.
"Labor and equipment costs? Didn't know you could get physical chemists to work for free?" Shkreli tweeted. "I should use high school kids to make my medicines!
#Open journalism No news is bad news Support The Journal

Your contributions will help us continue to deliver the stories that are important to you

Support us now
"And why buy my equipment when I can use the lab's for free?! And those teachers who told them what to do, they'll work for free, right."
Several hours after being blasted on Twitter for his comments, Shkreli was more gracious in a short YouTube clip released today.
"These Australian students are proof that the 21st century economy will solve problems of human suffering through science and technology," he said.
"We should congratulate these students for their interest in chemistry and all be excited about what is to come in this stem-focused 21st century."
With reporting by AFP.