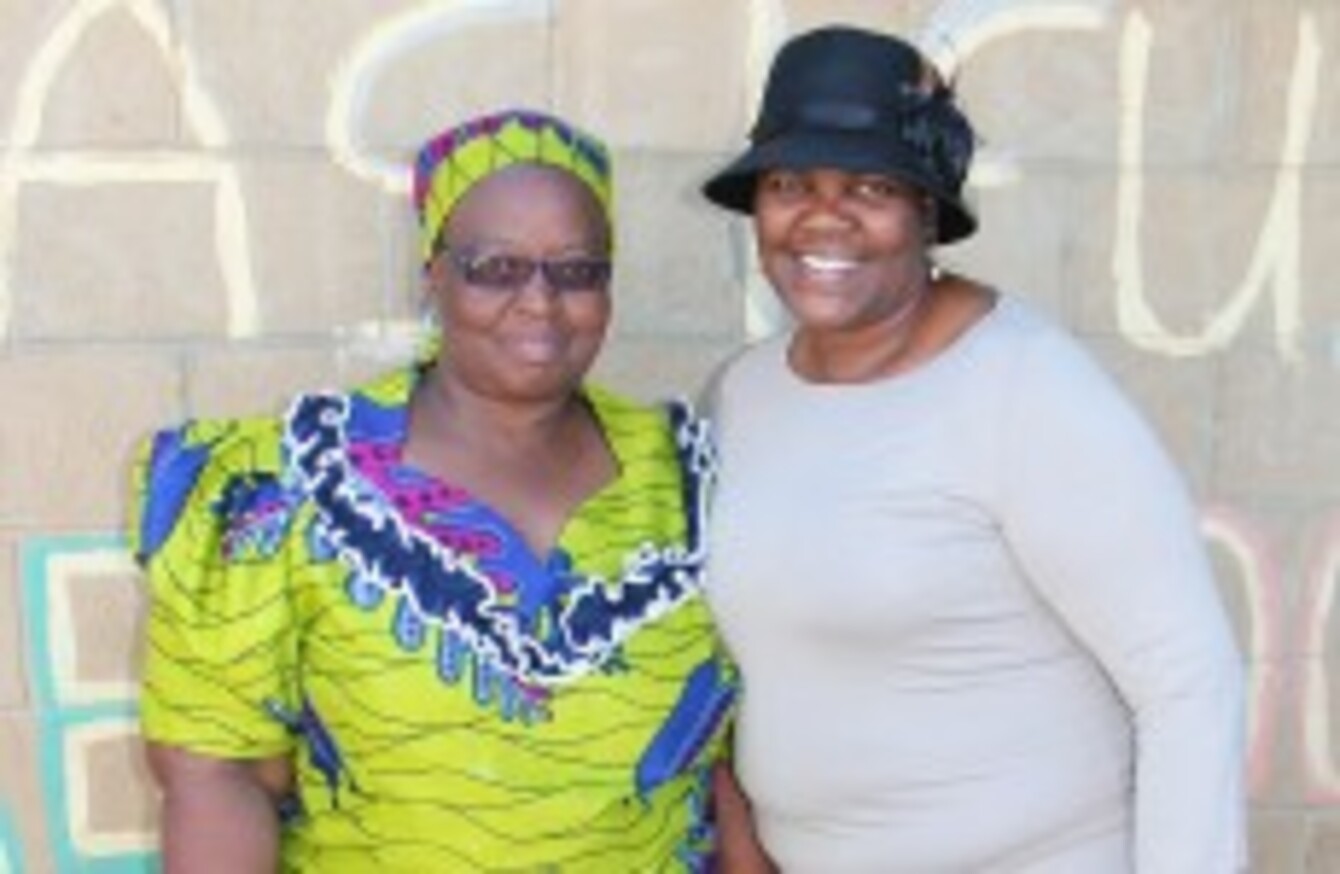 Masetjhaba Monaheng and Vuyokazi Ngcwembe Makalima, co-founders of Setjhaba Youth Awareness.
Image: Órla Ryan
Masetjhaba Monaheng and Vuyokazi Ngcwembe Makalima, co-founders of Setjhaba Youth Awareness.
Image: Órla Ryan
SOUTH AFRICA IS the country with the highest number of people living with HIV in the world – some 6.1 million.
Of the estimated 34 million people living with the virus globally, about 23.8 million are in Sub-Saharan Africa. Swaziland has the most severe level of infection in the world – one in four adults there is HIV positive.
The prevalence of HIV in South Africa is generally higher in townships, the informal settlements where black South Africans were sent to live during Apartheid.
In April of this year Masetjhaba Monaheng started a support group for people living with HIV in Kayamandi – a township of Stellenbosch, located less than an hour from Cape Town.
Three in ten people there have HIV.
Monaheng worked as a HAST (HIV, Aids, TB & STIs) counsellor at the local clinic for nine years before founding an NGO, Setjhaba Youth Awareness (SYA), with her partner Vuyokazi Ngcwembe Makalima, late last year.
SYA runs health education workshops in the local community to help tackle the high rates of teen pregnancy, STIs, substance abuse, violence and HIV in the area.
Monaheng said the support group is "very, very important because … there are people who are still struggling to accept that they are HIV positive … We are sharing, we are supporting each other. There are those who still have anger, [asking]: 'Why are they HIV positive, what did they do wrong?'
Everybody there is sharing their experience and also motivating each other how to disclose to their family or to their friends and why it is so important to use a condom when you are HIV positive.
Every Tuesday morning, about 10-15 women meet in the local child welfare office to share their own experiences of living with HIV. The group is also open to men, but only one attends – infrequently.
Gender-based violence
The prevalence of physical and sexual abuse against women in South Africa is one of the highest in the world. One in three women there have been physically or sexually abused. Every day, three women are killed by their partner or husband. Some 40,000 women were raped there in August alone.
A number of the women in the support group have been raped and beaten by their husbands or partners – for some, this is an ongoing occurrence.
Lack of condom use is one of the main reasons HIV is so common in Kayamandi, which is primarily comprised of the Xhosa community. There is an employment rate of just 10%.
"The married women are dominated by men. If the man doesn't want to use a condom, they haven't got a say," Monaheng noted, adding that she is aware of many situations where are a woman has asked her husband to wear a condom and been beaten or raped for doing so.
He is going to be angry with you because [men] have got that attitude that their voice is the last voice and they tell you what to do. Even if a man doesn't sleep at home, you are not supposed to ask him 'Where did you sleep?'
Living with HIV
Bertha Koro (57) was diagnosed as HIV positive in 2004. She said she got the virus because her husband  was "in love with many girls". They separated in 2005.
"[When I got the diagnosis] I was so sad because I thought 'I'm going to die' and my baby at that time she was still young, she was 10 years old … I was really worried," Koro said.
She has let go of the anger she initially felt towards her husband and moved on with her life: "I don't want us to blame men, we are in this pandemic [situation] together."
Koro's 33-year-old son is also HIV positive. She said that having someone else in the family who also has the virus has provided an extra level of support for her.
The mother-of-six and and grandmother-of-nine encourages neighbours who have been newly-diagnosed with HIV to visit her home so she can give them advice about living a healthy life and taking their anti-retroviral (ARV) medication correctly.
She said that being HIV positive is lonely at times as people often treat you differently once they find out your status.
"When you visit somebody and ask for something to drink … you can see they take that cup separately,  then you are not feeling alright … When you cough, they don't want to sit next to you."
Koro deals with people who gossip about her head-on.
Maybe they say 'Why did she lose the weight?', 'Why is she so dark?' I go straight up to them and say: 'No lovey, don't gossip because maybe tomorrow it could be you.'
'Cured' by God
Xoliswa Thembani (51) was diagnosed with HIV in February 2008, before beginning anti-retroviral treatment (ART) in June of that year.
Thembani was drinking heavily prior to discovering her status. Having watched many friends die from AIDS, she struggled to accept the news and contemplated suicide before coming to peace with her diagnosis.
However, she stopped taking her ARV medication after a few months because she believed God had cured her.
At the beginning of this year she became extremely ill and almost died. Her CD4 – the cell that HIV attacks – count was below 100. An average count ranges from 800-1200.
She went back on medication and within months her viral load had become undetectable.
"God made me have HIV so I can realise that God is alive and there," Thembani stated.
Thembani is a single parent to six children, all of whom are HIV negative.
HIV doesn't kill someone, you must just take the treatment right for the rest of your life because this [motioning to her body] is flesh. You must believe in God but this is flesh, you have to take your treatment.
Men-only support groups
Monaheng said that men often don't attend HIV support groups, or go to get tested in the first place, partly because they do not wish to talk to women about sexual issues.
"In our culture it is not easy to talk to men [about sex]." During her time at Kayamandi clinic, the only men working there were the receptionist and the cleaner. Monaheng is hoping that a male-only support group will be set up in the township to encourage men to discuss their HIV status.
She noted that gay men, who are not widely accepted within the Xhosa community, never identify themselves at the clinic, instead attending health centres in nearby Stellenbosch – a more urban setting.
Dealing with cultural issues
Lynette Rademeyer-Bosman is the executive manager of @heart, a NGO that conducts HIV testing, awareness raising and counselling in Stellenbosch and beyond.
She says it's not easy to answer why the rate of HIV in Kayamandi is more than double the local rate of 13-14%, noting some possible reasons as poverty, violence, recreational sex and the large number of migrants moving there from the Eastern Cape.
You know when you're poor and you're frustrated then it often, I think, manifests in behaviour … violence, rape … where women will actually stay in a relationahip for economic reasons, but we will find that same kind of behaviour in the rich community as well.

Women stay in the rich community, or the privileged community, for exactly the same reasons but the prevalence [of HIV] is higher [in poorer communities].
Rademeyer-Bosman, who has been working in the area of HIV for 20 years, said that there are many cultural issues that need to be addressed, including misconceptions about condom-use such as a belief that they kill sperm and make men infertile.
She remarked that people in Kayamandi often do not test readily so are unaware of their status. Many of those who know they are HIV positive choose to keep it to themselves, for various reasons.
If you test a 16-year-old girl positive for HIV, the chance is good she's not going to tell her partner, she's not going to tell her mother. In that particular culture, in the Xhosa culture, to tell your mother … is bringing bad news to your parent and that's actually just not done. So you'll have a girl living with HIV until she's very sick and only then disclose their status.
@heart runs numerous programmes that target at-risk groups such as intravenous drug users, sex workers and farmers. Rademeyer-Bosman noted that there is a huge alcohol dependency issue on farms in South Africa, leading to workers engaging in unprotected sex and further spreading the virus.
Frustration and hope
Rademeyer-Bosman admits that her work can been disheartening at times, but says she is nowhere near ready to walk away from it.
"Many people in this field – doctors, nurses, counsellors, different professions, community workers – have often said: 'I've now had enough: this disease is not letting up. We started in 1981, we're now in 2014. We're still sitting with exactly the same issues as we we've done before. We're nowhere nearer – well, maybe we are nearer, but we feel that we're nowhere near an answer so we we're dealing with exactly the same things.'
Anti-retroviral treatment is better, there's a lot that we can do. People are living full lives but some people feel that they need to actually leave this field. I often tell my staff and I tell myself this: 'While people living with HIV cannot walk away from this, we do not have the luxury to walk away from this. We can't leave people behind.'
"While I'm still so angry at this disease sometimes, I know that if I'm still angry or if I feel so passionate about it, then I haven't done enough. I must still figure out what it is that is enough."