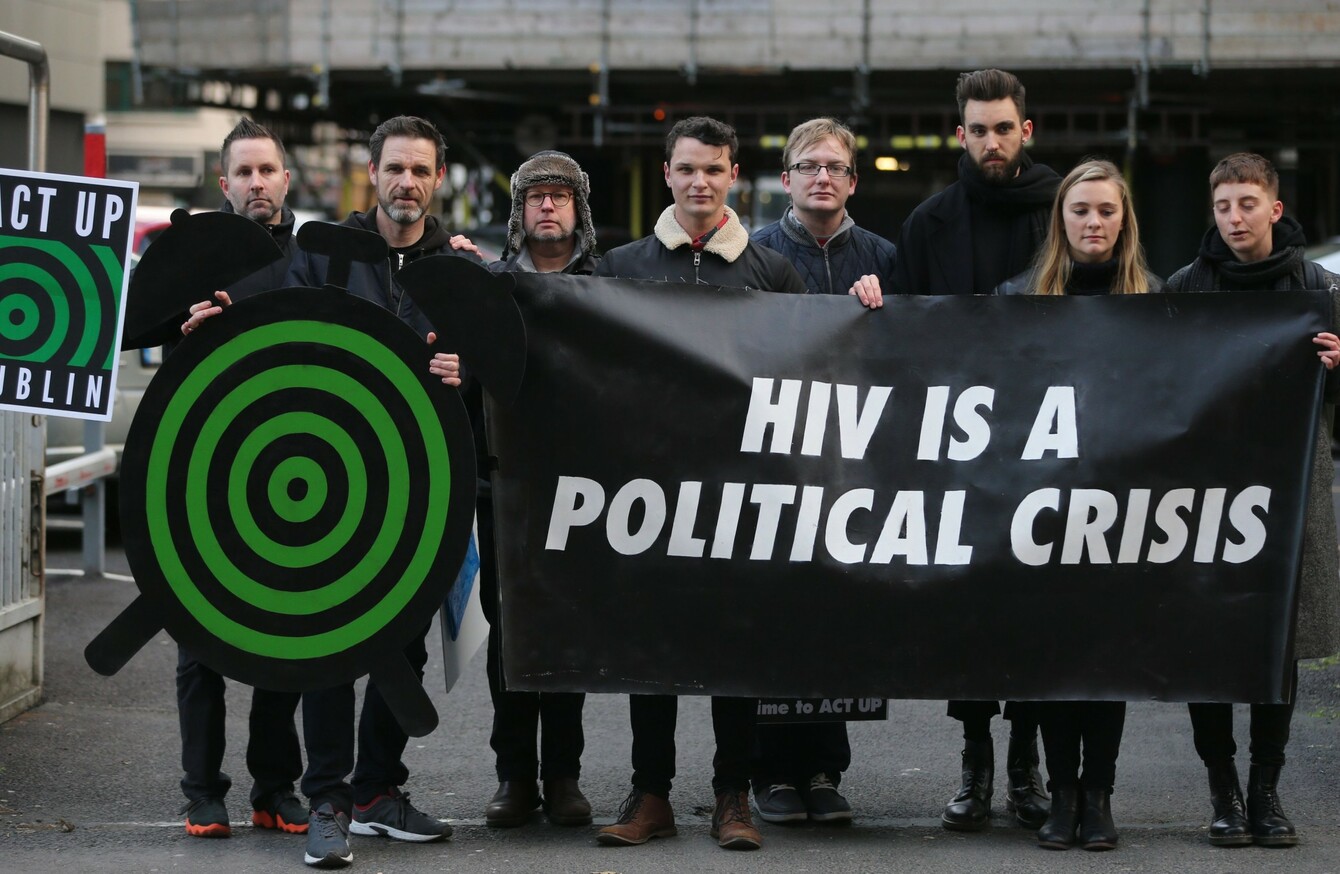 Image: Niall Carson/PA
Image: Niall Carson/PA
THE NUMBER OF HIV/AIDS diagnoses has increased by 30% in the last 12 months as activists urge the Government for more help to stop the spread of the disease.
Today marks World AIDS Day and Irish groups have been making their voices heard, urging the Minister for Health Simon Harris to do more to help stop the spread of the disease across the country.
Activist group, ACT UP, said that a "renewed effort" is required to address what they have described as "an expanding epidemic".
Yesterday, they held a protest outside the Department of Health and said the HIV/AIDS is a ticking timebomb for Irish society.
Latest figures from the HSE's Health Protection Surveillance Centre (HPSC) showed how there were 273 HIV diagnoses in the first six months of this year, 70 more when compared to the same period last year. Figures for the past five months are not yet ready, however, if trends persist, there will be a greater number of people diagnosed this year compared to the 498 in 2015.
'Reduce transmissions'
With advances in treatment and prevention, ACT UP said the government has powerful new ways to reduce new HIV transmissions.
They are calling on the authorities to "do more than offer words".
The Public Health Agency (PHA) in the North said the situation across the border is similar to that of the Republic.
During 2015, 103 new cases were diagnosed there.
In the ten years since 2005, Northern Ireland has seen an 81% increase in new cases, in contrast to the UK overall where there has been a fall of 23%.
Last month, a report from the HSE Health Protection Surveillance Centre (HPSC) show increases in detections of HIV had spiked in the past 12 months.
Dr Derval Igoe, specialist in public health medicine, said: "We are concerned about a 50% increase in syphilis, and a 30% increase in HIV cases in 2015.
"Although some of the increase in HIV can be explained by a change in the notification procedures for HIV and an outbreak in people who inject drugs, these increases have largely been seen in men who have sex with men (MSM)."