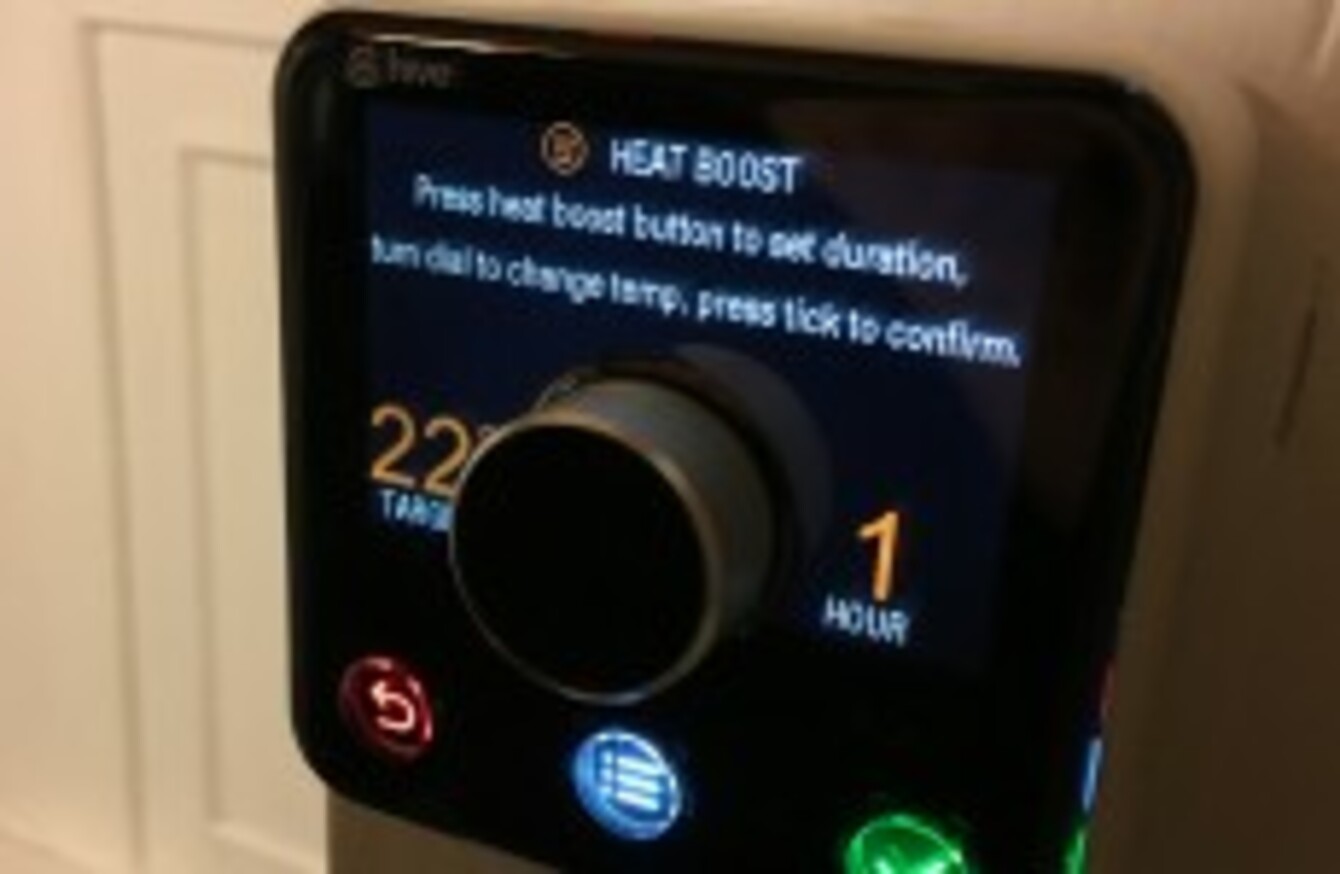 (Updated: 16:01)
WHEN YOU THINK of smart thermostats, the obvious one that will come to mind would be Google's Nest.
Learning your schedule and adjusting your heating schedule by figuring out when you're around sounds like a good idea in practice, but really depends on you having a consistent schedule to get the most out of it, or to regularly monitor it.
Now we have Hive, which comes from Bord Gáis Energy. It's probably better to describe it as a more advanced thermostat, one requires a bit more handling on the user's part than Nest, but comes with enough features to warrant a look.
We've been testing it out for a while now and here's what we learnt.
Make sure you have a good hour free for when it's being set up
Unless you want to install it yourself in which case it'll take longer (unless you're very handy with wiring), it's likely you will have someone setting it up for you, especially since it's included with the cost and you don't have to be a Bord Gáis Energy customer to buy one.
That process is straightforward, but on the off-chance that there may be troubleshooting (or if it just doesn't connect straight away like what we experienced), then you might want to free up 90 mins of your time for it just to be on the safe side.
You have three different components for it, the hub (for plugging into your router), the receiver (so your thermostat and boiler can communicate) and the thermostat itself. The first two will be fixed but it's recommend that you keep the thermostat close to the front door so it's accessible when you get home.
At the very least, it's handier to access when you get home if you've had a long day and it's wireless so there won't be any problems working it.
It focuses on the temperature of your home, not your area
Something that will help you decide whether to increase the heat or not is Hive recording the inside temperature. Since there will be a difference between inside and outside temperature, it makes more sense to focus on this rather than the outside.
Nest also records the temperature of both inside and outside to help develop a better picture of your home's heating history. This way, it learns so it can learn how long it'll take to heat up your home, reducing the need for you to tend to it.
Hive doesn't have that learning capability yet but it gives you enough information on its display so you can make a decision.
The interface is very simple and difficult to mess up
As a device, Nest looks more stylish and subtle but there is something nice about Hive, which uses both familiar ideas to create a sense of ease.
There are two main controls. The first controls the heating while the second controls the immersion.
Depending on your setup, you may only have access to just heating if the two are connected but if they aren't, you can control the immersion remotely. This is useful if you've wandered out and forgot all about it, or want to have it ready for when you get home.
The display is more straightforward and easier to understand with the top part is a display with current temperature and preferred range. Three buttons for selecting, a dial for adjusting (and doubles up as a button) and two boost buttons at the top.
At the top of the thermostat are boost buttons for both heating and water. This brings the heating up for an hour, or more if you press it repeatedly. Unless you place the thermostat low (which is unlikely) or accidentally hit the boost button, you'll still get a prompt warning you about it before it takes effect a few seconds later.
The same thing applies when you adjust the temperature. It takes effect whenever you decide to change it from the thermostat or app.
All of this can be accessed through the app or desktop, but most people will want to use the physical thermostat instead which is fine in itself.
The desktop app is handy if you want an overview of temperature in your house, and for once-off scheduling but for day-to-day changes, you'll either use the app or the thermostat itself.
There are also some other handy features like frost protection (turns the heat on to prevent freezing pipes) and geolocation in alerts you if you leave and left the heating on.
It doesn't have learning capabilities (yet)
The one advantage Nest had over Hive is its learning capabilities. The more the learns – both through your adjustments and it sensing movement whenever you walk past it – the more accurate it becomes with your heating.
While Nest's aim is for you to eventually forget all about it when it learns your habits, Hive is very much hands-on.
Some may find the lack of learning capabilities disappointing – an updated version of its software is expected to bring this in – but both the app and desktop site use a straightforward design so there's no confusion.
If anything, it's accessible to those who might not see themselves as tech savvy. Some might not like the idea of setting a schedule, but the site and app takes out the complication. It's tailored so that anytime you might forget, it will make sure you know what's happening.
Is it worth getting?
If you're looking for a smarter thermostat, then it really depends on how tech savvy you are.
While Nest feels more like it would benefit those who are comfortable using gadgets, Hive hits a middle ground between that group and those who know how to use a smartphone for most of the basics.
It's not revolutionary by any means. In fact, it's really just an upgraded, fancier thermostat, yet it's practical and what it does, it does extremely well.
If you don't want to think about your heating and you have a very good idea of when people will be in and out of your house, then Nest is probably the better option. Over time, the hands-off approach is useful, but you have to be thorough so you don't end up with any schedule anomalies.
Hive removes this problem and would probably put you at ease of mind since you know exactly what's happening. There is a logic to everything it includes and it doesn't overcomplicate things, but most importantly, it gives you the right amount of control.
The Hive Thermostat costs €299, which includes kit and installation.
(Originally published 11/10/2015 at 9pm)