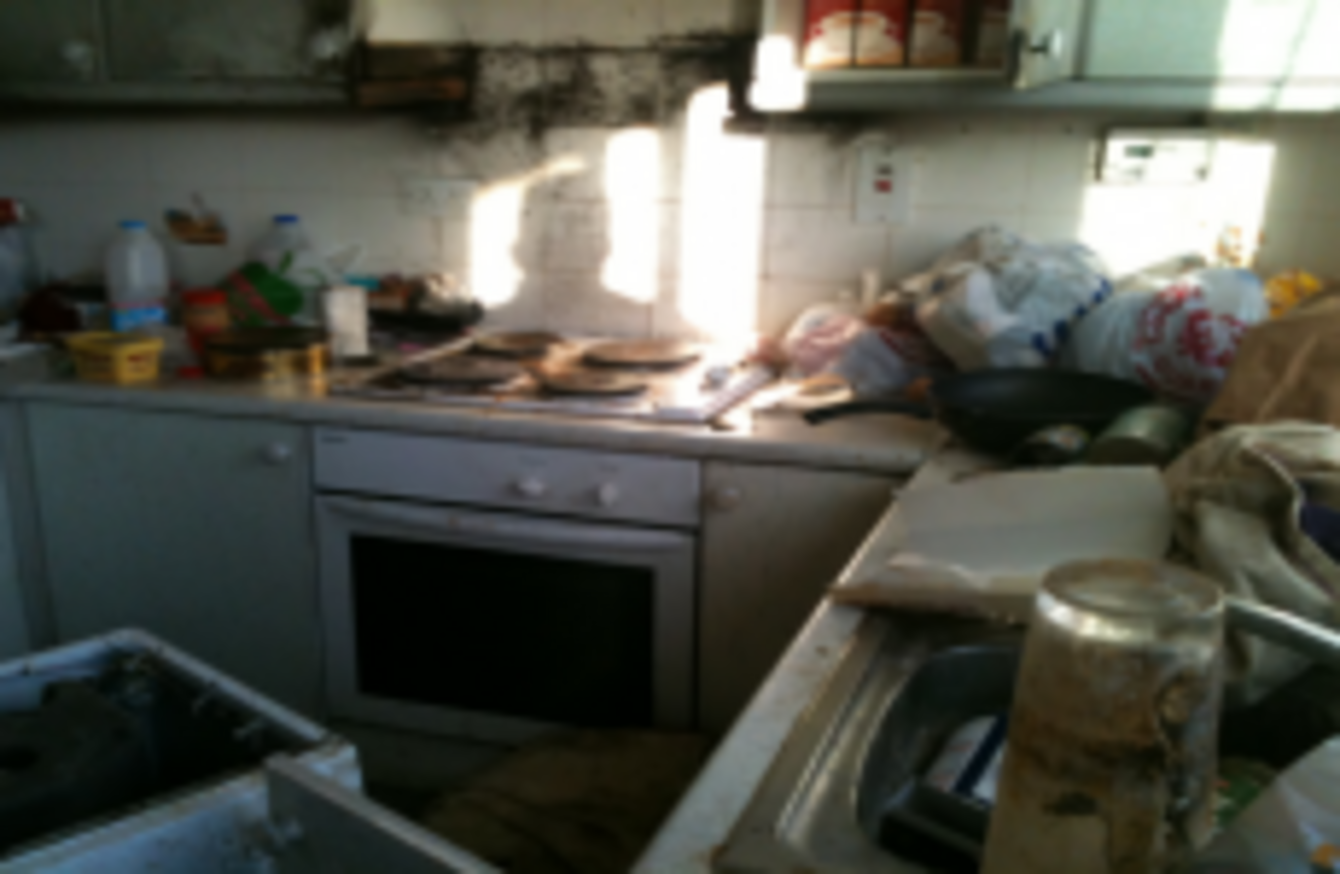 Property Clearance
Image: Forensic Cleaning Services
Property Clearance
Image: Forensic Cleaning Services
"YOU JUST DON'T know what's behind anyone's door," says Brendan Reilly as he describes his job, part of which involves cleaning up after Ireland's compulsive hoarders.
It's been estimated that there are over 100,000 hoarders in the country – people who compulsively acquire and save objects in their homes, even as they run out of space – and, while awareness about the condition is growing, there's still a distinct lack of treatment options.
While many of us may feel we have trouble throwing things away and live in too much clutter – these cases are the severe end of the spectrum where people are unable to throw anything out.
Reilly is the co-founder of a forensic cleaning service, which cleans up scenes after traumatic events – but also deals with the problems caused by people hoarding things in their homes.
"There was one case where you couldn't open the front door of the house and the back door would only open eight inches," says Reilly.
We had to take the door off the hinges to get in. The man who lived there used to squeeze though the back door.
"He would collect the neighbours rubbish off the street and bring it into his house.
"Then he'd be looking for the TV because he couldn't find it as there was so much stuff around so he'd go up the town to buy a new TV and radio or whatever and then he would bring in more rubbish and he wouldn't be able to find that so he'd buy more stuff. He was a compulsive buyer as well."
Micheál Holohan, who works with Brendan Reilly at Forensic Cleaning Services Ireland,  added that there was boxes of new items like hoovers, TVs and microwaves that had never even been opened.
The pair added that you just don't know what the situation is when you're walking and driving past houses and said the work has opened their eyes to a problem they didn't even know existed.
Speaking about another case, Holohan said:
I remember a hoarder who was also a drug addict who had bottles of urine around the place.
"The father was bringing me around showing me the place and his son was actually in one of the rooms.
"In the end we couldn't do that job because he was on the property."
Reilly said, "It's sad – you wouldn't think it was out there. You just don't know what's behind anyone's door.
Some of them have been well dressed – they can look very respectable but inside the house it chaotic.
'Debilitating condition'
Olivia Gordon is a senior clinical psychologist with St John of God OutPatient Psychological Services.
She said that recent studies of hoarding suggest that between 2% and 5% of the population is affected.
It can therefore be estimated that over 114,000 people in the Republic of Ireland experience a problem with hoarding.
#Open journalism No news is bad news Support The Journal

Your contributions will help us continue to deliver the stories that are important to you

Support us now
Writing for TheJournal.ie, she said, "Hoarding is a debilitating condition, which can have a significant impact on the sufferer, their family and the community.
"Sufferers often experience depression as a result of the impact of this difficulty on their daily lives. Those affected often report loneliness and social isolation due to being too embarrassed to have visitors.
Hoarding is a complex and often, long-term condition with which people struggle, and which requires effective treatment.
Fire Damage 
The guys also clean up after fires and floods. They said that in fires most of the damage is caused by the smoke.
The pair had nine years experience working in the fire and flood restoration industry before starting their business in 2011.
Here's some photos of before and afters that they have worked on:
Pic One

House Fire before clean up

Pic Two

House Fire after clean up

Pic Three

Bathroom Before

Pic Four

Bathroom after

Pic Five

Bedroom Before

Pic Six

Bedroom After

Pic Seven

Kitchen Before

Pic Eight

Kitchen After