Image: Shutterstock/Evgeny Pylayev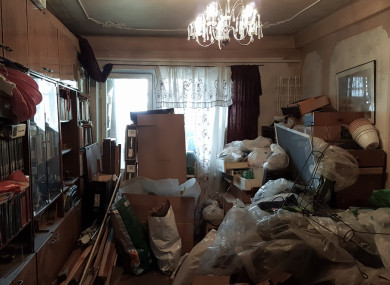 Image: Shutterstock/Evgeny Pylayev
THE SCHOOL OF Psychology at NUI Galway is seeking 1,000 participants for a new landmark study that will look at if there's a link between bereavement and compulsive hoarding.
Researchers say they want to understand if the experience of losing a loved one makes a person more likely to accumulate belongings that they have difficulty throwing away.
They want hoarders of all kinds to participate, from people who have just have cluttered homes to those who are more serious hoarders, to take part.
Is it a case of accumulating all of this "stuff" – from photographs, books and magazines, to clothes and everything else – to fill an emotional hole left by the pain and trauma of losing a loved one?
It's about understanding how events in someone's life could make them want to hang on to things, Dr Elizabeth Kehoe said.
She told TheJournal.ie: "We're looking to see if hoarding is a way of coping. A way of coming to terms with a loss.
[Hoarding] can be a symptom of something else. There has to be something causing it. Is it a way of coping with emotions people don't want to face? Filling their lives with these things… It's not just a weird habit.
Dr Kehoe said that other common perceptions on why people may hoard things excessively hasn't stood up to scrutiny.
"People might say it's because they didn't have a lot growing up," she said. "But the research doesn't bear that out. People hoard regardless of that. It's not to do with having a form of OCD either."
Dr Kehoe says that simply taking the clutter out of someone's home, like they do on popular TV shows, may not fix the problem if someone is dealing with trauma or a loss.
"I've always wanted to see them follow up with people a year later to see how they're doing," she said. "If someone doesn't feel safe or comfortable, hoarding may be a way of coping. And that's what we're tying to understand."
#Open journalism No news is bad news Support The Journal

Your contributions will help us continue to deliver the stories that are important to you

Support us now
She added that establishing if trauma plays a role in hoarding could help in treating people going through an emotional loss and ensuring that they get the right help to get better.
Her colleague, psychologist Dr Jonathan Egan said: "The team are really interested in a holistic view of why we collect things and why it can increase at times following a bereavement or personal upset.
We want to hear from a large range of people, from those who rate themselves as 'life-long magpies' to those who have noticed that it is becoming difficult to part with newspapers and other non-essential household items, or even that their house is becoming very crammed and it affects the ability to share their home with guests.
You can participate in the study by clicking here.