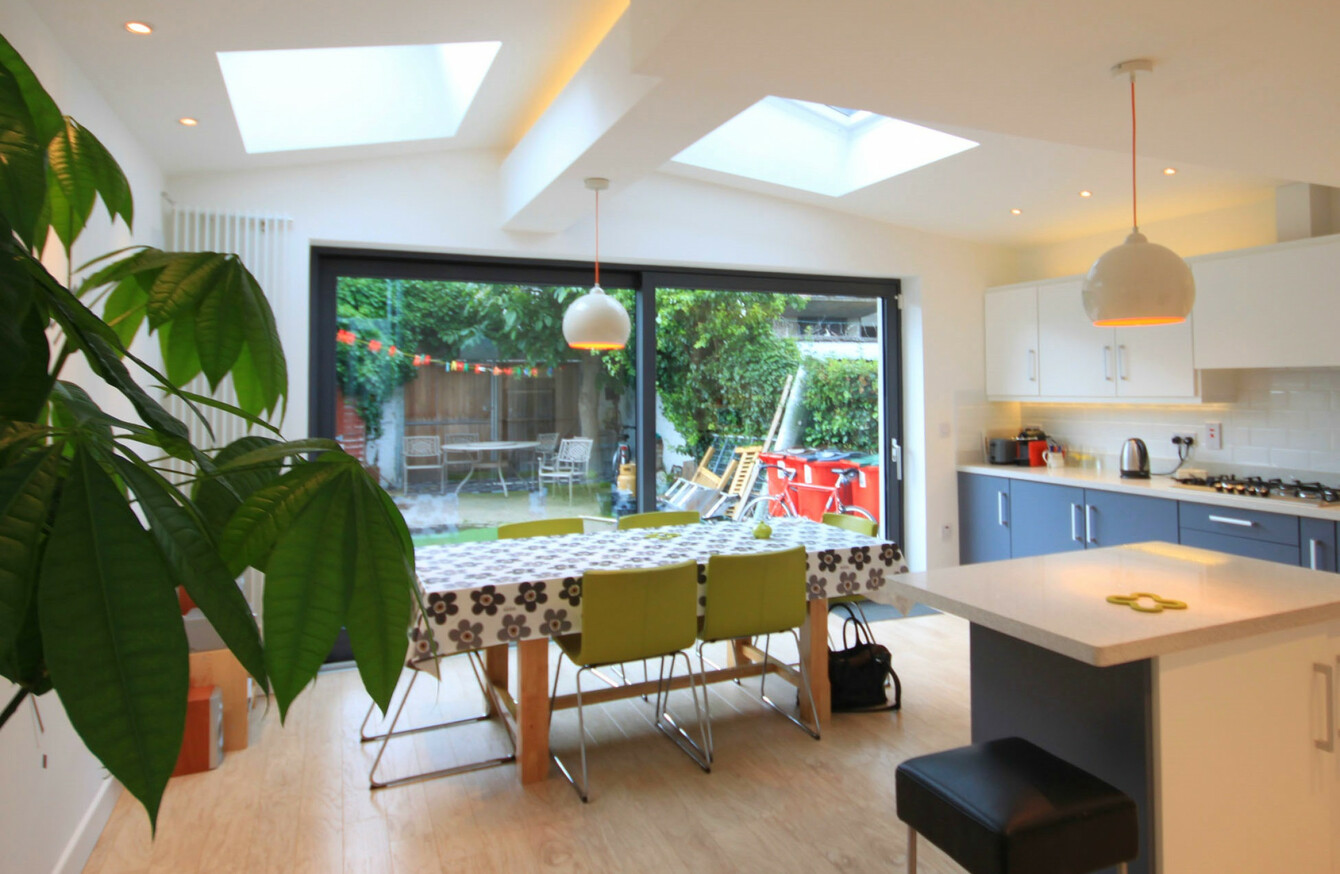 Image: CR Architecture
Image: CR Architecture
BACK IN THE 1970s and 1980s, kitchens were tucked away behind closed doors. Now, they're a key part of almost any open plan living area.
The "good front room" is a thing of the past, as is the dining room that only gets used at Christmas time. So we know what's not at the cutting edge any longer, but what's coming down the line for home design?
Quite a lot, thanks to the Grand Designs Effect, says Carol Ryan, the owner of Dublin-based firm CR Architecture.
"Fashion moves very slowly in this game, but people have a much stronger idea of how they want their home to look these days. Everyone is watching design shows now."
As part of our Make The Change series, we're helping home renovators and design lovers stay on top of all they need to know. Here are some of the key trends that architects like Carol are seeing more and more of…
1. Kitchen islands with a difference
In an open plan kitchen, it's no fun being turned away from everyone else while prepping dinner, and Carol says clients are changing up their islands to make cooking a more social experience:
Sinks have always been a common feature of islands, but now more people are looking for a hob in there too, or some feature to give the island a bigger purpose. Otherwise you end up with what looks like an altar in the middle of your kitchen. It might be an altar with stools, but it still looks like an altar.
2. Underfloor heating as standard (and fewer radiators)
Hate the feeling of your feet hitting the cold bedroom floor in the morning? Underfloor heating used to be considered a luxury, but it's going down in price, and builders are coming around to the idea as it gets simpler to install and maintain, says Carol:
Underfloor heating is far more reliable than it used to be. If you put your underfloor heating on a timer in winter, your rooms will be really toasty. I add it to a lot of extensions because it means you don't need bulky wall radiators, so it's a space-saver.
3. Multi-purpose mezzanines
For Louise Sliney, of Louise Sliney Architects in Cork, having an area of "unallocated space" is a great way to ensure your home can adapt to your changing needs. It's a room-within-a-room, she says:
I work on a lot of double height vaulted living rooms. A mezzanine can be used as a playroom or a study or a studio. It adds the potential for change.
4. More sunrooms… but don't call them 'conservatories'
The classic conservatory extension, freezing in the winter and sweaty in the summer, is going out of style. But homeowners are still keen to have somewhere sheltered to enjoy the sunshine, says Carol:
The word conservatory is a no-no. But a contemporary sunroom is different. It has glazed windows all around, triple glazed, with the same u-value [level of insulation] as a wall, and a proper roof on top. It's a room you can comfortably sit in all year round.
5. 'Invisible' storage areas for all that extra stuff
Winter coats, summer suitcases, camping stuff, drying racks… Unless your home is blessed with a huge utility room, where does is all go? Carol points to invisible storage walls as a solution for the growing problem of Too Much Stuff.
"All you need is an unused wall at the back of a sitting room or study where you can add a wardrobe," she says. "Use doors that are flush with the walls and paint the wardrobe the same colour as the walls, and to an extent it's invisible storage space."
6. Airtight insulation anyone can afford
Lots of Louise's work centres on low-energy or sustainable builds and refurbishments. "We're doing a lot more external insulation lately," she says. "You won't notice any difference to your home from the outside, but your home will retain far more energy."
Even though homeowners are still getting to grips with the "technical options" out there for insulation, "it's a conversation that happens much earlier on in the project these days," says Louise.
7. Sustainably sourced wood  
Having a home made entirely out of sustainably and locally sourced materials might sound like the green dream, but if you're on a tight budget, you'll soon run into cost issues. One trend Carol is seeing more of is the use of salvaged and sustainably sourced materials like wood.
For timber cladding or for a hardwood countertop, finding sustainable materials is simpler than for, say, a quartz worktop.
8. Sophisticated skylights
The open-close skylight is a common feature of Irish extensions and attic renovations, but there are some more versatile and sophisticated options out there now, says Carol:
Velux windows only work at a certain slant, for example, so for a flat roof I use flush roof lights. Flush lights have come down in price significantly in the last couple of years. They don't open like classic skylights, but they're frameless when you look up, so all you see is sky.
Want a more spacious kitchen or that long-awaited extension out the back? At Bank Of Ireland we're determined to make the mortgage switching process as easy as possible. See what you can save to design the home of your dreams. Find out more.
Bank of Ireland Mortgage Bank trading as Bank of Ireland Mortgages is regulated by the Central Bank of Ireland.