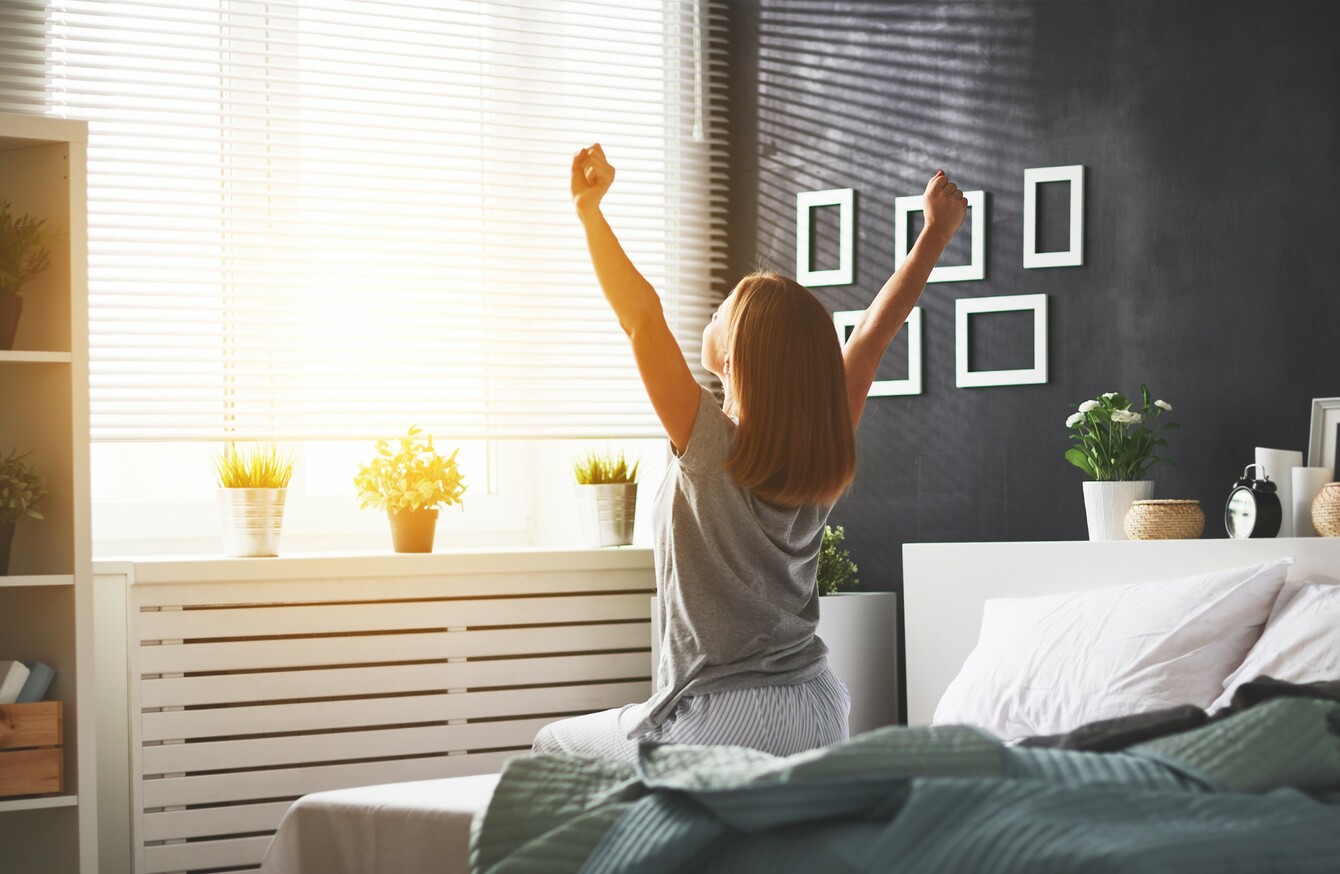 Image: Shutterstock/Evgeny Atamanenko
Image: Shutterstock/Evgeny Atamanenko
FROM GETTING TO work via flying car to 3D-printing your dinner, there are a lot of ways that tech could change your life in the future. But how likely would you be to adopt these tech advances, and to make them a part of your daily routines?
In a new series, Future Real, we're partnering with Volkswagen to spotlight technologies of the future, with a different theme each time. As you read, we'll ask you to rate how likely you'd really be to give each piece of tech a try.
This week, with tech journalist Luke Hoare Greene: what's in store for the future of interior design? 
Technology is advancing at a rapid rate, and nowhere is this more noticeable than in the home. Many modern homes already contain some form of smart tech, be it a digital assistant or a remote controlled thermostat for zoned heating.
Future advances in the area of home design and interior design will see function merging with form, leading to beautiful products that are efficient, connected and reliable.
But super-intuitive home tech won't be for everyone. Below are four new and upcoming advances that could be common sights in the home of the future. How likely would you be to install them in your living room, bedroom or kitchen?
1. A smart bed that responds to your movements
Waking up tired again? Most of us feel we could do with getting better sleep, and recent studies have shown that the quality of your sleep is as important as the quantity.
Sleep tracking is already a huge part of the Internet of Things thanks to devices like FitBit and the Apple Watch, but not everyone wants to sleep with a bulky fitness tracker on their wrist. So what's next?
In the home of the future, furniture like the Sleep Number 360 smart bed could be commonplace. The bed can track your sleep without you wearing any external device. The bed has alternate profiles for each side, so the mattress (which can be bought separately without the frame) can be tailored differently for you and your partner.
The mattress moves and alters itself under you as you sleep, responding to your movements in real time. It will also monitor and adjust the temperature of your body while you sleep and provide all the gritty details in the app when you wake up.
The Sleep Number 360′s top of the range model, the i10, will set you back a mean €4630, so it might not be on everyone's list – but it's an idea other manufacturers will surely jump on board with as the tech becomes more accessible, cost-wise.
2. Voice-responsive light shows in every room
Most of us are happy enough to use "the big light" for the main source of light in our homes, and maybe throw a nice lamp in the corner for some ambience. In the future, lighting will become more interactive and personalised, and some companies are already leading the charge.
The Nanoleaf Canvas, a modular lighting system that can make any wall, ceiling or surface a light source is stylish and futuristic in equal measures. The squares react to touch, voice, and app control (including Alexa and Google Home).
At their most basic, the squares can be used as a functional light by placing it on the ceiling or the wall and having them simply light a room. If you're feeling a bit more playful, the lights can be set to change colour in response to shifts in voice and sound, or you can set specific light sequences to play at different times of day.
Their bulbs are made to dim themselves before they get too hot, and are shatter resistant too. Truly an intuitive idea – but would you be happier to stick with "the big light"?
3. Windows that shut themselves when the rain starts
We know all too well how quickly the weather can change in Ireland, and how many seasons we can experience in a single day, so why not have windows and blinds that can change their function depending on the weather?
The Tilt Smart Home range of blinds, rollers, and windows can use the location of your home and the time of day to open or close as needed – whether that meaning knowing what time the sun rises (and from which direction) and opening to meet it, or letting less light in during times of bright sunlight.
They're solar powered and as you'd expect, they work with Alexa and Google Home, so you can control your home's flow of natural light with your voice.
And in a move that's sure to appeal to Irish consumers, Tilt also makes a device which closes the window if it senses rain outside. An added bonus there: if you see the windows closing, you'll know it's time to get the washing in.
What are your thoughts – let the smart tech do the work, or be your own judge of when it's time to open the blinds or close the window?
4. A sci-fi style touchscreen coffee table
Sleek touchscreen screens integrated into standard pieces of furniture like coffee tables and shelving units will blur the lines between technology and design in the home of the future.
At first glance, La Table Kineti looks like a fairly standard coffee table but look a little closer and you'll see what's essentially a giant screen. Behind what its creators claim is an unbreakable and waterproof touchscreen surface lies a 43-inch HD display running Windows 10.
Given that it's ultimately a fancy PC, La Table Kineti can connect all your usual gadgets like wireless headphones, printers, and many of the products listed above – but I suspect many of us would simply use it for the most over the top Instagram scrolling imaginable.
The future is nearer than you think. Pre-book the all-electric Volkswagen ID.3 1st online at Volkswagen.ie/ID.