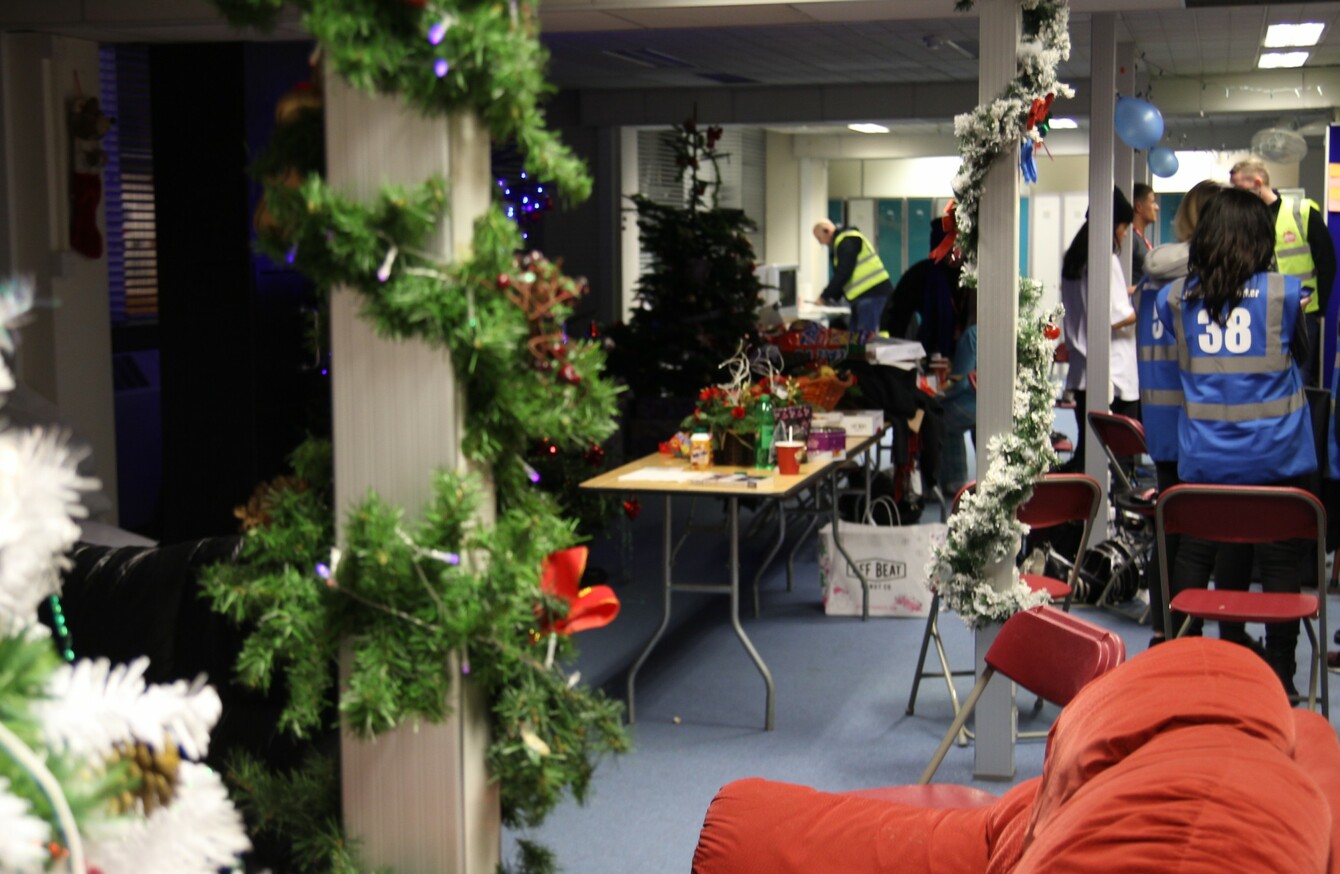 Residents and volunteers will sit together for today's meal.
Image: Irish Housing Network
Residents and volunteers will sit together for today's meal.
Image: Irish Housing Network
ABOUT 70 PEOPLE will have Christmas dinner in Apollo House today according to activists from the Home Sweet Home group.
The former Department Social Protection building is currently being occupied by a group of activists under the banners of the Home Sweet Home coalition and the Irish Housing Network.
Home Sweet Home has been using the building to provide shelter for people sleeping rough in Dublin and says 40 people are currently sleeping there.
Today's Christmas dinner for residents and volunteers will be cooked by a number of chefs who have volunteered their services.
The Irish Housing Network says that residents and volunteers will be sitting together for a meal this afternoon and that Glen Hansard and other musicians will be providing entertainment.
Home Sweet Home has also said that more than €150,000 has been raised online as part of their campaign.
"More than 2,500 people have volunteered their services to Home Sweet Home, including mental health professionals, construction and maintenance workers, medical personnel and legal professionals," according to trade unionist with Unite Brendan Ogle.
Over €150,000 has been raised online and thousands of food parcels, bags of clothes, sleeping bags and much more have been donated to the campaign.
"The generosity of so many people has certainly lifted the nation this Christmas," he added.
In the High Court on Wednesday, the occupiers were told to vacate the building by 11 January 2017. The order was granted after injunction proceedings were taken by receivers of the building Mazars.
Home Sweet Home welcomed the court's timescale and said it meant a roof over the heads of some of Dublin's homeless people at Christmas.
"We had a very simple objective at the start of this project. We did not want anybody sleeping rough on the streets of Dublin this Christmas," said Home Sweet Home's Rosi Leonard.
Through the massive support of the Irish public, hopefully we may actually achieve our objective this year.
Home Sweet Home says that by its estimates there are 6,500 people officially homeless in Ireland today.
Media have not yet been allowed into the house since it was occupied by Home Sweet Home but the group says it will be providing daily updates on over the Christmas period.
Yesterday, Ogle refused to rule out further legal proceedings to push back the court ordered date by which they have to leave Apollo House.
Home Sweet Home said today that it wishes to thank the members of public who have supported them in the past 10 days.
"Thanks to you, everyone in Apollo House will be well-fed and most importantly, warm, safe and in good company over Christmas," Leonard said.
The group also quotes one resident who wished to do the same:
We are so grateful to everyone for their generosity this year. Some people have given their time, others donations. But it all makes us feel like we have a home this Christmas, and for many of us, it's the first time in years.