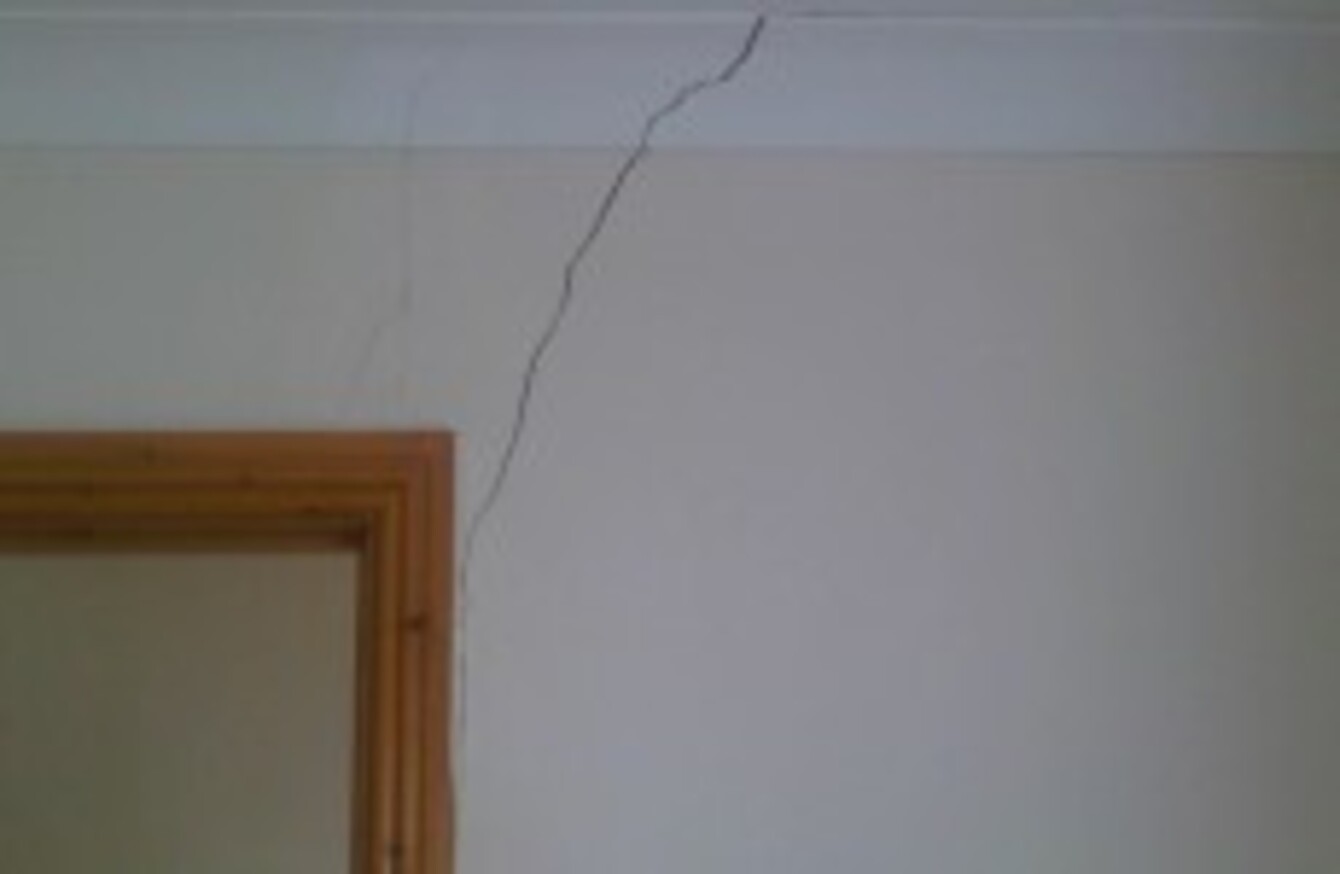 A picture of the effects of pyrite contamination from the Pyrite Action Facebook group
A picture of the effects of pyrite contamination from the Pyrite Action Facebook group
AN OIREACHTAS COMMITTEE has said that it is "a matter of serious public concern" that a household insurance company has refused to appear before it to answer questions related to pyrite contamination in Irish homes.
The Committee on Environment, Transport, Culture, and the Gaeltacht has said it will ask Environment Minister Phil Hogan to encourage HomeBond to appear before it to discuss the cost of restoring homes whose structural integrity has been damaged by pyrite contamination.
The pyrite mineral used in building materials is estimated to affect some 20,000 homes in Ireland where material used in foundations expands and causes cracks and crevices in walls.
HomeBond has previously  said it is not legally obliged to provide compensation to those affected and has insisted that the responsibility lies with the quarries that provided the infill materials.
While the company has participated in the 'Pyrite Panel' established by Hogan, it has declined to explain to the Committee the reasons behind its decision to opt out of legal responsibility to the purchasers of homes damaged by pyrite.
HomeBond said in a statement to TheJournal.ie: "It would be inappropriate to discuss this issue in a public forum at this stage and we will review the request once the Minister's pyrite panel has completed its work."
Chairman Ciarán Lynch, a Labour TD, said: "We are surprised and disappointed that HomeBond should, at the same time, refuse to engage with an Oireachtas Committee on the same issue.
The Committee has agreed to ask Minister Hogan to encourage HomeBond to appear, as requested, before the Committee to discuss this very important issue at its earliest convenience.
The government established 'Pyrite Panel' was set up by Hogan to assess the extent of the pyrite problem and formulate a solution for fixing homes that have been affected in Ireland.
It is due to issue its report shortly, the Department of Environment confirmed yesterday.