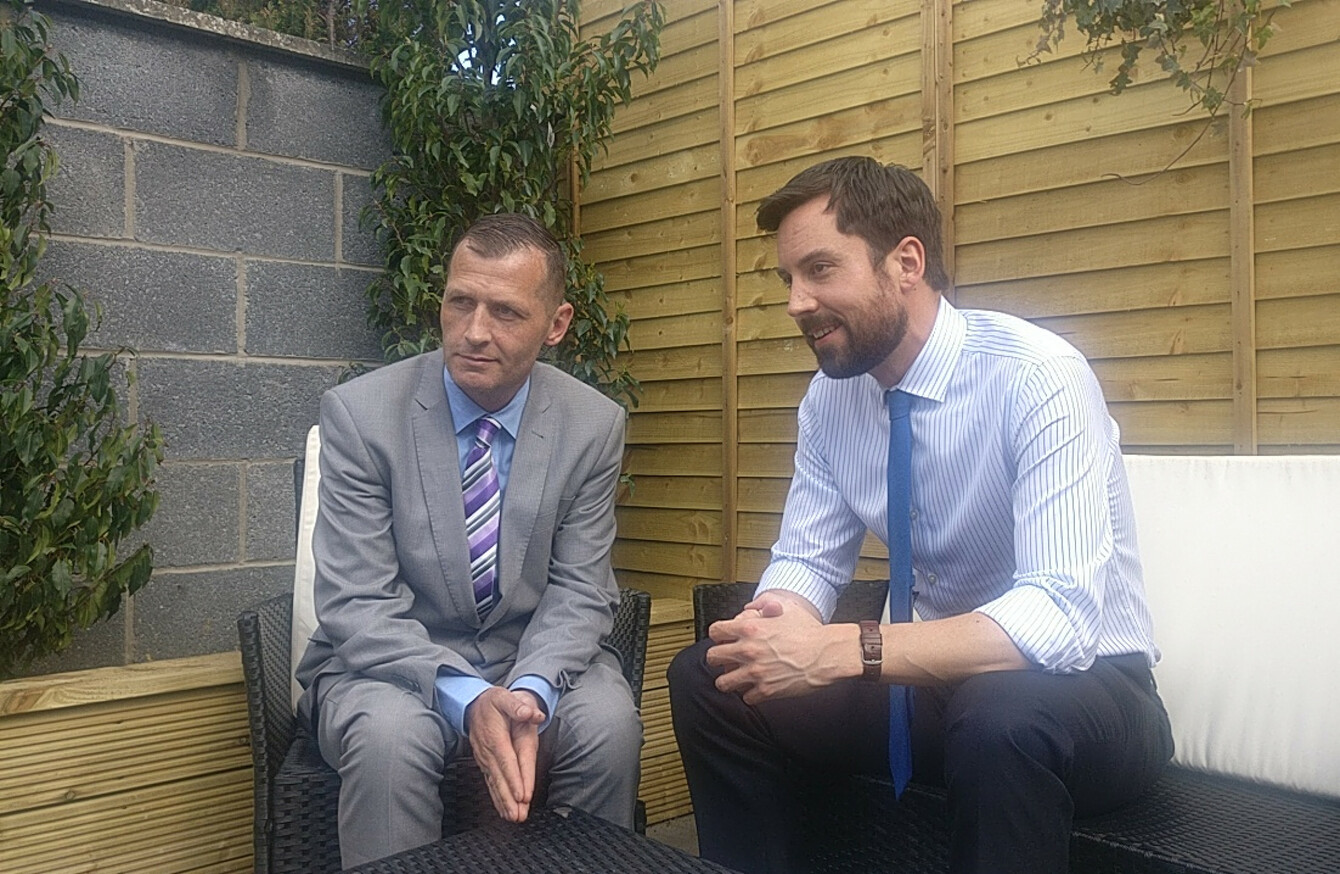 Philip (left) with Minister Eoghan Murphy (right) today in Dublin.
Image: Cormac Fitzgerald/TheJournal.ie
Philip (left) with Minister Eoghan Murphy (right) today in Dublin.
Image: Cormac Fitzgerald/TheJournal.ie
PHILIP DOYLE SOUGHT help after he weathered out Storm Emma and the Beast From the East in a tent in a south Dublin park.
Philip had been homeless since 2012, after he lost his home when he was made redundant from his job.
Philip moved from place to place, he has battled with substance addiction the past.
He spoke to reporters today in the kitchen of the Peter McVerry Trust hostel where he has been living for the past month.
Extra beds were opened recently in response to Storm Emma – during which temperatures plummeted and there were significant accumulations of snow across the country.
Before the storm Philip has been living in what he called a "concrete tube" next to a playground.
He sought out help before the storm and was given a tent.
"Somebody offered me a tent so I moved the tent to a park in the area. I was there for a couple of weeks when the snow thawed I was asked to move on," he said.
After finding out some of the services that were available for him to use, he sought further help in the immediate aftermath of the storm.
"So I got back to the person who I reached out to first and he directed me… So I didn't know how many services were available. I knew nothing about this," he said.
So I didn't know what to do. So he gave me some guidance. He pointed me in the right direction and I'm here.
Philip says that his life has turned around significantly in the month that he has been in the hostel.
"I didn't know there was so much help and I didn't realise that so many people had that in their heart," he said.
He said that his life had "done a total 180 degree turn" in that time and that he needed a bit of security to start piecing his life back together.
"If the storm hadn't come I'd probably be somewhere outside looking for somewhere to lay the head," he said.
Philip met and spoke with Housing Minister Eoghan Murphy today following on from the latest rough sleeper figures being published.
The figures showed that the number of people sleeping rough dropped from 184 during the winter of 2017 to 110 for spring 2018.