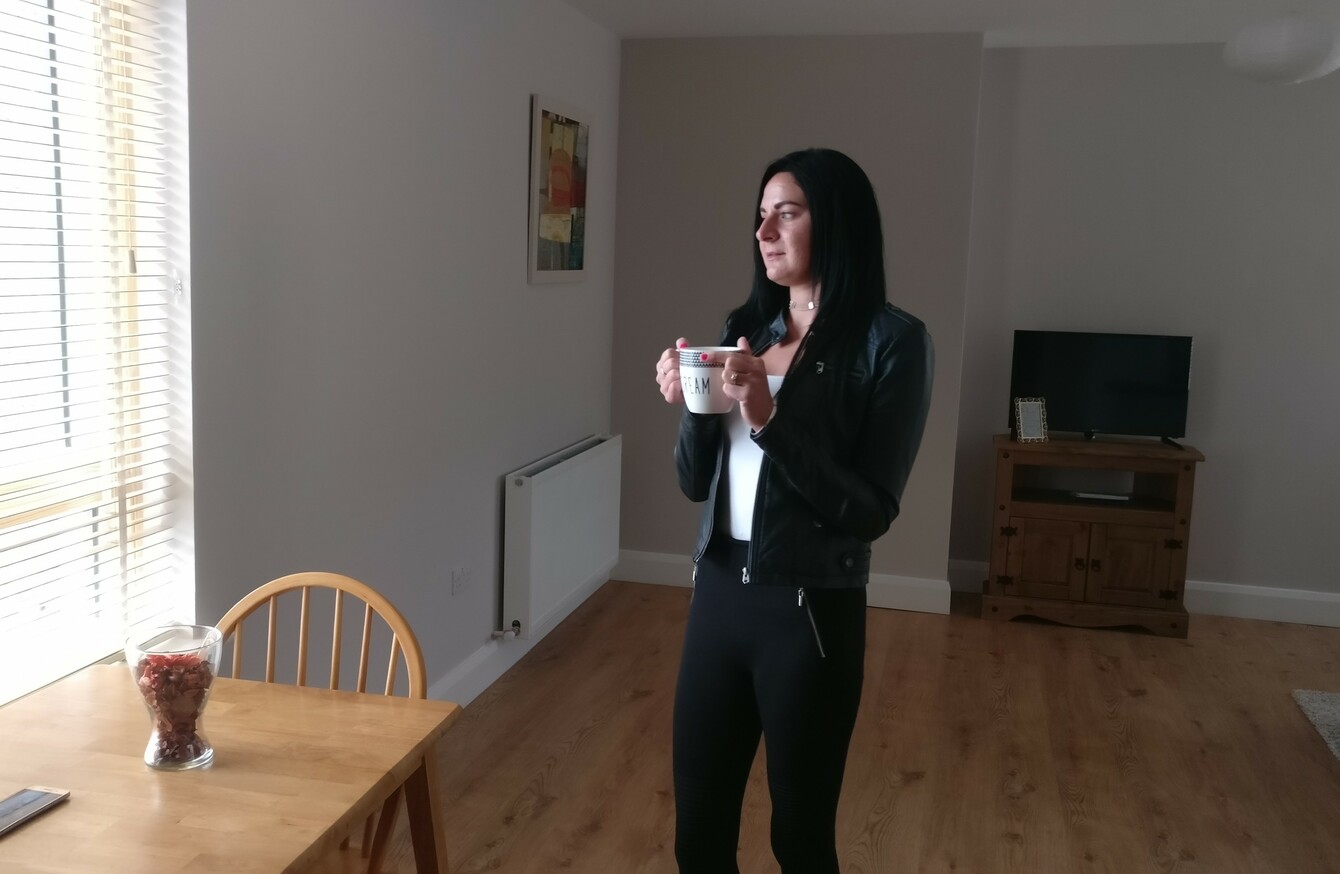 Louise in her new apartment in Dublin.
Image: Cormac Fitzgerald
Louise in her new apartment in Dublin.
Image: Cormac Fitzgerald
ELEVEN NEW UNITS of social housing will open this week in Dublin city centre, providing secure housing for people in need.
St Agatha's Court consists of 11 social housing apartments located in Dublin's north inner city. The apartments were developed out of a derelict block of local authority flats which were scheduled for demolition.
The project was developed and will be managed by homeless charity the Peter McVerry Trust.
Speaking at the opening of the event today, homelessness campaigner FR Peter McVerry said the development was needed, and that the Government's housing action plan is failing to help homeless people.
"You have to look at the results. Homelessness has gone up every single month since the plan was launched so in my view it's not working," said McVerry.
"It still depends very heavily on the private rental sector to house homeless people through the HAP scheme.
"I think the reliance on the private tenant sector is a more a cause of the problem we have today so I don't see it as solution to the problem."
The Rebuilding Ireland plan was launched by Government last July, with a view to ending Ireland's housing crisis. Homeless has consistently gotten worse in the 11 months since the plan was launched.
Latest figures for April show that there were just under 5,000 homeless adults living in emergency accommodation in Ireland and 1,302 families.
Also speaking at the event today, Minister of State For Housing and Urban Renewal Damien English defended the plan, saying that a lot of work was still left to do.
"The priority [of the plan] had to be to deal with people who are homeless and had been living as homeless for the past number of years," English told TheJournal.ie.
"But a lot has been too to keep people in their homes.
English pointed to increased rent protections, working with banks to keep people in their homes, and better tenant protection services as ways in which this is being done.
However, he conceded that the problem of homelessness does to continue to get worse.
"While last year, over 3,000 people left homelessness… just as many became homeless again so we're finding it hard to get ahead of the numbers," he said.
But the trends are starting to go in the right direction.
In relation to Housing Minister Simon Coveney's commitment to only using hotels to house homeless families in limited circumstances, English said that the Government was "on track" to achieving this goal.
He said that homeless figures for May and June would show significant decreases in the number of homeless families staying in commercial hotels.
St Agatha's Court
The €1.4 million social housing project will have the Peter McVerry Trust as a landlord. 10 of the apartments will be one bedroom, while one will be two bedrooms for a small family.
Louise, one of the tenants soon to move into the building, spoke to TheJournal.ie in her new apartment about what having her own home meant to her.
"I love it it's just huge," she said.
It means a lot to be here.
Louise became addicted to drugs at a young age.She said that she fought hard to beat her addiction and was now looking forward to moving on with her life.
"I was in addiction and I fought to get clean and get where I am today, because if I didn't I wouldn't be here," she said.
It feels like a dream, like I'm going to wake up.
The units bring to 50 the total number of apartments delivered by the PMV Trust by re-using existing buildings.
"We have been working on this source of housing since 2014 and we believe there remains significant scope to create more housing by better using our existing building stock," said Pat Doyle.
Our goal now is to continue to develop these capital projects and significantly increase the number of housing units provided by Peter McVerry Trust into the future.