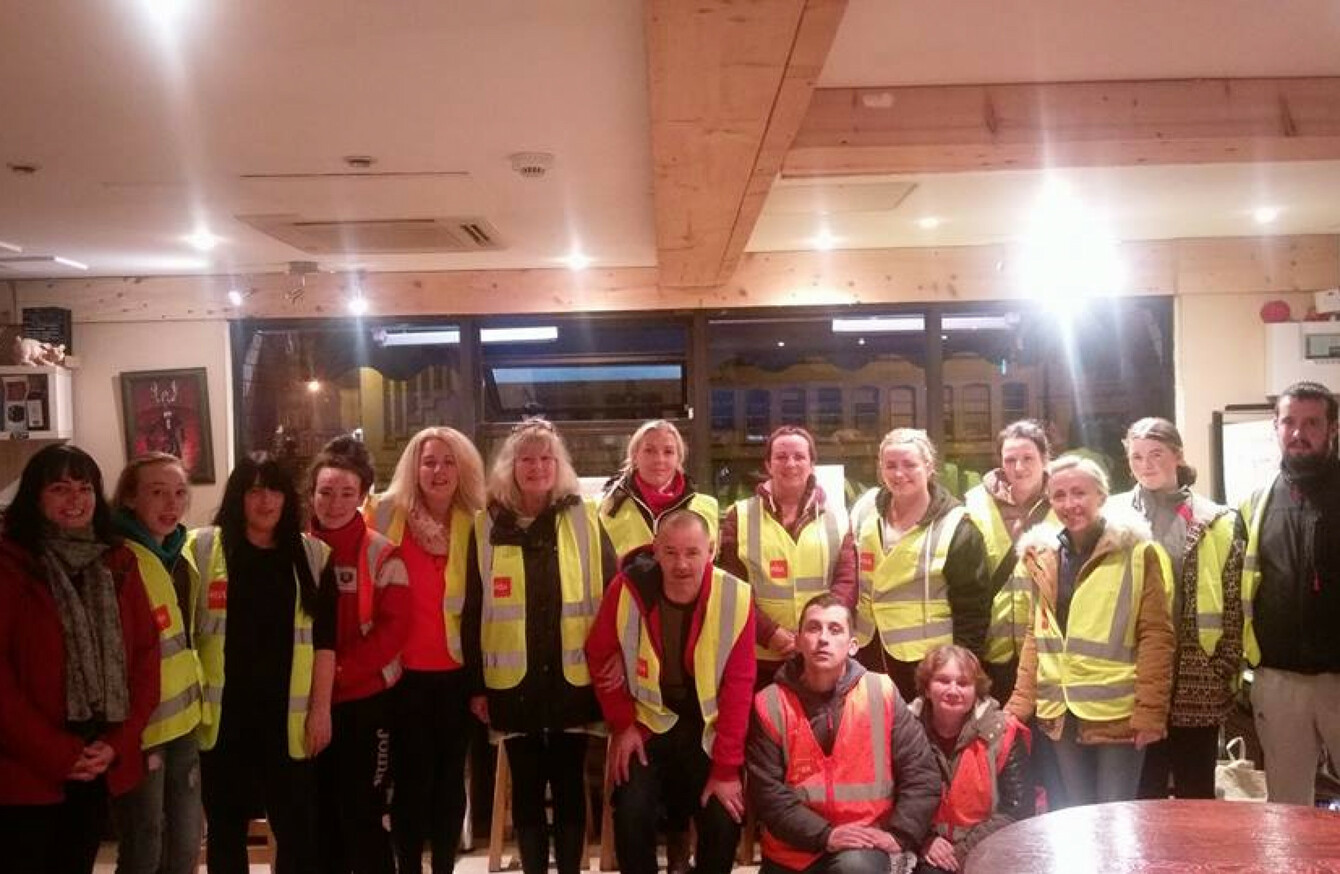 Volunteers ready to go out and direct rough sleepers to shelter in the Three Little Piggies café
Volunteers ready to go out and direct rough sleepers to shelter in the Three Little Piggies café
WHEN IT BECAME clear that a major storm was about to hit Ireland, homeless services around the country set about ensuring that nobody would be sleeping rough on the streets when Ophelia arrived.
Fergal Dennehy, Deputy Lord Mayor of Cork city, told TheJournal.ie that it was something he knew he had to act upon.
"On Sunday night," he said. "I made a commitment to myself that there'd be no homeless people on the streets of Cork when this storm hit."
It was recorded that over 300 people were sleeping rough on the streets of the city at some point over the course of last year. With Met Éireann warning people to stay indoors because there was a very real threat to life, the need to house these people during the storm was paramount for agencies involved.
The Department of Housing, acknowledging the risk to people on the ground, had put in place urgent measures to help homeless people during the storm, including extra beds and supports.
Dennehy was one of many in Cork to open their doors to homeless people ahead of Storm Ophelia.
When TheJournal.ie arrived to report on the damage left by Ophelia, Dennehy was bringing the homeless people he'd sheltered in his boxing club for a tour of the Lord Mayor's offices in city hall.
"It's a nice thing to do," he said. "They may never have this chance again."
"A practical solution"
Dennehy said that both he and his partner Christine were active in helping the homeless in Cork, and the storm forecast made it urgent to take action as soon as possible.
"We were on the streets till 1.30am Monday morning," he said. "The storm was due to hit around 6am or 7am.
We coordinated with other groups who were out on the streets that night, Cork Simon Community, St Vincent's etc. I didn't want other groups out there covering the same ground. It was important we got to everybody before the storm hit.
The Deputy Lord Mayor said that he decided to open up Togher Boxing Club, which he helped found, to house the rough sleepers they came across for the night.
"It was a practical solution," he said. "There were calls for us to open up city hall, itself.
That would have been a grand symbolic gesture, for sure. But there's no shower and changing facilities here. There are those at the boxing club. And there's space for people to sleep on the padded floor we have there.
Dennehy helped to arrange transport to the boxing club and, on Tuesday morning when the homeless people were brought back to the city centre, the councillor had a brainwave.
"I said I'd bring them up to see the offices," he said. "A lot of them would never have been here before. I thought it would be a good idea."
And so, roughly a dozen or so of those people walked into city hall and up the stairs to the Lord Mayor's office where drinks were made available.
Some of them were clearly very emotional. And all were grateful. There was lots of hugging and hand shaking.
"It's about being treated with dignity," one young man said. "And we got that from you. We're all grateful for that."
Another said that it was a nice feeling to have been treated like a human being.
"There was great camaraderie among them," Dennehy said. "Being homeless can be a very lonely thing. For a little while anyway, they had people around them.
One man kept opening and closing a door. He told me 'it's just nice to have a door I can open'.
Three Little Piggies
Another place to open its doors when Ophelia arrived was the Three Little Piggies café on Union Quay.
Staff member Bernard O'Hehir told TheJournal.ie that the idea came from the proprietor, Paul.
O'Hehir said: "I was homeless myself, so I would know 99% of the homeless people in the city. My boss has always been a great supporter of efforts to help the homeless in Cork city.
He said he'd like to open up the shop, cafe and premises for people. I thought it was a magnificent idea. Make sure that they were safe. We had about 15 people.
#Open journalism No news is bad news Support The Journal

Your contributions will help us continue to deliver the stories that are important to you

Support us now
Having made appeals through social media, along with a team of people taking to the streets on Sunday night, the efforts of O'Hehir and co quickly gathered pace.
https://www.facebook.com/paul.walsh.921/posts/10213827907682180
"The response was brilliant. We had loads of volunteers coming forward. Children coming in with mums and dads because they wanted to help. It was lovely," he said.
O'Hehir said that others questioned opening up a business and livelihood to homeless people, but any such fears were completely unfounded.
"There was not even an ounce of damage," he said. "Not one cup out of place.
We gave them two things that cost no money. Time and respect. They're human beings. People need to see it that way… When they were leaving half of them took about 20 minutes to leave. All they kept saying was 'thank you, thank you, thank you'.
What happens now?
After seeing the Lord Mayor's office up close, it was time for the people who'd stayed in the boxing club the night before to make their own way onwards.
"It'd be easy to get upset," Dennehy said. "We're in effect putting them back out on the street.
But I'd say: 'Is the glass half-full or half-empty?' We're never going to fix this crisis overnight. But on a night when it's really a case of needs must, we stepped up. We had to.
O'Hehir said that the plight of people on the streets gets highlighted so rarely, and that people do not fully realise the extent of it until a crisis like Storm Ophelia puts it back in the spotlight.
"I go out with volunteers every Wednesday night," he said. "It does break your heart the things you see.
At the end of the day, most of them are good people. They just need help. They need the right help.
Dennehy added that, being aware of the extent of the homeless problem in Cork city, it was impossible to stand by when news of the storm came in.
"We had a couple of people in the boxing club who sleep in tents," he said. "You see what those winds did to the trees. Could you imagine what would have happened if they'd been in those tents with the storm arrived?"