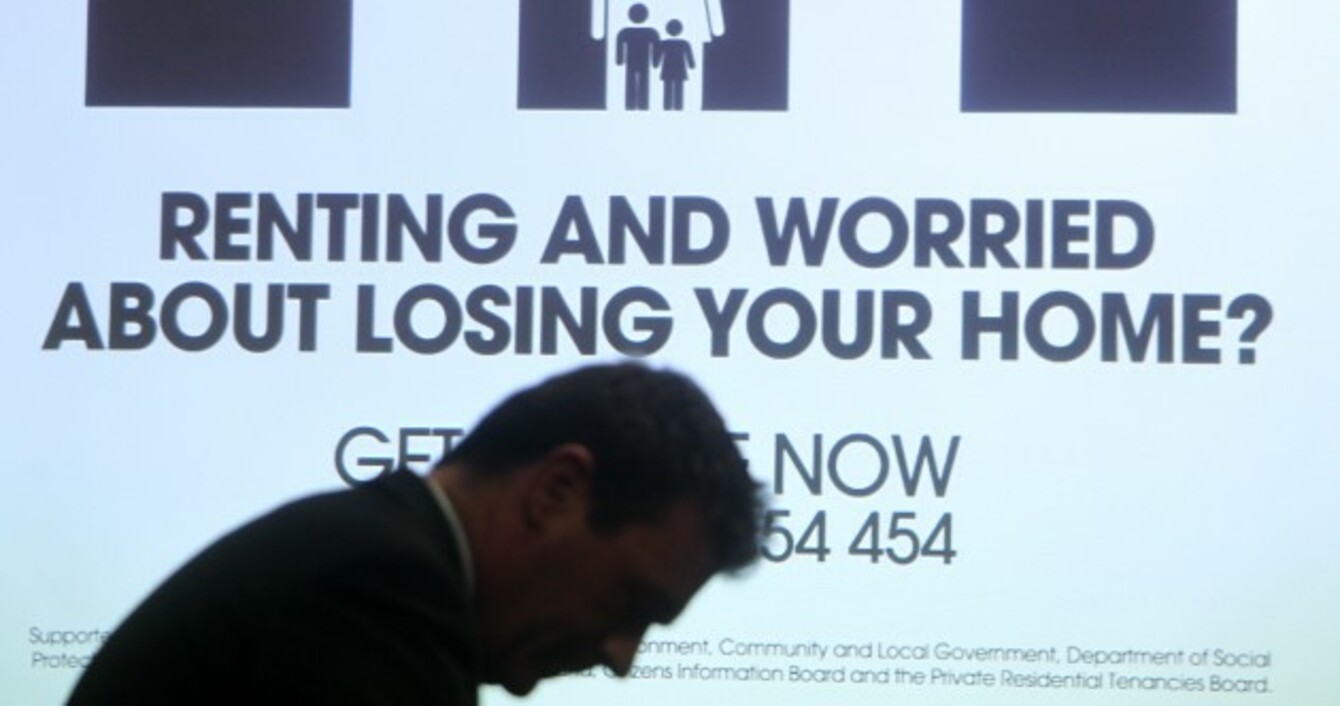 Image: Sam Boal/Photocall Ireland
Image: Sam Boal/Photocall Ireland
NEW FIGURES BY the homeless charity Focus Ireland show the number of homeless families in Dublin is at a record level high.
In 2012, an average of 8 families were becoming homeless in Dublin each month. This has now shot up to an average of nearly 70 families presenting as homeless to Focus Ireland family services in Dublin every month so far this year.
In July, 77 families, including 155 children, from Dublin became homeless last month, 70 of whom had never been homeless before.
In the first seven months of the year 466 families became homeless, almost as many as for all of 2014.
Speaking to RTÉ's Morning Ireland Director of Advocacy Mike Allen said there are well over 500 families currently in emergency accommodation and some have been in it for over two years now.
'Another record figure'
"Every month we come out with larger and larger figures and for people listening they say, 'oh here's another record figure.'"
The reality of the circumstances for these families is that they are still feeling the consequences made by politicians before the economic crash, he said.
Ironically, he said, these record levels of homelessness are occurring at a time when the public is being told that Ireland's economy is recovering.
Allen said people are hearing from government about what's been achieved and how the economy is turning around, when for these families they "are still seeing the appalling effects of the crisis and political decisions made before the crash". 
When the government announce what they are going to do in reality they are just press releases.
He said there has been a number of non-starters despite government promises.
Allen said they have campaigned for over two years for rent supplement to be increased and it has remained frozen while families lose their homes. Dublin City Council promised to renovate empty dwellings and this has not been achieved also.
The main problem is the lack of new builds for social housing, he added.
Not just a Dublin issue 
However, the problem is not just a Dublin issue.
A Cork-based homeless service has said they are seeing more and more women and children seeking a bed after being evicted.
Good Shepherd Services (GSS) say increased demand has meant that they have had to turn away 130 women and children in the first three months of this year.
The charity provides both emergency and long-term accommodation for women and children and says they are now helping more than they were last year.
"It's countrywide problem,"says Good Shepard's CEO Tony O'Riordan.
"It's definitely worst in Dublin but it shouldn't be talked about that it's all about a Dublin problem. It's happening in Cork and I'm sure if you talked to people in Limerick, Waterford and Galway you'd hear the same."
Figures released yesterday by Cork City Council showed that in July there were 22 families in emergency accommodation across the city. These families consisted of 26 adults and 49 children.
There were also 232 people in single emergency accommodation.
Eviction 
Good Shepard say their accommodation may be provided for a range of reasons like domestic violence, family conflict or though simply having nowhere to stay. Eviction is also becoming a more common reason.
They have 10 family units and 18 single units.
The service says that, between January and March, they helped out in six cases where women and children had been evicted.
#Open journalism No news is bad news Support The Journal

Your contributions will help us continue to deliver the stories that are important to you

Support us now
"To be fair, it's a full house all the time," O'Riordan says. "We have six to eight families who are waiting, so we're trying to get the ones who are there into other accommodation so we move those waiting in."
"Nobody wants to see anyone on the streets but you certainly don't want to see women or children on the streets."
The family units are 160 sq-ft and have a bed for a parent and up to two bunk beds, they have their own bathroom but O'Riordan explains that the real issue is that floor-space "is tiny".
In the single unit side, you could have three women in the same room, so the main problem is that you've nowhere for your own headspace.
"Sometimes the only place you can get some privacy is in the bathroom."
Homelessness is a persistent problem but it has been brought back into the headlines as stories emerge of families being forced to sleep in cars.
O'Riordan says that he himself is not currently aware of any such cases in the Cork City area but that the problems associated with families being evicted and having nowhere to go are getting worse.
"It's very traumatic losing your home. I don't think people can comprehend what it's like to have that taken away from you."
O'Riordan says that the lack of supply of houses is a problem and the associated issue of high rents is putting pressure on homeless services.
"Our sole objective at GSS is to work with the women and children we care for and break the cycle of homelessness and encourage and support independent living," he explains.
But like other homeless charities, we are calling on Minister for Environment Alan Kelly, to issue a directive to raise the rent allowance cap to match real market rents and deliver on the government's promise of rent certainty.
He also points out that promised Nama properties have not materialised to help put a dent in the increasing local authority waiting lists in the city.
"I'm not saying the government are doing nothing but they need to be doing more."
First published 6am. Additional reporting Christina Finn