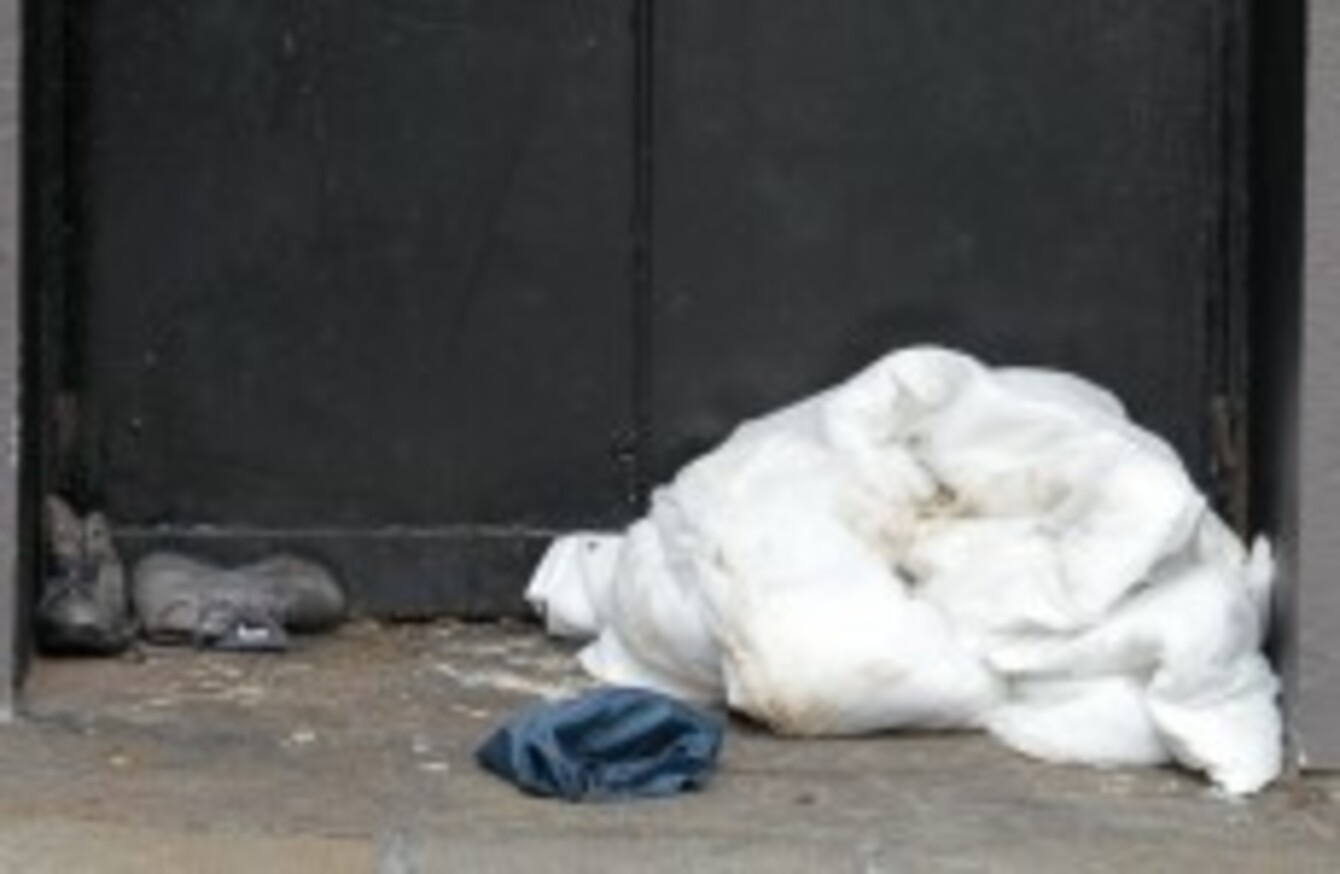 THE CHARITY FOR the homeless, Merchant's Quay, saw increasing numbers accessing its services last year, and its drugs services "stretched to capacity".
Its annual review, which is released this morning, shows that its day and evening services provided over 73,000 meals in 2011, up from 64,000 the previous year.
Merchants Quay Ireland is now delivering services in 11 counties across Ireland and in the prison system. It has increased services in the Midlands region to keep pace of the growing need.
It saw a growth in people accessing the evening service, with an average of 115 clients per evening in 2011. They said this demonstrates "the pressing need for evening services for Dublin's homeless and hungry".
"Harsh reality of life on the street"

MQI saw a 21 per cent increase in demand for the free GP service, with over 3,300 interventions at its primary health care service at its homeless centre in Dublin, which it says highlights the "harsh reality of life on the street".
When it came to drug services, 4,051 individuals accessed MQI's Dublin city centre needle exchange in 2011, and of these 492 were new clients. This means there were approximately 10 new clients a week.
The report also said that drug usage is growing outside of Dublin, as MQI's regional services recorded increases across all programmes in 2011. MQI's Midlands Drug services, for example, recorded 4,000 one-to-one interventions
Speaking at the launch, Tony Geoghegan, CEO of Merchants Quay Ireland said:
The devastating effects of the economic downturn can clearly be seen in the numbers turning to MQI's homeless and drug services nationwide, these figures are evidence of the ongoing impact of the economic recession – and the Government's austerity measures aimed on the most vulnerable.
Unemployment and poverty
MQI CEO Tony Geoghegan noted that:
as in the 1980s where high levels of unemployment fed the drugs crisis and rising poverty led to higher levels of homelessness, we are seeing history repeat itself. Today MQI is on the frontline for society's homeless and hungry providing basic meals and healthcare daily for some of Ireland's most needy.
He said that the growth in demand "shows no sign of abating, while similarly our drugs services nationally are stretched to capacity as the drugs crisis grows across the country".
Geoghegan said that in times of economic crisis it is the weakest and most vulnerable who suffer most.
We as a society need to learn from past mistakes and address these interlinked crises and invest in long term solutions for the benefit of the individual, their families and society as a whole.
New census data released in September showed that 3,808 people were homeless on Census Night last year.
Speaking to TheJournal.ie, Geoghegan said that the "conundrum for ourselves and other voluntary agencies" is that they see more people are affected, but the resources are "diminishing as well".
The changes that MQI has made include looking at work patterns and getting "greater efficiencies".
We also are more and more reliant now on voluntary income and on the support of the general public.
To date we've managed to bridge the decreases in statutory funding that we have received through our voluntary [funding]… I don't know how long we can keep this up… Everyone is feeling the pinch.
Saying that "it is the State's responsibility to look after its citizens", Geoghegan said that there are 9,500 people in Ireland on methadone, but the pathways aren't always there to move them from that stage.
Unless there are pathways developed there, I do fear for drugs services. All of the voluntary agencies are finding it difficult.
A new homeless centre at Merchants Quay is to open formally in Autumn 2012.  It will bring all of MQI's frontline, homeless and drug services under one roof and provide a greater number of hot meals and improved medical facilities.
We tried to prepare for what is coming down that track by preparing that centre. We are able to see more people there and able to see them in a more efficient way.
Meanwhile, in order to address the growing national drug problem, MQI opened a 10 bed detox facility on its site in St Francis farm, to "provide some sort of pathway out of methadone for people".
There are 10 beds in there, which represents "about a third of national provision".
Geoghegan reaffirmed MQI's commitment to helping people out of homelessness and drug abuse, but also said he wants the Government to "stick to their commitments".