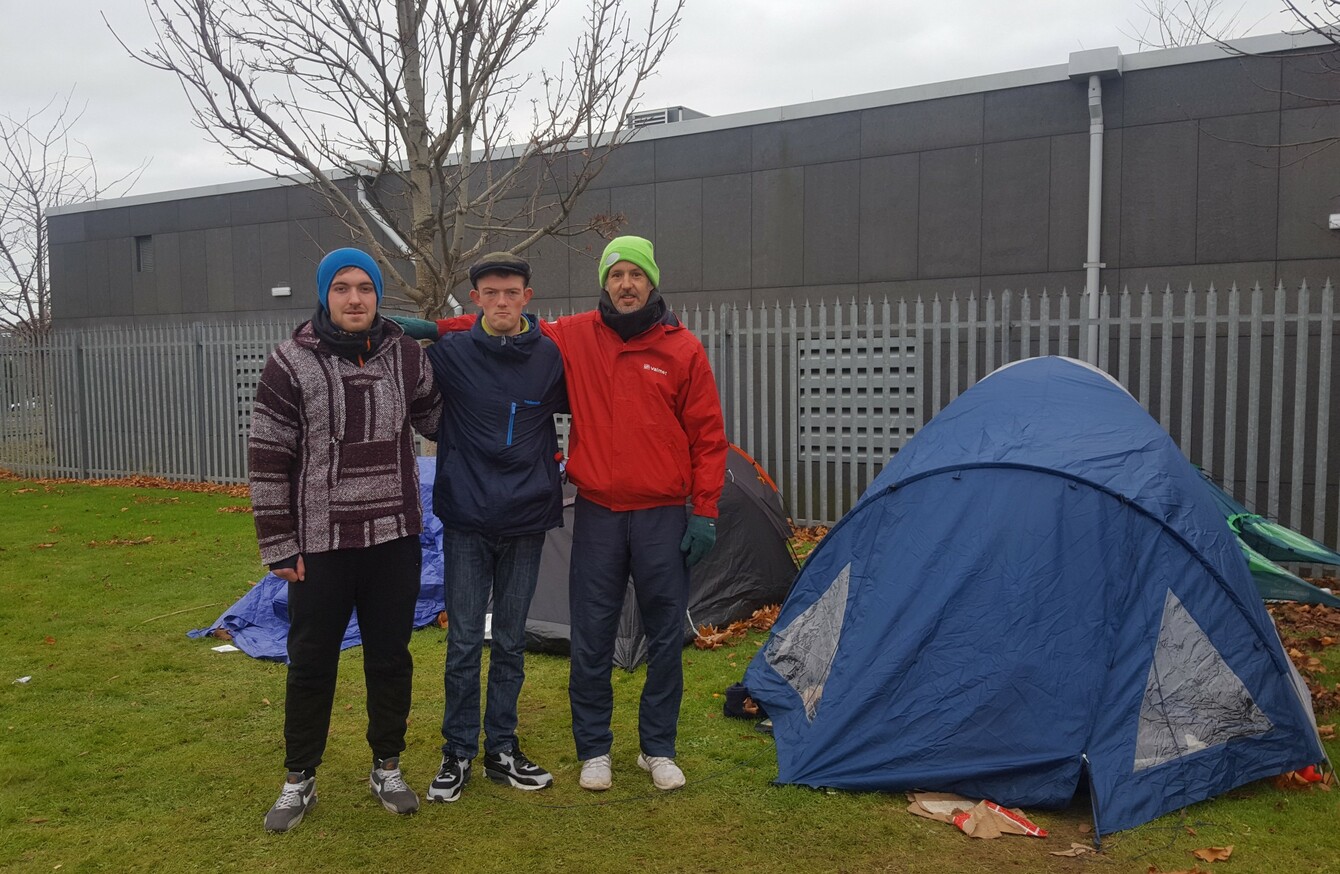 Some of the men staying at the south Dublin green area
Image: Garreth MacNamee
Some of the men staying at the south Dublin green area
Image: Garreth MacNamee
A HOMELESS CAMP has sprung up on a south Dublin green area and the number of people staying there is slowly increasing.
A number of young men, fed up with hostels and sleeping on the streets, have banded together to protect themselves in number, deciding to trust each other instead of relying on just themselves.
The camp is located just off the Luas green line but, due to the men's concerns over safety, they have asked that we keep the specific location private.
"We're worried we're going to freeze to death this year," one young man said as he climbed out of his tent on Monday morning.
Dressed only in a black t-shirt, the man, who is in his early 20s, shivered as he tried to remain warm. He explained that the number of tents has been increasing as word spreads that their green area is safe and relatively sheltered from the elements.
"I have a dog, the hostels won't accept animals. But, to be honest, I don't want to stay there. It's just drugs. None of us touch drugs here," he said.
We want to be safe. A homeless man died on the streets last year, we're worried we're going to freeze to death this year.
The demographic of the camp is broad, ranging from young men recently out of prison to the newly homeless immigrant who wants to feel safe.
There were eight tents erected when we approached the men living there on Monday afternoon. One man said the green area has been the safest place he has slept since becoming homeless.
They don't mind that they are visible to the passing Luas traffic, instead one man told us that the felt comforted by the sound of the passing trams.
Rather than feel unwanted in the area, the men described how they have been welcomed into the community. Locals have brought them food, sleeping bags, hats, gloves and jackets to keep them warm.
'We've had no problems'
"One of them even said they were sorry we couldn't stay in their house because they had no room," said Willie, who is originally from the UK and in his 4os.
"I think they know we're good people. They came out and gave us really good sleeping bags. It's getting proper cold now so it's nice to have every little piece you can get. We feel welcome here. We've had no problems."
Another man, who called himself Patrick, told TheJournal.ie that he has found it difficult integrating back into society following his release from prison. Patrick explained how he was inside for a relatively short stretch but that he didn't want to go near the hostels as he wants to stay away from drugs.
"You go there to sleep, but most go there to do drugs and then pass out. It's not what we want. There are homeless people who have drink and drug problems, yeah, we all know that. But then there's us.
I made a mistake and now I'm living in a tent on the other side of Dublin.
While most of the men were happy to talk under condition their full names not be used, one man declined.
'Bickering brother'
Seemingly angered by the presence of a journalist, the man decided to leave for a soup run.
Patrick explained that the group "has problems the odd time. But because we don't do drugs or drink, we usually just talk things out".
#Open journalism No news is bad news Support The Journal

Your contributions will help us continue to deliver the stories that are important to you

Support us now
According to the group of men, the council has already attempted to move them on from the area.
The man in the black t-shirt has now re-emerged from his tent, dressed in a wooly jumper and a hat.
"The problem is we're too profitable. Homelessness has become an industry. They profit from us. They say they care but it's in their interest to keep us on the streets. I don't think I'll ever have a home."
Dun Laoghaire Rathdown County Council confirmed to TheJournal.ie that "Dublin's Housing First Team have visited the location".
The Housing First Service is funded by Dublin City Council and operated by Focus Ireland and Peter McVerry Trust and engages with people who are rough sleeping across the Dublin region.
Roughan McNamara of Focus Ireland said the Dublin Housing First project has provided permanent homes for 63 people who were formerly rough sleeping.
Initially, the project target was 100 tenancies, which has been increased to 300.
McNamara said the challenge faced by Focus Ireland and Peter McVerry Trust is to scale up housing provision and overcome the acute lack of affordable housing that has hindered the project to date.
Local Sinn Féin councillor Sorcha Nic Cormaic told TheJournal.ie that it is very worrying to see the men group together in the cold.
It just shows you that they feel safer to be outside in the freezing cold rather than take the risk in the hostels.
"I think it's a very worrying development."