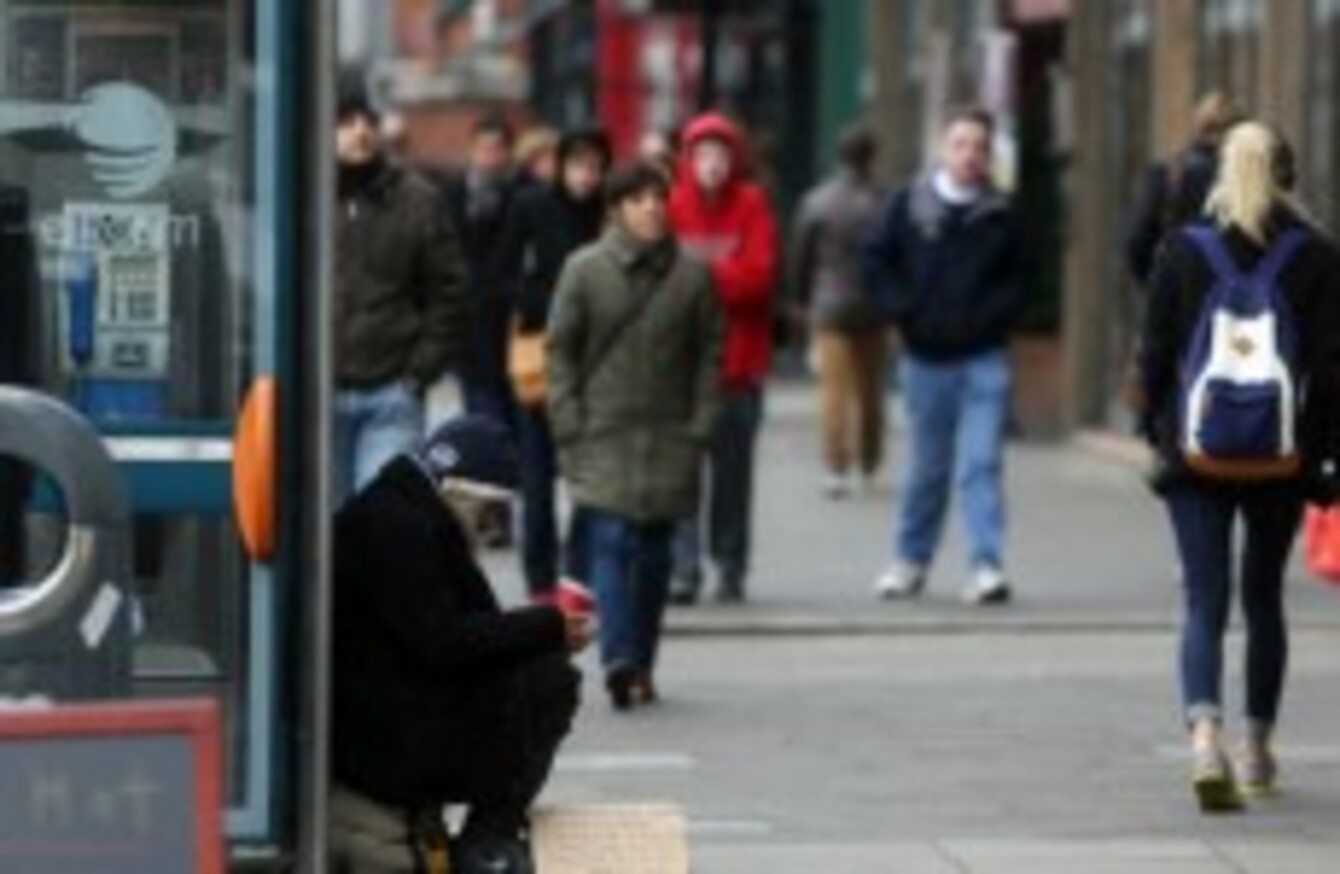 A man begging on the streets of Dublin
Image: Rollingnews.com
A man begging on the streets of Dublin
Image: Rollingnews.com
TOMEK* FIRST CAME to Ireland in 2008 to visit his sister for a two-week holiday.
After seeing the jobs that were on offer and the standard of living here, he ripped up his return ticket and decided to stay.
He worked a number of legal and illegal jobs throughout the years: growing chillies for paprika in a greenhouse in Swords, as a car mechanic, packing bags in a warehouse.
But suffering from a severe addiction to alcohol, after seven years Tomek was sleeping on the streets of Dublin, homeless after spending four months in Mountjoy Prison for theft.
"You never really fall asleep when you're on the pavement," says Tomek, through a translator.
You lay down and you stay awake because you never know when someone will attack you and smash a bottle over your head.
A Polish national, Tomek speaks very little English, and has difficulty accessing homeless and social protection services in Ireland.
He has recently come through a detox programme and has stopped drinking.
But he is still part of a growing number of homeless migrants living and sleeping rough on the streets of Dublin.
Homeless migrants
Homelessness is an ever-growing problem in Ireland, a fact well-documented in recent months.
Latest figures from the Dublin Regional Homeless Executive (DRHE) show that there are over 607 families in homeless accommodation in Dublin – more than double the same time last year.
The number of homeless non-nationals has been steadily increasing also, with 173 homeless from outside Ireland or the UK in Dublin in 2013 (the latest year that figures are available from), up from 94 in 2011.
On top of this, of the 105 people found sleeping rough in Dublin during the latest rough sleeper count, one in five were non-Irish.
A large proportion of these homeless are Eastern European, with the majority of them from Poland.
"When the accession states joined (the EU) in 2004, they would have come here with the expectation of work, or would have been working," says Lisa Kelleher, Head of Communications with the DRHE.
But down to the construction industry… there were impacts that happened in terms of job losses and their access to our services."
The collapse of the construction industry had a huge effect on workers who had come to Ireland during the boom-years.
Many migrants – like Tomek – came here for job opportunities and the higher quality of life.
But a combination of not speaking English and a lack of consistent work, along with drug or alcohol problems, led to them becoming stranded.
Kelleher says that many migrants are not able to access social protection in Ireland (like job seekers allowance or social housing) because they don't satisfy Ireland's Habitual Residency Condition.
This condition means that they must have worked for a certain amount of time in Ireland or fulfil other criteria before they can qualify for social protection.
They still would be able to access emergency accommodation… but they're not in that space whereby the exit out of homeless services back into independent living is available to them.
Support and protection
Barka, a Polish charity working in Ireland since 2012, is funded by the DRHE to help homeless non-nationals.
With a small team working out of another Dublin homeless charity – the Mendicity Institute – they help migrants link in with homeless services or to return to their home countries.
However, for many returning home is not an option.
For Tomek, it's a legal issue – he is wanted in Poland for a drink driving offence and will almost certainly go to jail if he returns.
But for others the issue is more personal.
Adam* (38) came here from Poland in 2005. He worked as a builder for four years in a company in Cavan, before the company shut down.
"One day this company just closed – no more contracts – nothing," says Adam.
"I lost my job. Not just me, lots of people lost their jobs."
Adam is now staying in detox facility run by the Simon Community in Dublin. He suffered from alcoholism for years and spent some time homeless before getting help.
He is separated and has a 6-year-old half-Irish daughter who he sees once a week. If he leaves Ireland the chances are he'll lose his daughter.
My daughter is my life… My relationship is broken but my daughter is my blood. If I move to Poland I lose my daughter – that's my blood, it's not happening.
The Barka team have helped both Adam and Tomek connect to detox facilities in Dublin, have given them financial and emotional support and have kept in contact with them for months.
"Barka help so much – money, documents, everything. Without them… I don't know what I would do," says Adam
The Barka Foundation
The Barka Foundation for Mutual Help was founded in Poland in 1989. Two psychologists were seeking an alternative form of care for destitute or social outcasts after the collapse of the Soviet Union.
They set up the first Barka commune just outside the city of Poznan, living with 25 social outcasts in a self-sufficient community in the Polish countryside.
Since then, the organisation has grown into an international social franchise, with over 200 related entities spread out across Europe using the Barka name.
These range from small teams supporting homeless people, to huge self-sustaining communities spread out across Eastern Europe.
The Barka team in Ireland (Barka IE) is made up of just three people: Ewa Sadowska, Alexsandra Kubiak, and Jurek Struglik.
In their first year in Ireland, Barka helped 52 people return to their home countries.
So far this year they have already helped 55 people reconnect with their homes, as well as supporting many more in Ireland, like Tomek and Adam.
Ewa (32) is the Director of Barka, the daughter of the original founders, she grew up on the first Barka commune and shares her parents' vision of an alternative way of caring for people.
"Our approach is based on what we call social economy," says Ewa.
It's about the development of each and every human being based on the belief that every human being has a great potential. Even those who have been on the streets or homeless for many years – every person has a great potential that may need to be rebuilt – that is what we do."
The Barka outreach teams work in pairs, with a Leader and an Assistant. The Assistant is a qualified care professional, usually a social worker or someone with a degree in social care.
The Leader is someone who used to be homeless – their job is to make first contact with a person who might need help, to approach and get to know them, then to direct them to the Assistant who can help them further.
Alexsandra and Jurek are the Barka team on the ground in Dublin.
Alexsandra has a MPhil in Race, Ethnicity and Conflict from Trinity College. Jurek was homeless for years in London, and now works with Barka to help others.
"You cannot work with people if you stay behind your desk all the time," says Alexsandra.
You need to go out to meet people, to get to know them and see how you can help…. The approach to homeless migrants will be different to Irish homeless and it's important to get to know them."
Together, the team spend their day running around Dublin, meeting with new clients and following up with the others to make sure they're okay.
They would like to receive more funding from the DRHE so that they could expand their operation to a second team.
However the DRHE has yet to confirm an increase in funding. So for now the operation will have to stay to same size.
The growing problem
As Ireland's economy slowly recovers, more people will start coming here to live.
With the country in the midst of a housing crisis, Barka believe that the homeless problem will continue to grow, and with it the number of homeless migrants will continue to expand.
While Barka want to grow as an organisation to address this increasing demand, for now they are busy enough helping those already here.
Last Wednesday, the entire team drove twice to Navan, Co Meath, with Tomek to try and secure him some accommodation for the night.
Tomek has stopped drinking and wants to get long-term accommodation so that he can start working again, but with the current housing crisis, even temporary accommodation is hard to come by.
"I never knew Barka existed before this September," says Tomek.
"If I had known, maybe my life would have been different."
*Some names have been changed to protect the identity of people involved