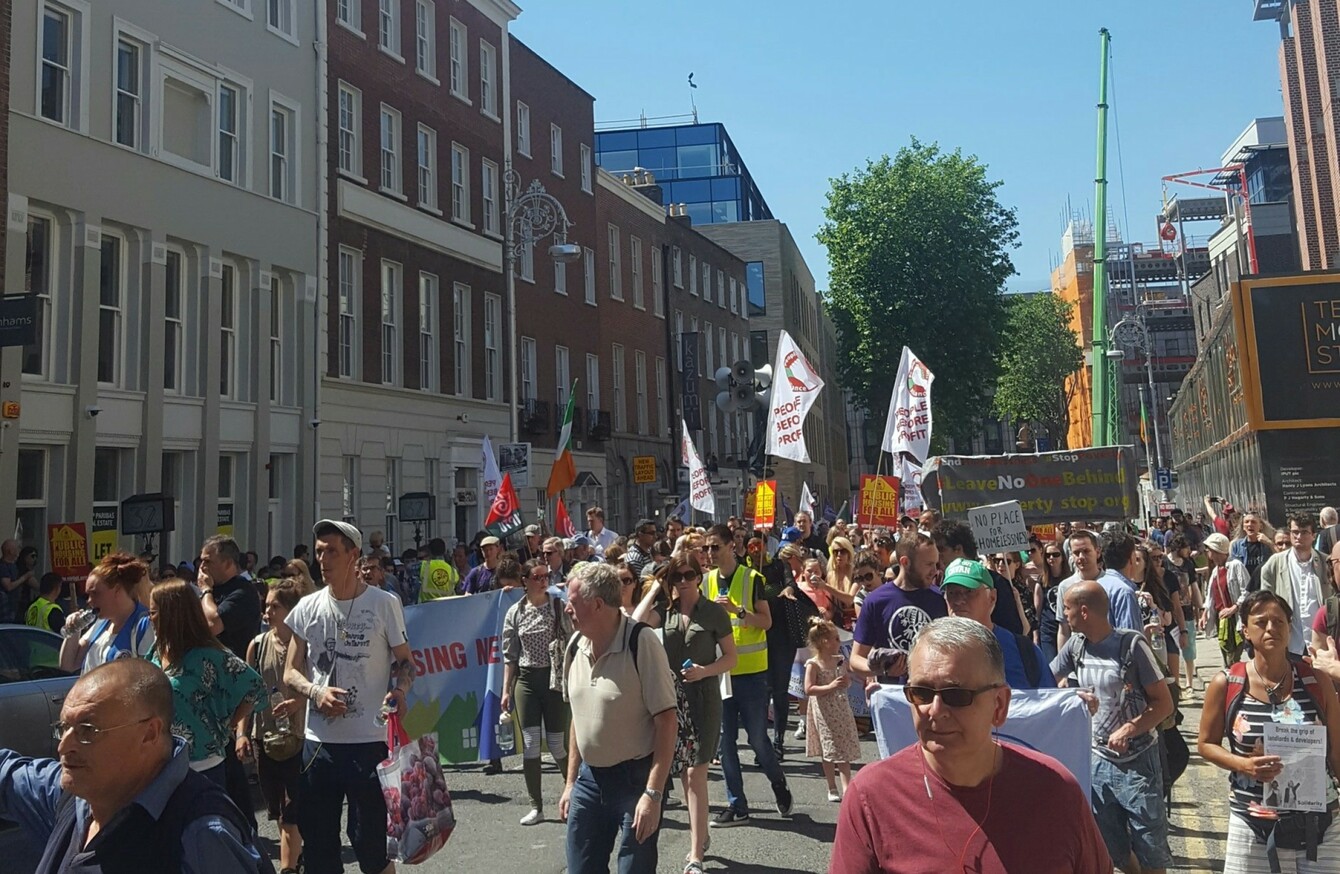 HUNDREDS OF PROTESTERS took to the streets of Dublin this afternoon to demonstrate against the ever-creeping number of people presenting as homeless across the country.
The crowd assembled at Custom House Quay in the capital and they marched up to Molesworth Street where speakers addressed what needs to be done so everyone in Ireland has a roof over their heads.
Chants of "Leo, Leo, Leo. Out. Out. Out" rang outside the gates of Dáil Éireann. Many at the protest blamed the Fine Gael government for the current crisis.
Members of various political parties including the Social Democrats and People Before Profit were represented in the sweltering conditions in Dublin city.
Former Housing Minister Simon Coveney had vowed that, by July, there would be no families living in B&Bs or hotels. But according to CEO of Inner City Helping Homeless (ICHH) Anthony Flynn, this is "another broken promise".
Addressing the crowds on Molesworth Street, Flynn said: The people behind us in Government Buildings are not doing their jobs. There was 193 people on streets of Dublin sleeping rough recently and nothing is being done.
"We get constant promise after promise. We know that 400 families going to remain in hotels and B&Bs despite the Minister (Coveney) vowing that nobody would be in accommodation like that by July."
Flynn added that he does not support the "warehouse" style accommodation being built to help solve the problem. He said that Dublin is now resembling "old tenement times" where families are living out of one room.
Aisling Hedderman, one of the founding members of the Irish Housing Network (IHN), was next to address the crowd.
In her eyes, "social cleansing" is happening all over Dublin as wealthier people move into the city centre at the expense of those who have lived there their whole lives.
"Social cleansing is happening in estates all around Dublin and down the country.  We can see that in the regeneration programmes. The regeneration programme in Ballymun says they can't accept rent allowance or HAP (Housing Assistance Payment) in Ballymun and that's a problem.
"Why can' they stay in their communities? We are a community and we deserve to fight back as a community."
Since the launch of last year's Housing Action Plan, homelessness in Dublin (and the rest of Ireland) has worsened.
Latest figures for Dublin show that there were 1091 homeless families in Dublin in the final week in April. On the night of 30 April there were 695 families staying in hotels and B&Bs.
#Open journalism No news is bad news Support The Journal

Your contributions will help us continue to deliver the stories that are important to you

Support us now
Initially meant as an emergency short-term measure, hotel use for homeless families skyrocketed over the past three years as homelessness got worse. Families – sometimes with very young children – ended up staying many months in hotels.
Pamela Fortune is currently facing eviction from her home in Tallaght. She has no idea where to go next.
The landlord just said he's selling the place. So he has given us a few months to get out but I've been looking around and there's absolutely nothing in my price range. I work full time.I have three children who are all in school. The only option I have is moving down the country. My kids will lose their friends. I can't do that to them. I really don't know where I go from here.
A lack of affordable accommodation has led to skyrocketing rents across the city as demand far outstrips supply in the private rental market. This is coupled with a severe dearth of affordable or social housing, which has resulted in more families becoming homeless.
Focus Ireland has warned that families are staying homeless for much longer periods due to this, and that more families are becoming homeless every day.
A lot of the time, hotel accommodation for families will have no cooking or washing facilities, no play areas for children and no on-site support services. Former Housing Minister Simon Coveney has said that the family hubs will temporarily house families in more suitable accommodation while proper homes are being built.
However, the message from the hundreds who turned up in Dublin today was clear: They want "homes not hubs".
With reporting by Cormac Fitzgerald