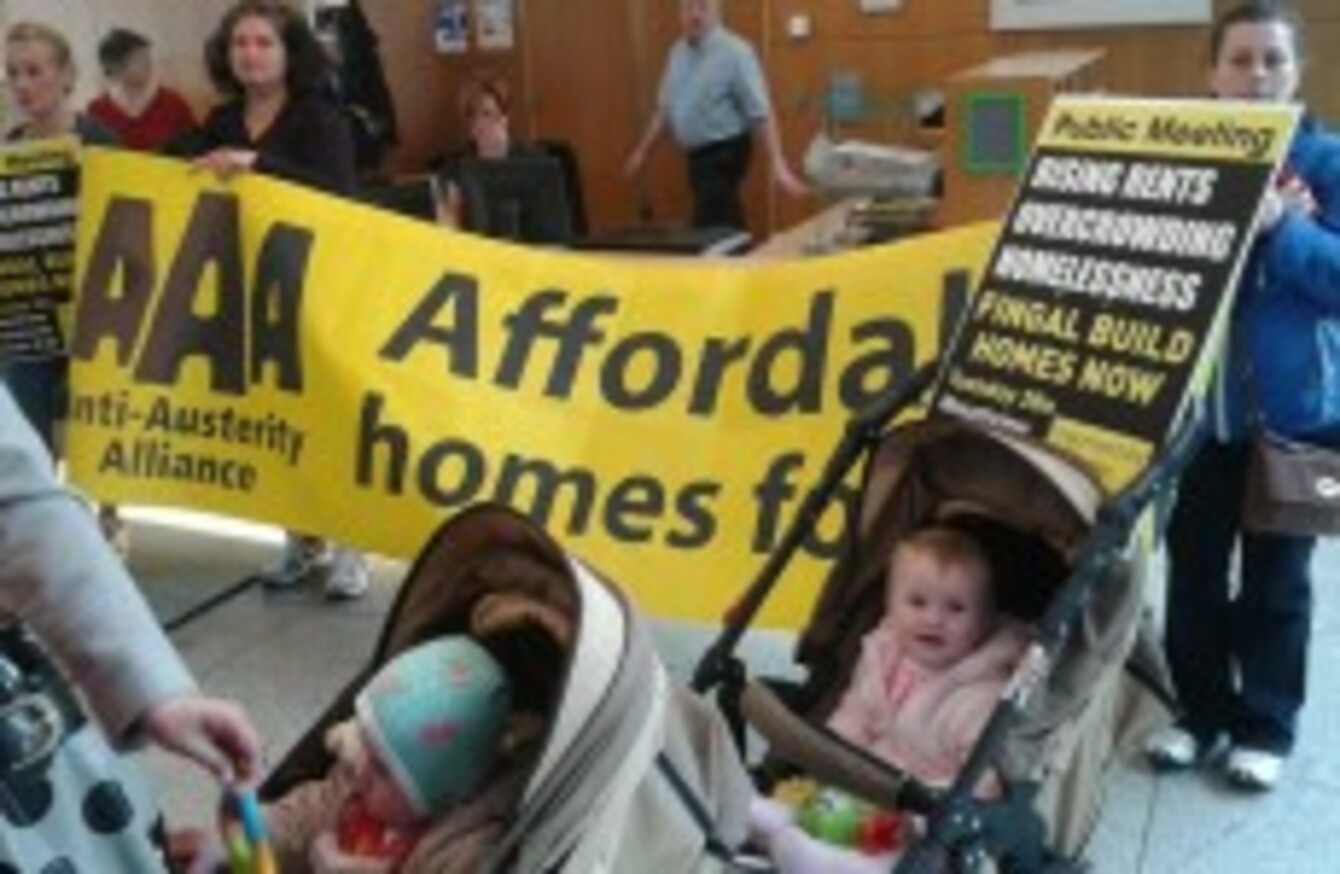 Image: Dublin 15 Anti Austerity Alliance
Image: Dublin 15 Anti Austerity Alliance
SOME THIRTY PEOPLE took part in a protest to highlight the spiralling homelessness crisis in Dublin this afternoon, occupying the Blanchardstown offices of Fingal County Council for several hours.
Amongst them was a 60-year-old woman who said she was likely to be without somewhere to live "within weeks".
The woman, who asked not to be named, said she had lived in the Dublin 15 area all her life. She said she was frightened at the idea of having to move into a hostel or temporary accommodation.
"I'm just terrified I don't know if I'd make it in a hostel," the woman said. She added that she was currently living in private rented accommodation, but would have to move out in the next few weeks due to a rent increase.
The issue of housing has been under renewed focus in recent weeks.
Ministers met this morning to discuss new proposals to boost the housing stock. At the weekend, well-known Dublin campaigner Peter McVerry warned that the country was in line for "a tsunami of homelessness" unless urgent action was taken.
Members of the Anti Austerity Alliance, the Socialist Party and the Dublin 15 Housing Action Group were amongst those protesting today in Blanchardstown.
The council offices remained open as demonstrators, many with young children in tow, stood with placards and handed out leaflets to locals.
The protest was due to finish up around lunchtime, Ruth Coppinger, a Fingal councillor and Socialist Party member said.
Coppinger, who is also a candidate in Friday's Dublin West byelection, said a number of protesters also held a meeting with a council manager.
More protests are being planned by local groups in the coming weeks, Coppinger said, adding that they would also be lobbying local and national government to insist action is taken.