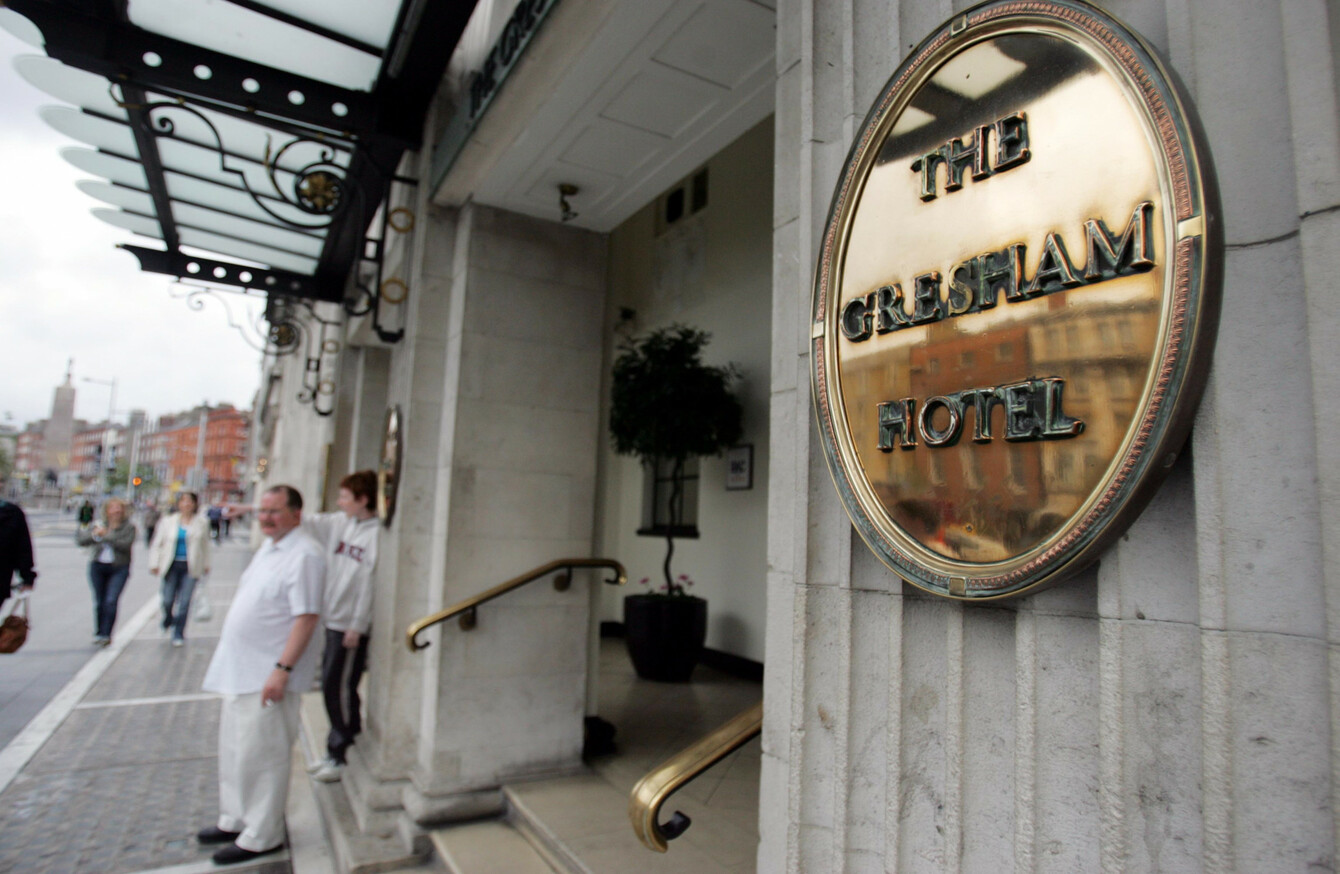 Image: RollingNews.ie
Image: RollingNews.ie
Updated at 4.15pm
A YOUNG HOMELESS MOTHER living with her son in the Gresham Hotel in Dublin has expressed concern about where she will go after the hotel said it will no longer be accepting homeless families there.
Sinead Hughes has been living at the Gresham Hotel with her eight-year-old son for the past 18 months. She has been homeless for two years.
Hughes was made homeless after the property she was renting out in Cabra was repossessed.
She told RTÉ News at One that the staff in Gresham had been good to her over the past 18 months and that she felt "safe" there.
"But now I don't know where I'm going to be and I don't know if I'm going to feel safe and that's my situation now," she said.
There are currently 14 homeless families staying at the Gresham. The hotel had been taking in homeless families for the past three years.
The homeless families there are "self-accommodating", meaning they source the accommodation themselves and then Dublin City Council pay for it.
The Gresham – formerly under the control on Nama – was sold to Spanish hotel giant Riu in 2016. The owners last month informed DCC that they would no longer be accommodating homeless families.
The Dublin Regional Homeless Executive – which manages homelessness services across the four Dublin local authorities – said it is working to try to provide alternative suitable accommodation for the families in question.
However, Hughes said she is also attempting to find a place to live for her and her son, but is having a lot of difficulty.
"So after the first of February I don't know where I'm going to be. I have no home for my son to go to," she said.
I'm self-accommodating, so I have to find somewhere for myself. Now I've rang a lot of places around Dublin to try and get myself somewhere before the first of February.
And nowhere is taking anybody. They're either too full, or they're not taking any more rooms for DCC.
Hughes said she would like to be able to secure a home for her and her son, but that it was more likely she would be moved into a "family hub" – group style accommodation for homeless families.
A spokesperson for the hotel chain said today that it was no longer accepting families due to refurbishments being carried out.
"From February 1st, we are commencing a refurbishment of bedrooms and suites," the spokesperson said.
"This will necessitate taking a number of rooms out of the inventory for a number of months, which will reduce the hotel capacity.
To facilitate the refurbishment of the bedrooms, we have had to turn away a number of business opportunities including Dublin City Council.
#Open journalism No news is bad news Support The Journal

Your contributions will help us continue to deliver the stories that are important to you

Support us now
Hotels not accepting families 
Earlier, DCC's deputy chief executive Brendan Kenny said that other hotels would also soon stop accepting homeless families.
Speaking to RTÉ's Morning Ireland, said that more hotels could follow the Gresham's policy, but said it would not cause a problem.
670 people were in hotel accommodation at the end of November.
Kenny said that while some hotels may not take in homeless families, alternatives could be secured.
It would have been a different situation if something like this happened a year ago, but in our view, the situation is beginning to improve.
"We're aware of (the Gresham situation) and all families will be rehoused by the end of the month.
"There's a new owner and they have new business plans. It's a positive thing that tourists are flocking back to Dublin again.
On the other side, we want families out of hotels.
He said that the council wants to eliminate commercial hotels and B&Bs from the homeless accommodation chain and that it is ready if they cease entering into long-term arrangements with the council. He pointed to the family hubs and other alternatives.
WIth reporting from Cormac Fitzgerald