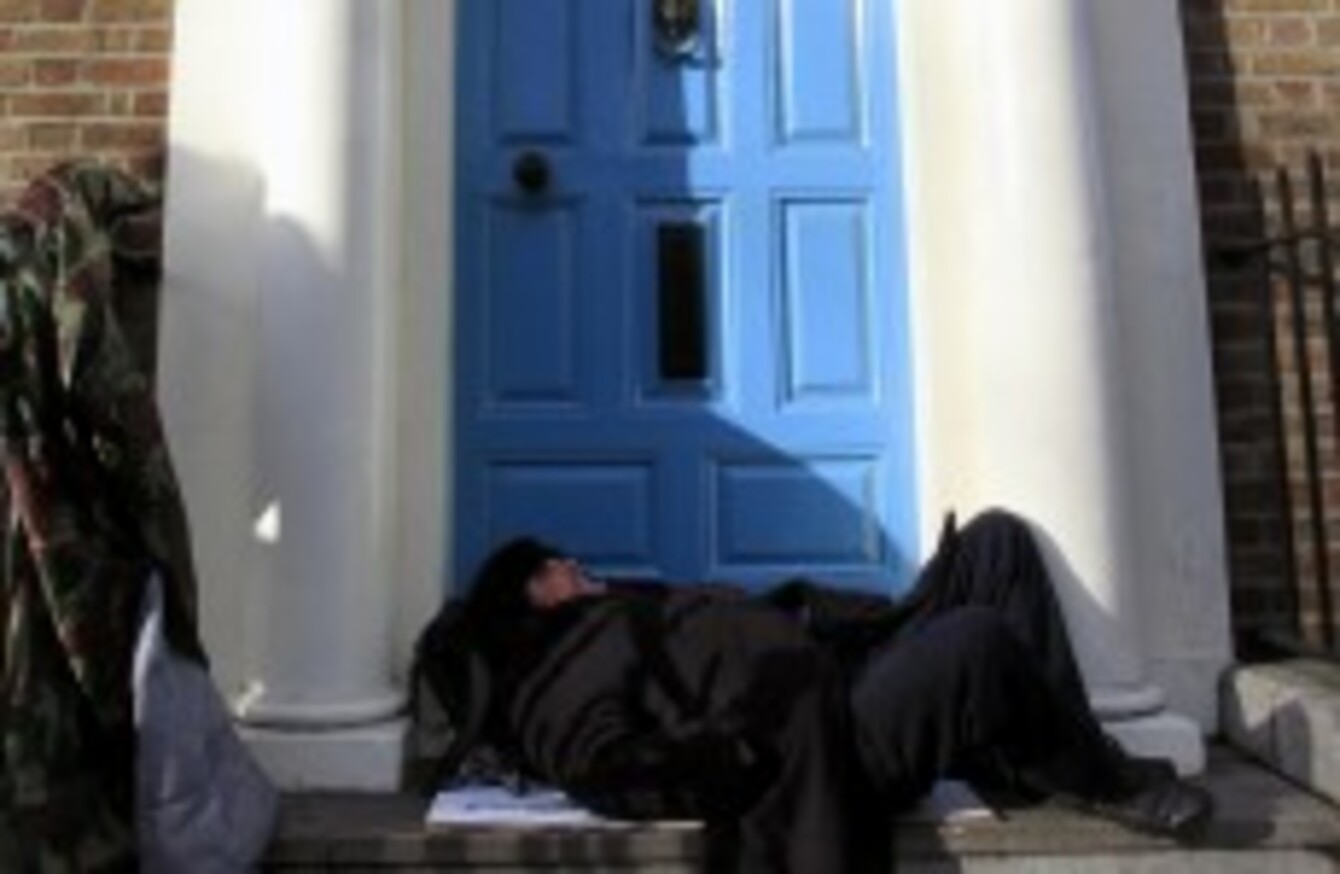 Image: AP/Press Association Images
Image: AP/Press Association Images
HAS HOMELESSNESS BECOME acceptable? The CEO of Merchants Quay Ireland, Tony Geoghegan, says that it seems to have become that way.
He said, if you talk to anybody they will say it's unacceptable that there's people sleeping on the street however, he added that "last night, tonight and tomorrow night there will be people sleeping rough".
The homeless and drugs service provider revealed that up to 150 people are sleeping rough on the streets of Dublin every night.
Geoghegan was speaking on Morning Ireland after Merchants Quay released its annual review. He said "We must have the wherewithal to do something about this in the here and now."
We know that people actually die on the street. There's a very strong correlation between homelessness and ill health.
"Drug users don't go to A&E and don't attend their GP. They are a very disadvantaged group."
Accommodation
Geoghegan said that, "While there is much talk of the improving economic situation, these improvements haven't filtered down to those most in need. In fact the economic recovery has placed increased pressure on the over-priced rental market and is keeping more people in homelessness.
"The private rented market has traditionally been the main exit route out of homelessness. However, we've seen recently the rise in rents right across the city, the crisis with student accommodation and many landlords won't accept rent allowance.
The gap between rent allowance and the actual cost of rent is too big and its trapping more and more people into homelessness.
Drugs Issue
Merchant Quay's Ireland needle exchange service in Dublin recorded over 25,000 client visits last year, an increase of 16% from 2012.
In total over 3,260 individuals accessed the needle exchange programme during 2013, of which 614 were new service users, an increase of 10%.
Despite this increase in the use of services, Geoghegan said that, "Drugs have dropped right down in the political agenda.
We used to have a super junior minister who sat at the cabinet and had responsibility for drugs but that slipped down the agenda to a junior minister then back into primary care now it's just part of Minister Varadkar's whole portfolio and with the greatest respect to Minister Varadkar I'm sure he's going to be very focused on the hospitals and the bigger areas.
"That's indicative of where drugs lies in political priorities."
The CEO added that, "The proven evidence around drug use shows that if you provide treatment people will exit from drug use.
"There must be sites made available that can provide a safe and secure place for people so we can start to provide the pathways out
"It's not rocket science, all it needs is some more political will."