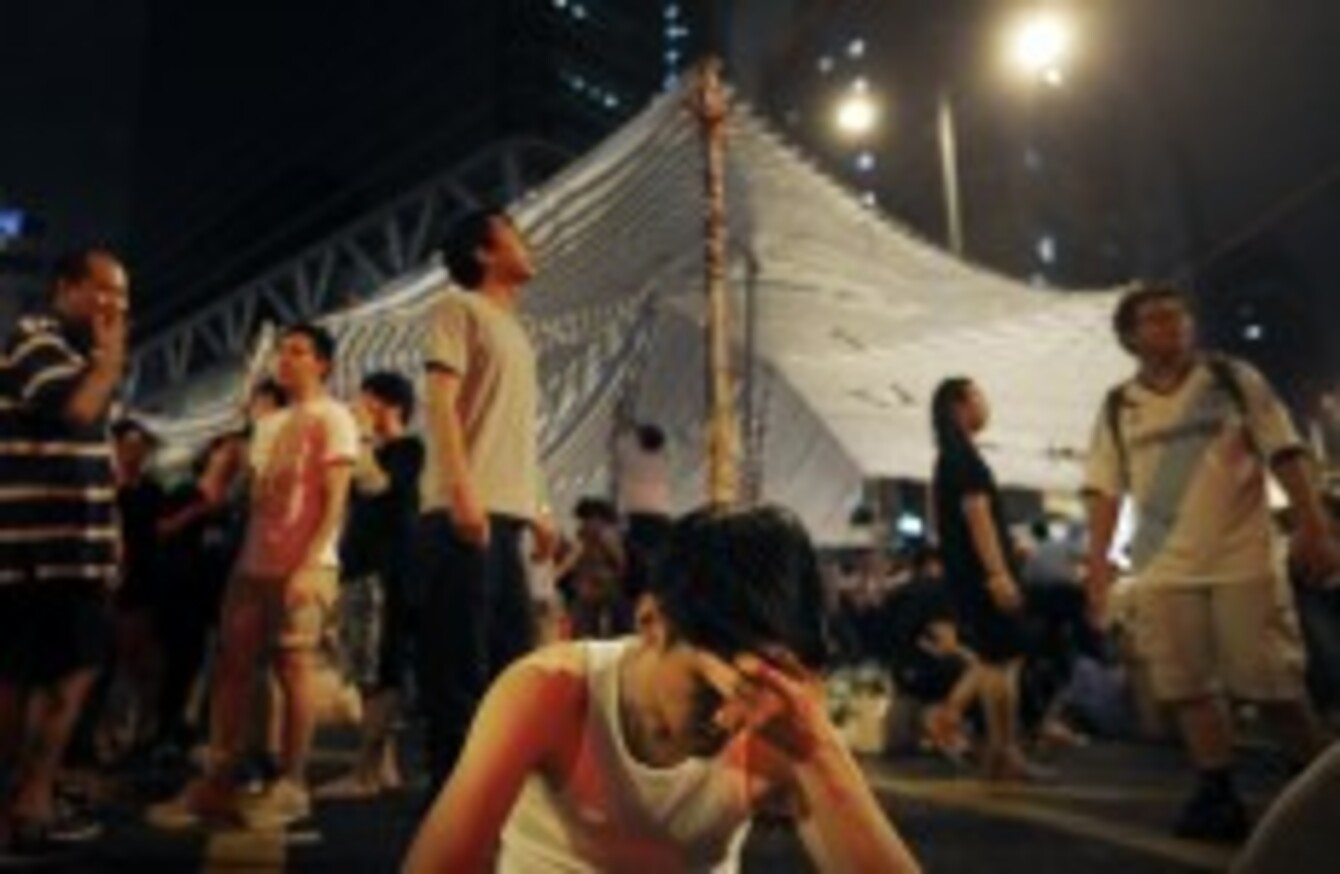 There were confrontations throughout the city yesterday.
Image: AP/Press Association Images
There were confrontations throughout the city yesterday.
Image: AP/Press Association Images
HOPES OF FINDING a resolution to a week of pro-democracy protests in Hong Kong have collapsed as students scrapped talks with the government over violent attacks by Beijing supporters and suspected triad members.
Police said they had arrested eight suspected members of triad criminal gangs over ugly clashes at ongoing pro-democracy protests Friday, with demonstrators saying the violence was orchestrated by paid thugs to stir up trouble and discredit the movement.
Amnesty International blasted police, saying officers "stood by and did nothing" to protect protesters, whose rallies have led to much of the city grinding to a standstill for the past week.
Women pro-democracy protesters are also being targeted with sexual assaults and harassment according to Amnesty.
"Women and girls were among those targeted, including incidents of sexual assault, harassment and intimidation" in the commercial hubs of Mong Kok and Causeway Bay, Amnesty said in a statement.
China has pointed the finger again at the democracy campaigners, accusing them of "daydreaming" over the prospect of change.
"The actions taken by Hong Kong police to handle Occupy Central are an inescapable necessity to preserve the rule of law," an editorial in Communist Party mouthpiece the People's Daily said.
It accused the protesters of acting illegally and destabilising the city.
"As for the very few who want, via Hong Kong, to import and instigate a 'colour revolution' in the mainland, they're daydreaming."
It was unclear why the editorial used the term "colour revolution" — the Hong Kong protests have become know as the "umbrella revolution" after residents used them to protect against pepper spray.
The protests were triggered by China's announcement in August that while Hong Kongers can vote for their next leader in 2017, only candidates vetted by Beijing will be able to stand — a decision dismissed as "fake democracy" by campaigners.
While the United States, Europe and Japan have all expressed their concern at the scenes playing out in the key Asian financial hub, China's Communist authorities have refused to make concessions.
 Talks stall 
Students had agreed to talks with the government in an eleventh hour decision on Thursday night as crowds massed outside central government offices demanding Chief Executive Leung Chun-ying resign.
But protest leaders called off the talks late Friday following chaotic scenes in the commercial hubs of Mong Kok and Causeway Bay.
There were widespread allegations of sexual assault in the packed crowds, with three girls seen being bundled into a police van in tears after apparently being assaulted at the Causeway Bay protest.
"There is no other option but to call off talks," said the Hong Kong Federation of Students (HKFS), one of several groups driving a campaign for free elections that has brought tens of thousands of people onto the streets of the semi-autonomous Chinese city.
"The government and police turned a blind eye to violent acts by the triads targeting peaceful Occupy protesters," the union added, referring to Occupy Central, another prominent group.
At a press briefing Saturday, police denied acting in concert with triads, adding that 12 people had been injured in the clashes, including six officers.
"Police in the small hours in different locations arrested 19 males," senior superintendent Patrick Kwok told media.
"Within the people who were arrested, eight were arrested for illegal assembly. We believe these have triad backgrounds," Kwok said.
Triad gangs have traditionally been involved in drug-running, prostitution and extortion but are increasingly involved in legitimate ventures such as property and the finance industry.
Some are believed to also have links with the political establishment and there have previously been allegations of triads sending paid thugs to stir up trouble during protests.
Blame game 
Demonstrators compared the police "inaction" to scenes last Sunday, when officers fired tear gas at peaceful crowds.
But officials blamed both sides for the escalation.
"I urgently want to express to all citizens, no matter what attitude you have towards Occupy (Central), you still have to remain calm, and not use violence or disrupt order under any situation," Leung, who is viewed by demonstrators as a Beijing stooge, said in a televised message late Friday.
Protest sites were tense on Saturday morning with fears of further attacks opposition groups.
One group calling themselves the "Alliance in Support of the Police Force" gathered outside the police headquarters near the protest hub.
"Some officers have told me they haven't rested for 24 hours. If this continues Hong Kong will not be able to handle it," said Joe Sin, one of the organisers of the event, which saw around 70 pro-police supporters gathered.
"We do not wish to have the PLA (Chinese military) come into the city to help. We just hope that Hong Kong citizens will support the police," Sin added.
Friday's clashes broke out as the city returned to work after a two-day public holiday with store owners and delivery drivers frustrated at the continuing disruption to business.