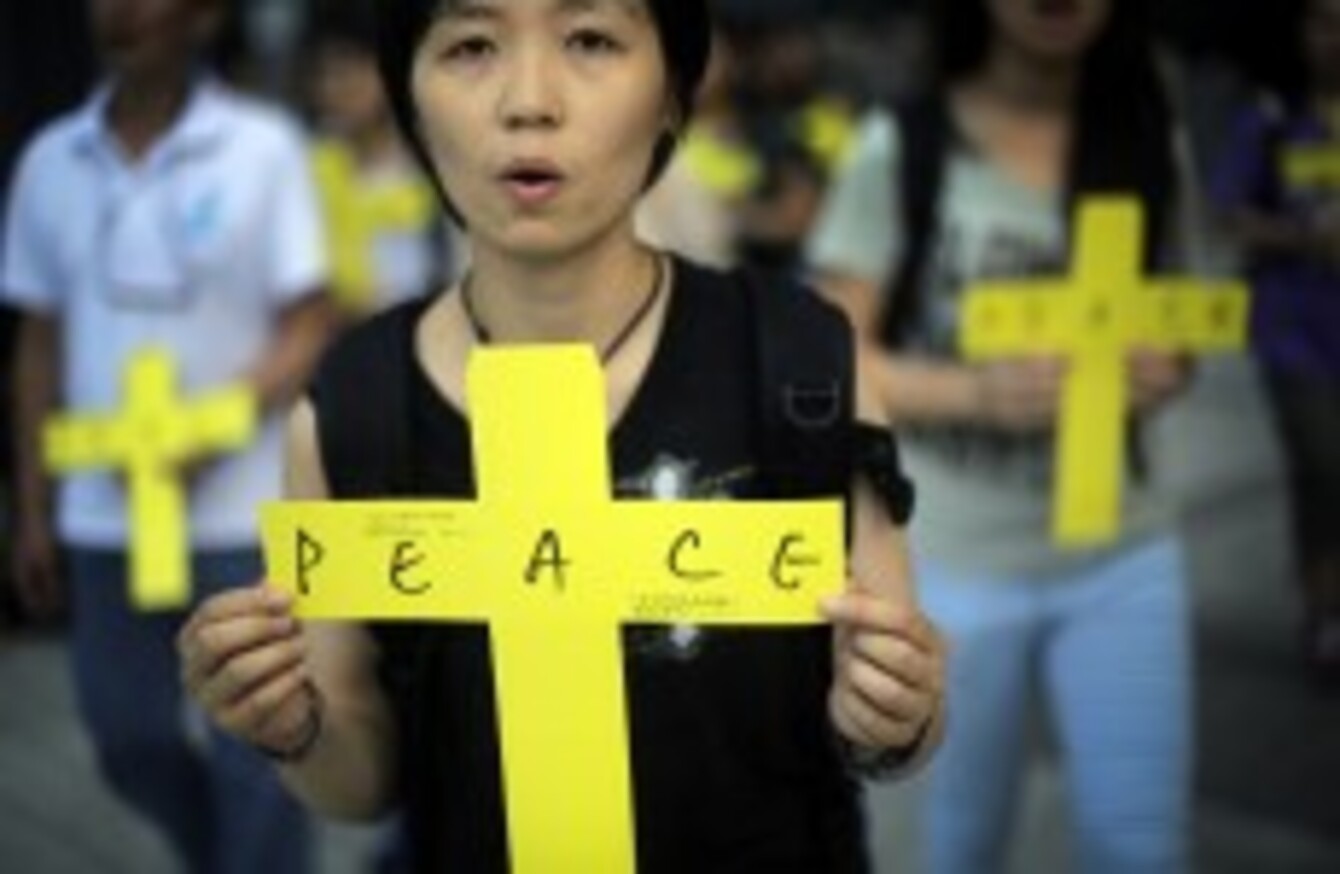 Image: AP/Press Association Images
Image: AP/Press Association Images
TENS OF THOUSANDS of pro-democracy demonstrators gathered for a mass peace rally in central Hong Kong earlier, defying recent attacks against their ranks as the city authorities denied using paid thugs to harass them.
Huge crowds streamed into the main protest site opposite the besieged government headquarters for a seventh night of their campaign for free elections in the semi-autonomous Chinese city, vowing to stand firm in the face of attacks on their ranks by aggressive counter-demonstrators.
Pro-democracy protesters have taken to Hong Kong's streets to demand the right to nominate who can run as their next leader in 2017 elections. Beijing insists only candidates it has approved will be able to stand.
Two of Hong Kong's busiest shopping districts descended into chaos on Friday as angry opponents clashed with protesters, tearing down their tents and barricades, with widespread allegations amongst the pro-democracy crowds that triad criminal gangs had been brought in stir up trouble.
Tensions remained high on Saturday with fresh clashes in Mong Kok, a densely packed working-class district of shops and apartments that saw some of the worst scenes of violence the previous night, with complaints of sexual assaults and attacks on journalists in the crowds.
Police said several suspected triad members were among those arrested after Friday's clashes, but the city's security chief angrily denied allegations that the government had called on the services of paid thugs in a bid to break up the mass protests that have brought key parts of the city to a standstill for a week.
Friday's violence prompted student protest leaders to scrap talks with the government, scuppering hopes of a resolution to the crisis.
The city's top leader, Chief Secretary Leung Chun-ying, appeared on television earlier to once again urge everyone to go home, saying things needed to get back to normal by Monday.
"There are many problems to be resolved in society, but the right way is through rational communication to seek common ground while holding back differences," he said. "Not fighting on the streets, which makes things worse."
- © AFP, 2014. Additional reporting by Association Press. Originally published 5.57pm