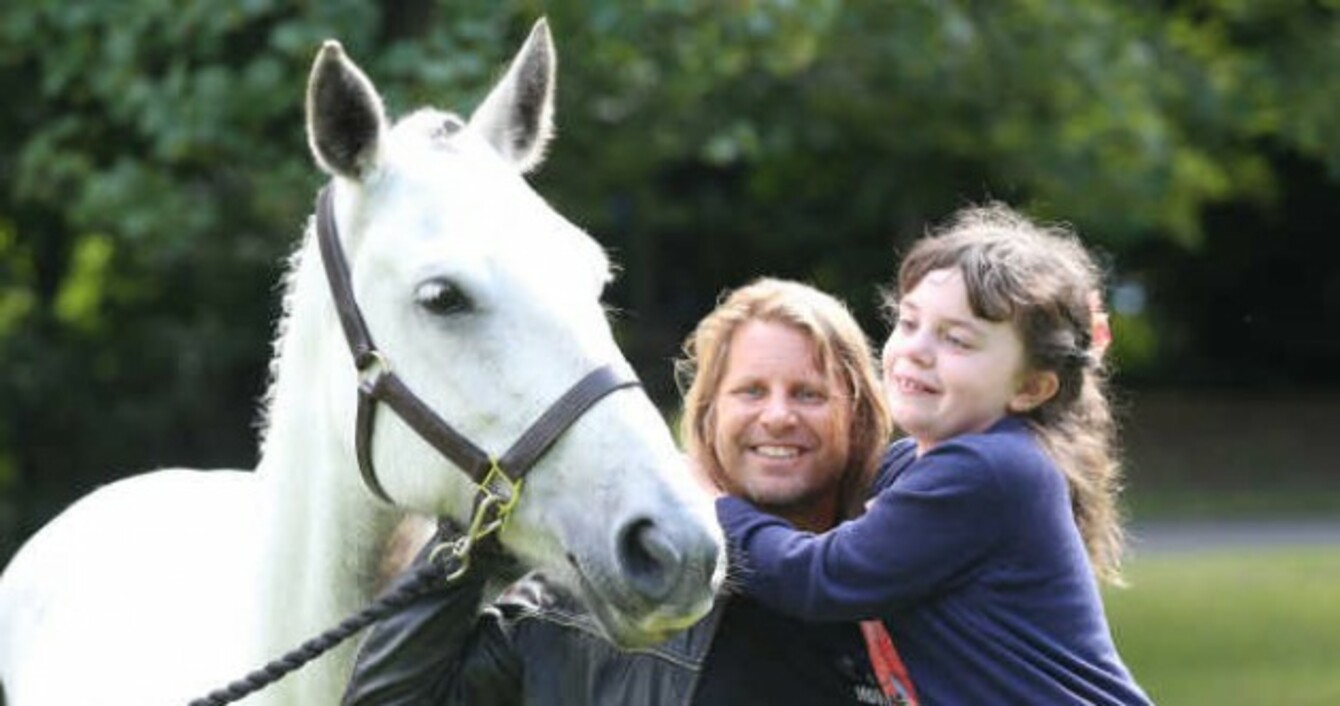 Rupert Isaacson and Ava Kenneddy
Image: Sasko Lazarov via Photocall Ireland
Rupert Isaacson and Ava Kenneddy
Image: Sasko Lazarov via Photocall Ireland
CHILDREN WITH DISABILITIES are benefitting emotionally thanks to their bond with horses.
A programme for children with Autistic Spectrum Disorders, Horse Sense, was set up by ChildVision two years ago.
ChildVision is Ireland's only education centre for blind children.
The equine programme is now being extended to children from outside the ChildVision service.
Maria Kenneddy is the mother of eight year old Ava, who is a pupil in Child Vision.
Ava lost her sight aged two and her mother told TheJournal.ie that Ava 'really went in on herself and lost her confidence when her sight went'.
Speaking about the difference that Horse Sense has made, Maria said:
It has brought her on in leaps and bounds. Her confidence and trust has improved so hugely, she's not shy anymore, she's now confident and outgoing.
"The very impact of the horse movement gives her confidence. It's very sensory. There's this huge big animal underneath her and she is in control.
She added that, "The horses know when to be gentle."
Chief Executive of ChildVision, Brian Allen, says, "For a child with a disability the psychological benefit of interacting with the horse cannot be underestimated.
The children benefit emotionally through their connection with these sensitive animals and a profound bond is experienced between the child and the horse, especially those children with a disability where communication is impacted.
The children who attend ChildVision range in age from three months to 23 years old, but most have significant additional disabilities besides their vision impairment.
Allen added that:
Visual Impairment itself causes developmental delays in several key areas such as motor development, sensory development, cognitive development and language development.
"But when visual impairment is coupled with other disabilities such as Cerebral Palsy, Autism Spectrum Disorder, or any number of complex syndromes, the result is the child needs significant therapeutic input to reach their full potential."
Equine Therapy
The Horse Boy Foundation is a non-profit organisation that was set up by Rupert Isaacson in Texas after his son Rowan was diagnosed with autism.
He came to Ireland for two consecutive years to train up staff in his successful therapeutic intervention.
ChildVision now has 14 horses and ponies situated on a 23 acre site just off Griffith Avenue and it's open to the public 7 days a week.
Isaacson says the facility is one of the best he has seen on his extensive travels through the US and Europe.
ChildVision has the perfect atmosphere for engaging children on the spectrum, it's fun, relaxed, with plenty of other animals. They also have one of the best sensory trails I've come across.
Parents who are interested in their children participating in the Horse Sense programme at ChildVision can email the organisation at info@childvision.ie.