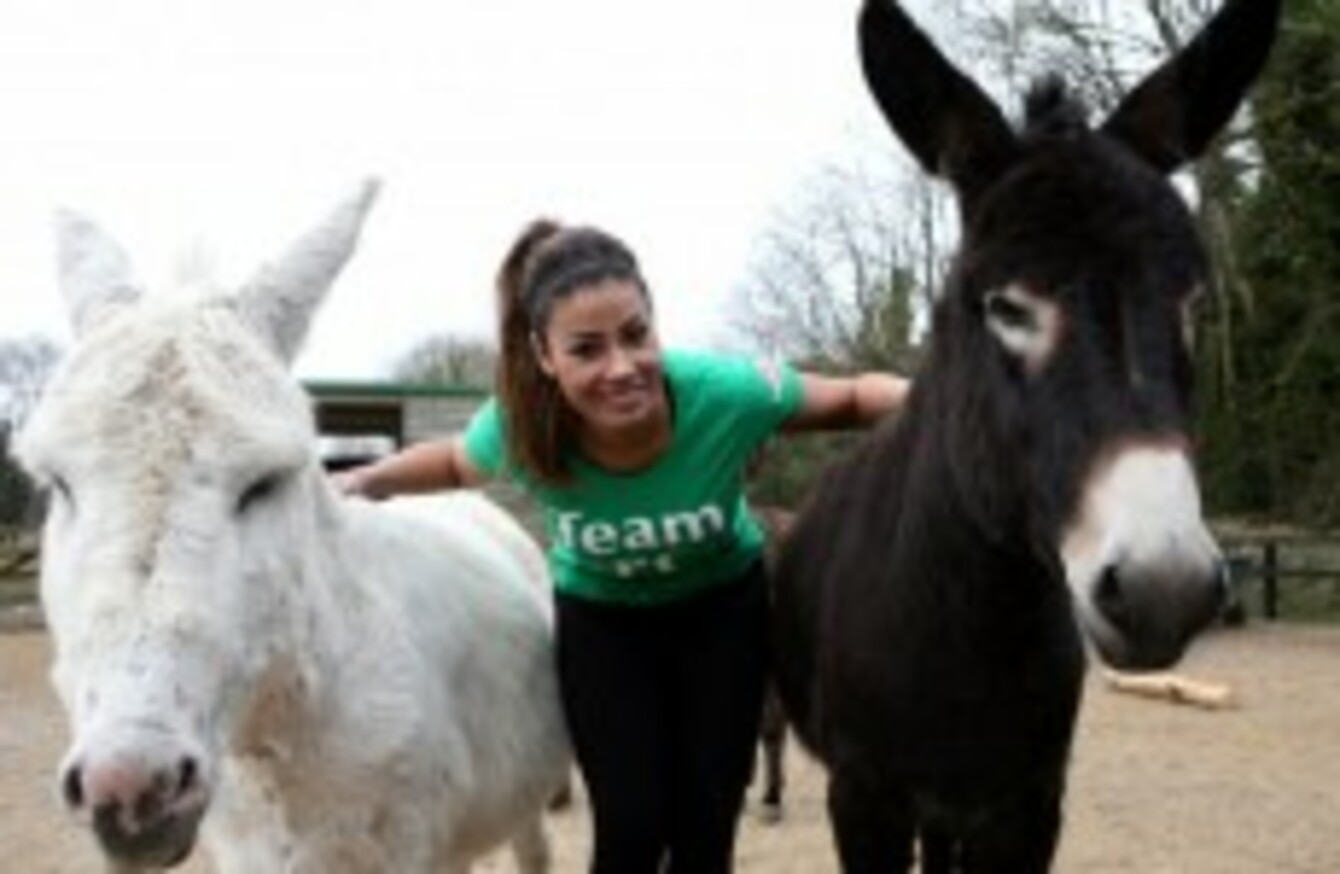 Layla Flaherty with some of the ISPCA's rescued animals.
Image: Carmel Murray
Layla Flaherty with some of the ISPCA's rescued animals.
Image: Carmel Murray
THE ISPCA HAS seen a huge leap in the amount of call-outs it has made regarding endangered or abused animals this year.
The Irish Association for the Protection of Animals said that it is at "breaking point" in trying to deal with the increased numbers of calls for help this year.
Barbara Bent, ISPCA chairwoman, said that equine welfare problems are still on the increase, while the association is calling for stricter enforcement of regulations around animal ownership.
Mistreatment
Bent said she believes there are two causes for the mistreatment of animals.
"The recession is still impacting on people," she pointed out. "People can't afford to keep horses, or if they have them they can't afford to look after them." She said that when people "can't sell something it's worth very little", and when it's worth very little and costs to keep then this can lead to issues.
Bent said that the ISPCA has been getting calls from people they normally would not receive calls about, and the calls are coming from across all different sectors – from ponies to thoroughbred horses.
Many of the equine animals have not been brought to farriers, for example, and so their feet are in particularly bad condition. Others have been left without proper food or shelter.
"We've never been busier," said Bent.
Our calls for the whole of 2012 were 1,524, we have had 1,372 this year so far.
Recent figures from the ISPCA show huge increases in complaint volumes and in the numbers of animals whose seizure or surrender has been organised by the charity's team of inspectors.
The statistics for equines are particularly startling – there has been a 160 per cent increase in the number of equines taken into care so far in 2013, compared with the same period last year.
The ISPCA has also seen a 57 per cent increase in dogs and a 156 per cent increase in cats seized or surrendered.
Plus, in the first seven months of this year the ISPCA has received almost as many equine related cruelty allegations as it did in all of 2012.
Regulations
The ISPCA said it is not possible for it to cope with these demands and it is now calling on the Department of Agriculture to enforce Equine Identification and Registration of Premises regulations.
It is also calling for Local Authorities to take responsibility where ownership of equines in urban areas is unclear. Bent noted that the aim is to make people responsible for the animals in their care, and enforce regulations around microchipping so that it is known who owns an animal.
"They are not being enforced to extent we would like to see them enforced," she said of regulations, adding that there needs to be a central database containing details of owners of microchipped animals.
"We need that if you sell the horse, the onus is on the person whose name is on the passport. If we pick up a horse with a chip, all [the person whose name is on the chip says] is 'I sold it'."
Nina
One recent case was that of Nina, a young trotter, who was left to die before being rescued by ISPCA Inspector Michael Keane in County Laois.
She was abandoned with multiple wounds and lacerations to her legs, ingrown head collar marks and serious bite wounds. "Unable to walk due to an infected open wound on her hind leg, she was dehydrated, emaciated and in desperate need of emergency veterinary intervention," said the charity.
Nina is now in the care of the equine staff at the ISPCA National Animal Centre, where she is expected to make a full recovery.
Bent said the ISPCA predicts a large number of equines will suffer this winter, "many dumped and left to starve and sadly we won't be able to help them all".
We are asking horse owners to take their responsibilities seriously, make preparations for feed early and if in need of help seek it as soon as possible.