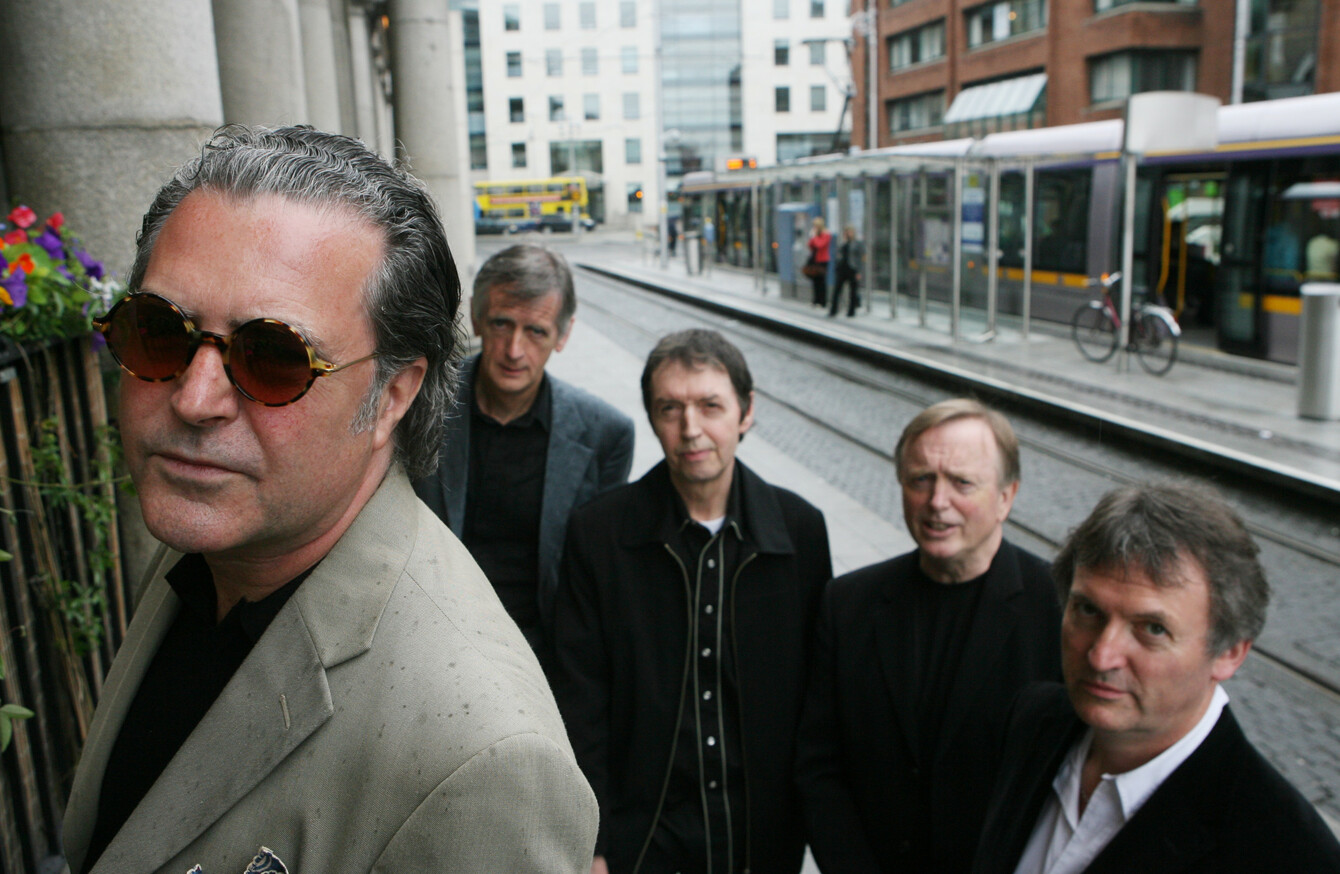 Horslips at the launch of a series of gigs back in 2009.
Image: James Horan/RollingNews.ie
Horslips at the launch of a series of gigs back in 2009.
Image: James Horan/RollingNews.ie
IRISH TRAD ROCK band Horslips have said they are looking at legal options after "the saddos in the Irexit conference" used their iconic song Dearg Doom in the RDS at the weekend.
Horslips published a post on their Facebook page earlier today in which they made clear they were not happy that the song was used at the conference.
The band said that the song was used without their permission and that they will be "checking out whether we can do them for copyright infringement".
Newstalk reporter Richard Chambers tweeted a video from the event on Saturday which showed the Irexit crowd assembling with Dearg Doom playing in the background.
The event featured former Ukip leader Nigel Farage and was billed as the beginnings of a political movement that will push for Ireland's exit from the European Union.
Horslips have now said that they would have refused permission for the song's use had they been asked.
"Some of you may have spotted that the saddos in the Eirexit (sic) conference had the feckin' temerity to use Dearg Doom as a soundtrack and to show the image of the album cover on the big screen. Needless to say, they didn't ask us," the band said in a statement on their Facebook page.
If they had, we'd have pointed out that we wouldn't piss on them if they were on fire – which they're unlikely to be, anytime soon. Five hundred damp, self regarding eejits being patronised by the Crazy Frog-lookalike Nigel Farage isn't going to set the heather blazing in the near future.
The band went on to say that their music did not fit with what they see as the political outlook of the Irexiteers:
Horslips stood for a hopeful, outward looking, inclusive vision of Ireland with plenty of drink and a Blue Range Rover. This lot stand for a diminished, fearful, xenophobic state. Little Irelanders.
"Checking out whether we can do them for copyright infringement. We'll keep you posted. Feel free to share," Horslips added.
The Irexit conference was organised by the eurosceptic European Parliament grouping the EFDD, which counts Farage among its members.
#Open journalism No news is bad news Support The Journal

Your contributions will help us continue to deliver the stories that are important to you

Support us now
The grouping does not have any Irish MEPs but its spokesperson is Derryman Hermann Kelly.
In a response this evening to Horslips' earlier post, Kelly described the band's members as "flop haired geriatrics" and said they should be "damn thankful we played their music".
Source: Celtic Note/YouTube
"Like most glam rock bands, Horslips music is great, and their views on politics are crap," Kelly wrote on the Irexit Facebook page.
The 600 Irexit supporters and young people turned up because they believe in a self-governing Republic where the Irish people make their own laws rather than having them imposed by unelected Brussels bureaucrats.
Kelly went on to ask Horslips if they are in favour of a "militarising single EU state" and added that they should "stand up for the Irish Republic".
"Ireland should be a nation once again, and not an EU province," Kelly said, quoting the Wolfe Tones.